Yummy Flourless Egg Muffins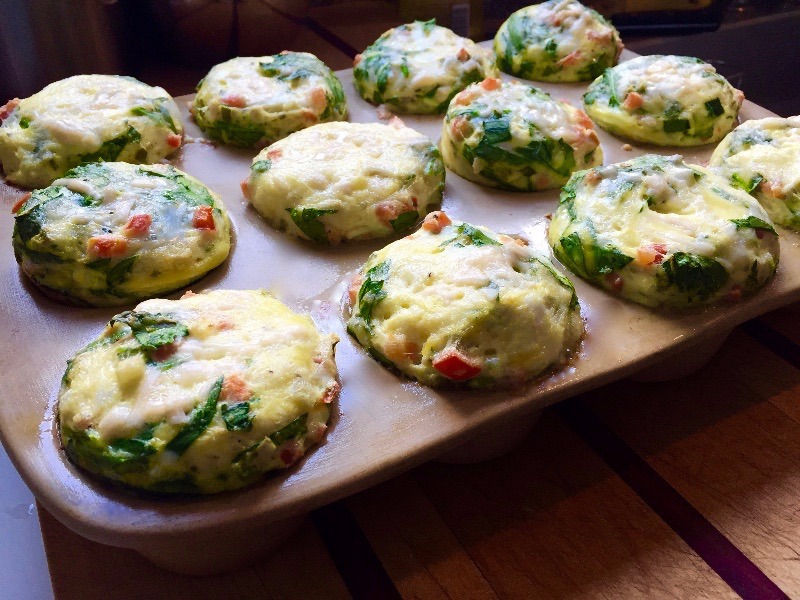 Super easy, low carb, high protein, and nutrient dense… These flourless egg muffins are a breakfast staple in our house. They have the taste and the nutrition of an omelet or a frittata but are neatly packaged into a muffin which makes them perfect for a quick breakfast, or even a mid-day snack.
Essential Ingredients:
12 Eggs (from healthy, well-cared-for chickens)
1/2 cup organic milk (or any unflavored, unsweetened milk alternative)
1 tsp salt
Black pepper to taste
12 cup non-stick muffin tin (we use a ceramic one)
Optional Ingredients:
1 handful of chopped spinach
1 diced bell pepper
1 small onion diced
Shredded cheese of your choice
Hot sauce, or spices like garlic, turmeric, or curry powder
Instructions:
Preheat the oven to 375-400°F.
Crack and the eggs into a large mixing bowl (one that has a pouring spout is ideal…we use a 2-quart measuring cup)
Add the veggies, salt, pepper, and spices and mix well.
Lightly grease the muffin tin with butter or olive oil.
Pour the egg mixture evenly into the muffin slots.
Lightly sprinkle cheese over the top of each muffin (optional)
Cook for 15-18 minutes or until the tops are firm to the touch and lightly browned.
Enjoy!!!
PS: These muffins look and taste amazing right when they come out of the oven. After they cool, they become a bit less photogenic because they'll lose their "puff" but they still taste great after a quick re-heat.
– Dr. Joshua Levitt