You've Got To Be Nuts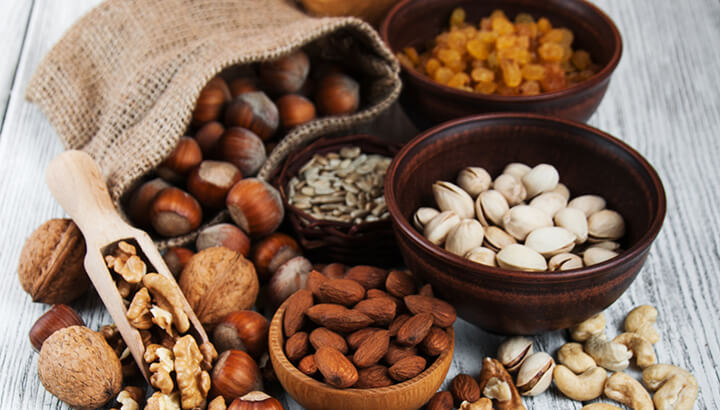 I like to think of nuts as the original dietary supplement… and I prescribe them at almost every appointment. That's because these tasty kernels pack a lot of health benefits in a very small package. Studies show that people who eat 20 grams of them a day (about a small handful) derive substantial health benefits that include:
A 30 percent reduction in the risk of cardiovascular disease

A 15 percent lower risk of getting cancer

Better

control of blood sugar

(including the management of type 2 diabetes)

Recent evidence suggests that nuts improve many key brain functions (including

memory

)
The Health Benefits of Nuts (In a Nutshell)
I'll get into the specifics of some different types of nuts in a moment. But first I'd like to say a few more words about why nuts are so good for you. You can start with the fact that they are great sources of polyunsaturated and monounsaturated fats, which help lower your bad cholesterol. Nuts are also rich in phytosterols, another all-natural cholesterol-lowering compound.
But that's just the beginning. Nuts are also an excellent source of fiber, phytonutrients, antioxidants, and minerals (particularly potassium and magnesium). Last but not least, most nuts are good sources of plant-based protein and omega-3 fatty acids, which are great for reducing inflammation.
Let's Look At Some Nuts
Not all nuts are created equal, though, so let's take a look at some that pack the most nutritional punch.
Walnuts

are exceptionally high in omega-3 fatty acids. Studies indicate that they can help lower the risk of 

cancers

, particularly prostate cancer in men and breast cancer in women.

Research shows that eating

almonds

can help lower blood pressure, cholesterol, and glucose levels. They are also a rich source of magnesium and vitamin E. There is a lot of evidence that consuming modest amounts of them can lessen hunger, which can be beneficial if you are trying to lose weight.

Pecans

are so abundant in vitamins (they contain 19 in all) that some nutritionists recommend them over multivitamins. They are also consistently ranked as one of the top antioxidant foods.

Peanuts

(although not true nuts) often get a bad rap, but the unsalted variety is linked to the same 

cardiovascular benefits

as the more expensive nuts. In moderation, they are also great sources of protein, folate, and monounsaturated fats.

Cashews

have less fiber than many other types of nuts, but they are a particularly good source of minerals like copper, zinc, and magnesium. Today, too many people suffer from a deficiency in magnesium, which is a mineral that is vital to the body's cellular and metabolic processes. When I hear a patient complain of muscle cramps, chronic fatigue, or hypertension, a magnesium deficiency is usually one of the first things that comes to mind. Cashews are a tasty way of adding this nutrient to your diet.

Pistachios

have less calories than most nuts, and they are very high in vitamin B6, which is often used to help people manage stress.
Takeaway
Nuts are a nutrient-rich superfood, and you should find ways to eat them every day. There are so many great ways that you can add them to your daily diet. Here are some ideas:
Make your own trail mix using a variety of unsalted and dry roasted nuts (if you roast them yourself, all the better). Add a little dried fruit and/or dark chocolate chips, and you've got a great snack. Caution: It is really easy to overeat trail mix… so just use it to"take the edge off" and set an upper limit of two handfuls per day.

Add walnuts or pecans to your morning oatmeal.

Sprinkle a variety of nuts on top of your yogurt or salad. Once again, I usually opt for unsalted and dry roasted nuts to cut down on sodium consumption and calories.

Add crushed nuts to meals as a garnish. They add a great finishing touch to many soups and stews, make a great topping on casseroles, and are delicious served over a roasted vegetable side dish.  
Nuts are an antioxidant powerhouse and an excellent source of nutrients that promote cardiovascular health. Studies show that people with metabolic diseases, such as type 2 diabetes, can especially benefit from them because they don't elevate blood glucose the way other snack-type foods do.
Finally, there is another paradox about nuts. They are considered a high-calorie food, but studies show that consuming moderate amounts can actually help people lose weight.
So, nuts can help you lose weight and keep your ticker in top shape. With that in mind, you'd be crazy not to add nuts to your diet.
Take good care,
Dr. Josh
Here is what others are reading right now…