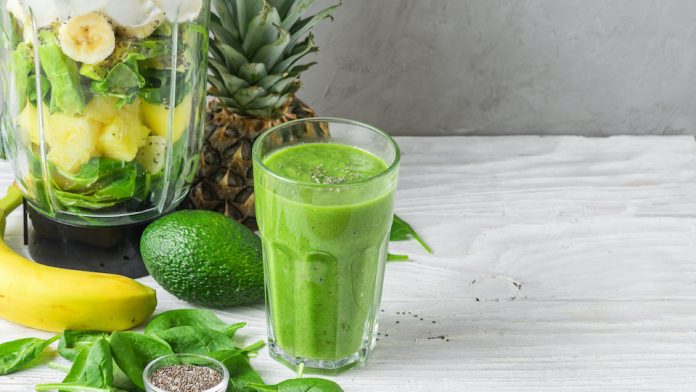 Are you feeling heavy, sluggish, and bloated? A slimming smoothie might be just the ticket for better digestion, more energy, and a boosted metabolism. Do smoothies for weight loss actually work? Research shows that using the right ingredients can create a smoothie that helps you feel lighter and get healthier. For example, a study found that eating half a grapefruit before a meal may help reduce visceral fat and lower cholesterol levels. Another study found that tart cherries reduce belly fat; blueberries, strawberries, and raspberries have also been linked to improved health markers in overweight women.
The key to making a healthy smoothie is to strike the right balance of vegetables, fruit, protein, and fat. A smoothie is a great way to integrate more vital nutritious foods into your daily diet. When you make a well-balanced smoothie, you have the foundation for a healthy breakfast or snack.
What ingredients are in the best weight loss smoothies?
Healthy smoothies are made with the right blend of foods that are scientifically proven to decrease body fat. Some of the slimming ingredients you can include in smoothie recipes are:
The best weight loss smoothie recipes
Now that you understand the basics of a good smoothie recipe, here are a few winning formulas to try. Blend up a smoothie each morning for breakfast or a snack, and enjoy fewer cravings, less bloating, and improved weight loss.
Fat Burning Smoothie
Make fat cry by adding this fat-burning smoothie into your day. The natural ingredients are paired together to help boost your metabolism and burn fat in one delicious weight-loss smoothie.
Ingredients:
1 cup baby spinach

Handful of fresh mint leaves

1 stalk celery, chopped

1/2 cup brewed green tea, cooled

1/2 large grapefruit, peeled and seeded

1 cup frozen mixed berries

1/4 large avocado

Dash of ground cayenne pepper, optional

Squeeze of lemon juice, optional
Instructions:
Place spinach, mint, celery, and green tea in the blender.

Puree until smooth.

Add remaining ingredients.

Blend again. Best if served chilled.
Easy Detox Smoothie
This smoothie is like drinking a liquid vitamin! It's easy to make with just a few fruits and vegetables that you may already have in your fridge. The ingredients in this smoothie are loaded with nutrients, and in turn, should help to support your body's natural detox organs, including the kidneys, liver, and skin.
Ingredients:
1/2 cup water (or orange juice)

1 green apple

1/2 cup frozen mango chunks

1/2 frozen banana

1/2 inch fresh ginger, peeled and minced

1 cup fresh spinach

Small handful of fresh cilantro or parsley

1 Tbsp fresh lime juice
Instructions:
Blend the spinach, cilantro, and ginger with the water to help break them down completely.

Add in the fruit and lime juice, and blend again.

Pour into a glass and serve right away.
Metabolism Boosting Smoothie
This smoothie combines foods that have a positive impact on a healthy metabolism in a creamy shake that is a great meal replacement or supplement to increase your fiber, protein, and water intake.
Ingredients:
1/4 cup full-fat yogurt

2 cups spinach, fresh or frozen

1 banana green, peeled and frozen

1 grapefruit peeled, frozen

1 cup pineapple chopped, frozen

4-5 cubes of ice

10 grams whey protein isolate
Instructions:
Add all ingredients to a blender, starting with liquids and greens, and adding frozen fruit, ice, and protein powder to the top.

Blend until ultra-creamy. Add extra water if you like a thinner smoothie. Makes two servings – share with a friend or freeze the second serving for another day.
Belly Flattening Debloat Smoothie
Packed with anti-inflammatory foods that aid digestion, this smoothie helps fight digestive discomfort, so you don't end up sporting that dreaded "food baby" look.
Ingredients:
1/2 cup coconut water

1 banana

1 large cucumber, sliced

1 inch piece of fresh ginger, peeled and sliced

1 cup strong brewed peppermint tea, cooled (or a handful of fresh mint leaves)

1 Tbsp

Handful of ice
Instructions:
Place all ingredients in a blender and blend well until super smooth. Enjoy!
Keto Weight Loss Smoothie
The turmeric and cinnamon in this smoothie have a whole host of health benefits. Between the two, you'll enjoy high levels of antioxidants that fight inflammation and can help with the control of blood sugar and lipids.
Ingredients:
6-7 oz full-fat coconut milk

6-7 oz unsweetened almond milk

1 tsp granulated sweetener, such as stevia

1 Tbsp ground turmeric

1 tsp ground cinnamon

1 tsp ground ginger

1 Tbsp MCT oil (or coconut oil)

1 Tbsp chia seeds, for garnish
Instructions:
Combine all the ingredients except the chia seeds in a blender, add some ice and blend until smooth.

Sprinkle chia seeds on top and enjoy!
Try adding these smoothies to your routine a few times a week, combine with a healthy diet and exercise, and watch your belly flatten before your eyes.
-The UpWellness Team