Weed And Feed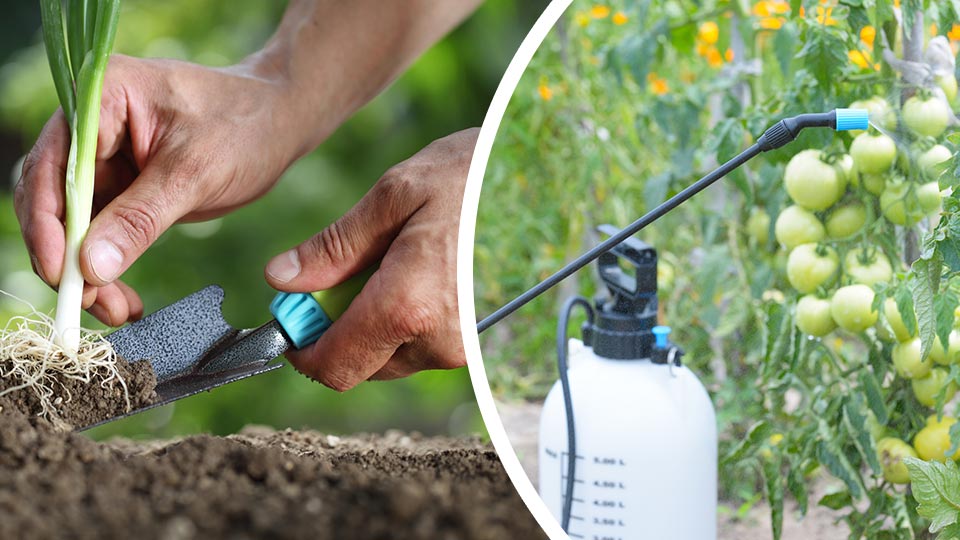 I have to hold my breath when I pass by the lawn products at my local garden center. This time of year, the shelves are brimming with products that are called "Weed and Feed" or some other poetic way to describe an all-in-one herbicide and lawn fertilizer product. I avoid the use of these products to keep the chemicals away from my kids, my dog and the 50,000 bees that live in a hive in my backyard.  
Since I avoid the use of chemical lawn treatments, my lawn is far from perfect. It's well-maintained and mostly green, so it looks fine from the street… but if you look up close, you'll see that it's not just grass. There is diversity in my lawn. Lots of grass, but a whole variety of other plants too. Some clover, a few dandelions, plantain and even some moss in the shady parts. A "perfect" lawn is an example of "monoculture" where a single species grows alone in a given area. Nature does not generally support monoculture, it tends to like diversity… which is why maintaining a perfect lawn is so challenging.
Monoculture Close To Home
Suburban homeowners and large-scale farmers love monoculture. Whether they like perfectly groomed lawns, or rows upon rows of identical crops, monoculture is orderly and efficient. But it can have disastrous consequences… inside and out.
There's a trend toward monoculture taking place in another natural habitat, which is much closer to home. The loss of diversity in this ecosystem can have immediate and profound implications for your health.
I'm talking about the remarkable loss of microbial diversity that now routinely takes place inside the human GI tract. Thanks to a number of factors (most notably the overuse of antibiotics and poor diet of humans and livestock) the health of your intestinal flora are under siege. As I'll explain, this has massive implications for your health.
What Microbial Diversity Means For Your Health
Your microbiome — some call in your "inner rainforest" — is the most diverse microbial habitat on the planet. It consists of thousands of species of bacteria. And by some estimates, an astounding 100 trillion of these tiny organisms are living in your intestines right now. These microbes perform some very important functions including:
Helping you digest food

Manufacturing enzymes and vitamins

Holding down the growth of "bad" bacteria

Controlling the reactivity of the immune system

Improving metabolism and weight control  
A lack of microbial diversity has been linked to intestinal inflammation, immune dysfunction, mood disorders, skin disorders and numerous other medical problems (such as chronic fatigue syndrome, asthma, irritable bowel syndrome). There's even convincing evidence that diminished microbial diversity drives two processes — inflammation and genetic damage — that may increase the risk of developing cancer. Hippocrates was right on target when he said, "all disease begins in the gut."
Restoring Diversity
There are two primary ways of restoring ecological diversity:
Passive

: This essentially means removing whatever is causing the damage and letting the environment or ecosystem repair itself.  

Active

: This involves introducing or re-introducing beneficial organisms or species that that can help facilitate repair.
With respect to restoring the diversity and the balance of microorganisms in the GI tract, passive restoration techniques would mean eliminating the factors that we know impair the intestinal flora. These include cutting back on sugar, processed foods and the unnecessary overuse of antibiotics in humans and livestock.
Active methods for restoration of the intestinal flora would take things a step further. This approach emphasizes fiber-rich grains, fermented foods and supplemental prebiotics and probiotics.  
Final Thoughts
Here is the good news. There is a very simple and effective way of preserving and improving your microbial diversity. Think about taking care of the ecosystem in your intestine much like you take care of your lawn and garden. Here's a healthy version that I like to call Weed, Feed Reseed:
Weed

. This means eliminating the dietary garbage that is undermining the healthy balance of your intestinal flora. Limit sugar, processed foods and red meat.

Feed.

As you'd expect, this means eating the foods that nourish your digestive system. Eat more oatmeal, beans, fruits and veggies.

Reseed

. Eat fermented foods like yogurt, kefir, sauerkraut, miso, tempeh, kimchi and kombucha and consider taking probiotic supplements to help repopulate the beneficial bacteria in your GI tract.
The loss of diversity in the environment is a cause for concern. And we should all do our part to care for the environment in every way we can. But, don't forget the plight of the "inner rainforest" either. When microbial diversity is threatened, so are you.
Take good care,
Dr. Josh
Here is what others are reading right now…