7 Ways to Make Water More Fun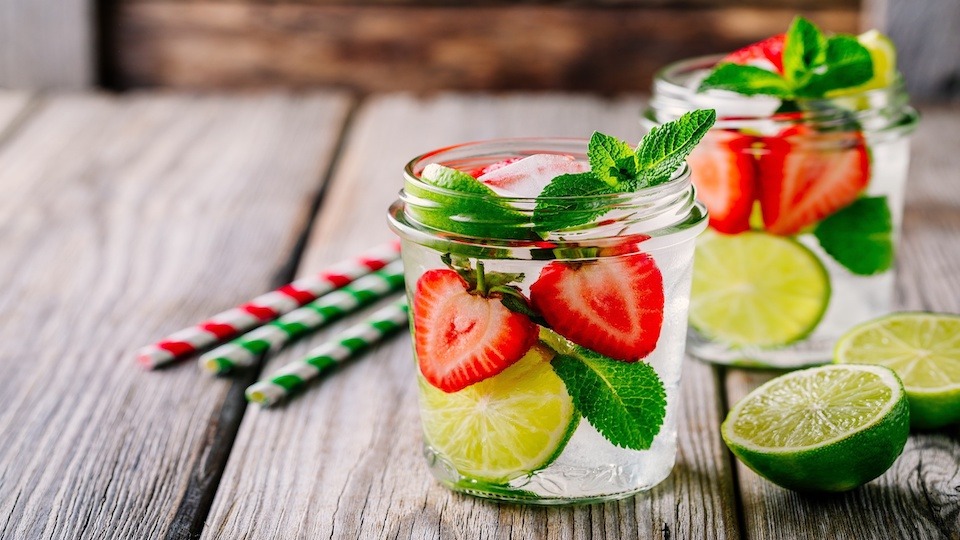 "It's sooo boring. It doesn't taste like anything. I'd rather drink something fizzy." Those are three of the most common complaints that I hear when I boldly suggest that my patients try drinking more water. When I hear these responses, my first reaction is to remind them that we should all feel blessed that we have the luxury of clean, safe, and plentiful water to drink. And then, I get practical with some tips and tricks to make water more fun…just like the ones in this timely article by my team at UpWellness.  
Drink up,
-JL  
Summer is here, and the temperatures are rising. Once the dog days of summer arrive, it is paramount that we consume enough water. Water is essential for life, we must have it, or we will die. As temperatures rise and we spend more time outside, sweating, it is even more important to be conscientious about our water intake. But, what if you don't like water? That is a tough one. Although it doesn't taste like anything, that is often the problem for many people – they want it to taste like something. There is good news. You can spice up your water to make it more palatable without much effort.
Here are some ways to make water more fun and tasty.
Strawberry, Basil Refresher
Add great fresh flavor to purified water by adding a squirt of lemon, a few strawberries, and some fresh basil leaves. Not only do these add-ons make your water look super pretty, but it also tastes delicious and fresh. Perfect for those hot summer days.
Ginger, Mint, Lime Sparkling Twist
Sparkling water is a great refreshing alternative to regular water. The ginger in this drink has anti-inflammatory properties. Mint is a great stress buster while lime is a great immune booster. To make this drink, fill a pitcher with sparkling water, add a 1-inch knob of fresh ginger, 4 fresh mint leaves, and a few slices of lime
Flavored Ice Cubes
Just adding a few flavored ice cubes to a glass of regular water can make a really exciting and refreshing drink. Here are some ideas:
Celery leaves ice cubes

– Don't toss those celery leaves, simply add them to some ice cubes and freeze.

Coffee ice cubes

– If coffee is your thing, fill an ice tray and enjoy coffee ice cube in your water.

Lemonade ice cubes –

Freeze lemonade for refreshing cubes.

Grapefruit ice cubes –

If tangy is your thing, freeze grapefruit in ice cube trays for a citrus twist that makes a statement.

Watermelon ice cubes –

To make tasty watermelon ice cubes, cut the watermelon into cubes, place on a baking sheet and freeze.
Berry Infusion
Fill a water pitcher with your favorite berries like strawberries, blueberries, and blackberries. Put the pitcher in the fridge overnight and enjoy the naturally sweet water taste from the fruit.
Cranberry Splash
Cranberries are not only delicious, but they also help with digestion, boost immunity, and help prevent urinary tract infections. Add a splash of 100% pure cranberry juice to the bottom of your cup and top with filtered water and a few ice cubes to make this refreshing drink
Tropical Twist
Switching out plain old water with this coconut alternative is a great way to get in your daily water quota. Coconut water is an excellent source of electrolytes and is one of the best ways to replenish yourself after a workout. Use only 100% coconut water and add berries or a squeeze of lemon for a tasty twist.
Iced Herbal Tea
Iced herbal tea offers up plenty in the way of hydration and counts towards your daily water intake.  Peppermint tea offers a large supply of vitamins A and C as well as iron, copper, calcium, and manganese. Peppermint can reduce stress, help you sleep, and relieve sinus pressure and menstrual cramps. It also helps with focus, strengthens the immune system, and boosts digestion. To make fresh peppermint tea, add fresh leaves to boiling water and steep for ten minutes. Strain the tea and add a squeeze of fresh lemon and raw honey for sweetening. Let the tea cool and serve over ice for a refreshing summer treat. Try various kinds of mint like orange mint, chocolate mint, and spearmint. Other teas that taste great on ice are raspberry, orange, and ginger.
Are you thirsty yet?
-The UpWellness Team