10 Ways to Enjoy More Water (and why you should)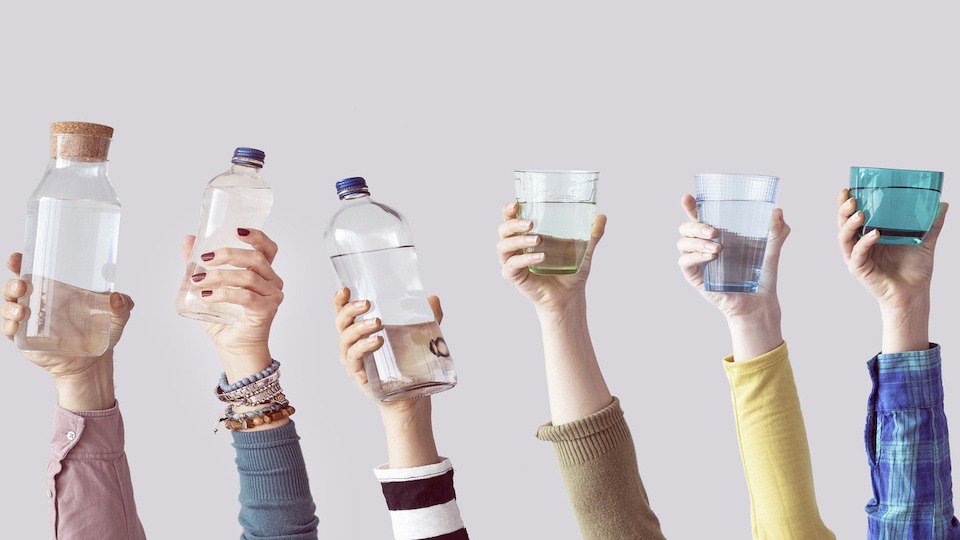 Are you one of those people who carry a water bottle around all the time? I admit it…I'm not. I'm just not a thirsty person, but that does not mean that I don't need water. Here at UpWellness, we talk about non-pharmaceutical medicines all the time. Food is medicine, movement is medicine, sleep is medicine, and so on. But one of the simplest, safest, and most effective interventions for a wide range of medical problems is…pure H20. If this article doesn't make you thirsty, I don't know what will.  
-JL  
While drinking water may not be your thing, it is a necessary part of life and something that the body requires for optimal functioning. Water may seem boring compared to other refreshments you might enjoy, but there are a few things that you can do to ensure you are getting enough of this vital liquid.
Why you need more water
The human body is 60% water and uses water in all of its cells, organs, and tissues to help regulate temperature and maintain other bodily functions. Water is vital for digestion; it helps keep tissue moist and regulates moisture in the blood, bones, and brain. In addition, water protects your spinal cord and acts as a lubricant for joints.
We lose water through breathing, sweating, and digestion which makes it extremely important to replace this loss by drinking more water and eating foods high in water content. The exact amount of water that you need is dependent on a few things including where you live, how active you are and whether you have any illnesses or other health problems.
Add flavor to your pitcher
Add flavor and excitement to your pitcher by steeping a variety of fresh fruit including strawberries, oranges, grapefruit, and lemon. You can also add veggie slices such as cucumber and celery as well as herbs like basil, mint, lavender and even ginger to your pitcher. Try experimenting with a variety of fruit, veggies, and herbs for different tastes. Be sure to change out your enhancements frequently to keep flavors fresh.
Drink two glasses before getting out of bed
Keep a bottle of water by your bed and drink at least 16 ounces before getting out of bed each morning. This helps to flush toxins from your body and wake all systems up for the day ahead.
Use an app to keep track of glasses
There are a number of health apps that you can use on your phone to help you keep track of your water consumption. Aim for at least 8-10 glasses of water per day. Using an app makes it like a little competition with yourself to be sure that you drink plenty. You can also set daily reminders to keep you on track!
Add sparkling or mineral water to regular water
If you like a little zip, add some mineral or sparkling water to your regular water. You can find naturally flavored water that does not use synthetic sweeteners. This little trick gives your water a bit of a sweet kick to help you achieve your water goals.
Keep a water jug closeby
The more accessible water is, the more likely you are to drink it. Be sure to always have water in your vehicle, at the office, and with you when you travel.
Drink some water each time you use the bathroom
Make it a habit of drinking some water after each time you use the bathroom. The more water you drink, the more you will have to use the bathroom and the more you have to use the bathroom, the more you will drink. It is a good habit to get into!
Keep hydrated while you exercise
The more you exercise, the more you need to drink. Carry your water bottle with you and take a sip after each exercise. Being dehydrated increases your risk of blood clots, so it is essential to keep hydrated while you exercise, especially if you are exercising outside in the heat.
Invest in fun water bottles
Invest in fun water bottles that you are more likely to use. There are a number of water bottles on the market that are made of non-toxic materials including glass. Water bottles come in all shapes, sizes, and colors. Find a few that you like and use them often.
If you aren't a bottle person, buy some straws
If bottles aren't your thing, invest in some fun and eco-friendly straws. You can find curly straws, colorful straws, thick straws, and skinny straws. Keep a big glass filled with water and sip all day.
Eat more water-rich foods
One tasty way to get more water is to eat foods with a high water content. This includes fruits and vegetables such as cucumbers, zucchini, watermelon, and grapefruit.
–The UpWellness Team