Twisted Tacos 3 Ways ( #2 might surprise you)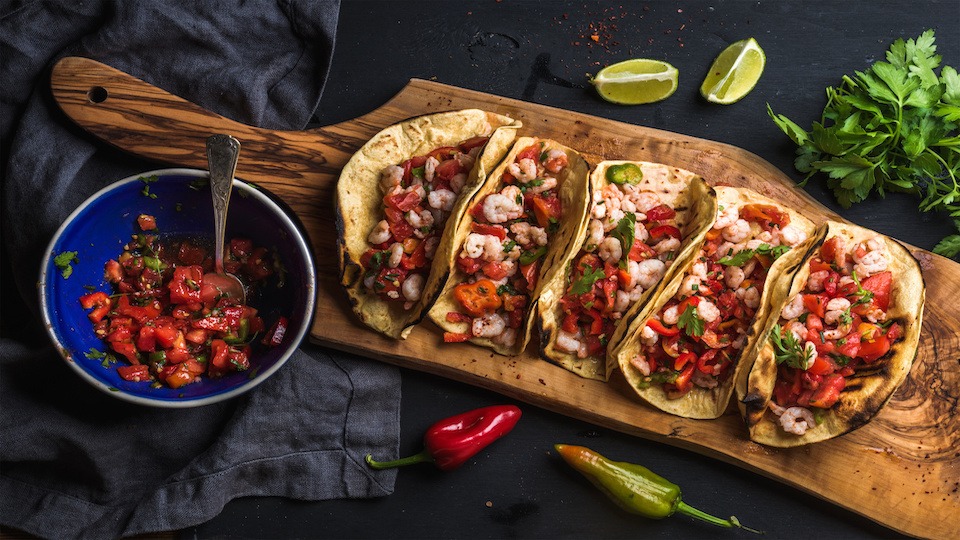 I have often joked that if the human body is about 70% water, the other 30% of mine is made of fish tacos. I grew up in sunny Southern California, where Mexican food is the staple cuisine…and a good fish taco remains one of my greatest pleasures. As a long time taco connoisseur, I also take great pleasure in seeing all sorts of different tacos popping up on restaurant menus everywhere. In this article, my team at UpWellness gives a nod to the perfect food…and a few taco recipes to try yourself.  
Enjoy!
-JL       
Do you have Taco Tuesday at your house? If so you are not alone. Tacos, of all shapes and sizes, are a very popular dinner item in homes across America. Do you, like so many others, purchase the boxed taco kits, some ground meat, cheese, maybe a little lettuce, and call it dinner? If so, it is time to expand your taco horizons and try something out of the box. There are countless ways that you can enjoy the goodness of healthy tacos.
Here are three awesome recipes you can try:
Blue Breakfast Tacos
Do you have company visiting and need a quick breakfast idea? Try these delicious breakfast tacos that will have your friends begging for more.
What you need
1 tsp butter

3 eggs + 3 egg whites

1 tsp milk

1 avocado, halved, pitted, peeled, smashed

1 tsp fresh lemon juice

4 oz. thinly sliced smoked salmon

4 blue corn tortillas

1 tsp fresh dill, chopped

sea salt and fresh ground black pepper
How to make it
Smash the avocado with a fork and combine lemon juice and stir. Add salt and pepper to taste.

Beat eggs and milk together in a large bowl.

Melt butter in a medium skillet over medium heat. Add the egg mixture, cook and stir until large curds form. When the eggs are just set, remove from the pan immediately. Add salt and pepper to taste.

Lightly coat a skillet with coconut oil or use a cast iron skillet and warm the tortillas until the edges are brown and crispy.

Spread the mashed avocado evenly on each tortilla.

Spoon the eggs over the avocado and add the salmon on top.

Top with a touch of dill and salt and pepper.
Garlicky Shrimp Tacos
These tacos have just enough zip from the garlic and limes to pair well with the seafood flair
What you need for cilantro lime sauce
¼ cup coconut oil

¼ cup water

½ cup chopped onions

½ cup cilantro leaves

3 cloves of garlic

½ tsp sea salt

2 limes, juice

½ cup sour cream
What you need for the shrimp tacos
1 lb shrimp, peeled, deveined and tails removed

1 tsp chili powder, cumin, and southwestern seasoning

¼ tsp cayenne pepper

3 cups shredded green cabbage

8 corn tortillas

2 avocados

Cotija cheese and more cilantro for topping

Serve with lime wedges
How to make it
Combine sauce ingredients except for the sour cream in a food processor. Pulse until smooth.

Add the sour cream and pulse until well combined. Set aside.

Warm some oil in a large skillet over medium heat.

Pat shrimp dry and sprinkle with spices. Add to the hot pan and saute for 5 to 8 minutes, turning over once in a while until the shrimp are cooked through.

Mix a little hot sauce with the cabbage until it is coated.

Smash a spoonful of the avocado on the tortillas and top with some shrimp and coleslaw – add Cotija cheese, cilantro, and lime wedges.
Chocolate Delight Tacos
Now, this is one taco recipe that everyone can get into, especially the chocolate lovers in your family.
What's in it
6 12-inch brown rice wraps (cut into 4-inch wraps)

3 avocados

¼ tsp sea salt

1Tbsp vanilla extract

4 Tbsp raw honey

2 packets stevia

⅓ cup cocoa powder

¼ cup dark chocolate chips

Extra dark chocolate chips for decorating

Real whip cream for topping
How to make it
Pre-heat oven to 375°F.

Cut out the rice using a 4-inch cookie cutter.

Spray wraps on both sides with olive oil.

Place in oven draped over the baking rack.

Bake 5-7minutes or until golden and crunchy.

Remove and let cool.

Place all filling ingredients into a food processor and blend until smooth.

Scoop into taco shells.

Top with whipped cream and more chocolate chips.
Who's ready for a twisted taco now?
-The UpWellness Team