Toxic Planes: Air Travelers Beware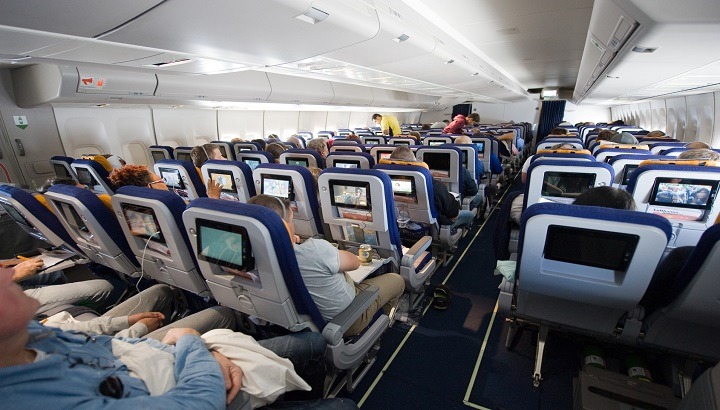 If you've ever flown in an airplane, you're familiar with that musty, stale smell that encircles you as soon as you board. Maybe you've also noticed that it can be difficult to breathe normally on a plane: that recirculated air just doesn't inspire you to take a full, deep breath. This effect is not in your head… the air inside the cabin of virtually all airplanes is a far cry from fresh. It is stale, recirculated air that is loaded with contaminants that may be harmful to your health, especially if you're a frequent flier.
For decades, physicians have been stumped by a group of patients that includes frequent flyers and airline employees who complain of a constellation of symptoms that seem to be correlated with airline travel. Complaints include fatigue, dizziness, nausea, and a range of additional concerns that seem to be worse during and after airline travel. In the last 15 years, this condition has become much more common… and much better understood. We now call it "aerotoxic syndrome," and it remains a subject that the big airlines would prefer that we not know about.
Aerotoxic syndrome refers to the ill health effects that can come from exposure to the toxic air on an airplane. In a recent article, investigative journalist and natural health advocate Sayer Ji explains the problem: the air on most airplanes is a combination of recirculated air, and "bleed air" from jet engine compressors. Ji writes:
"Every breath that the crew and passengers take today, consists of a 50/50 mix of recirculated cabin air and bleed air, the latter of which can contains a wide range of synthetic chemicals, such as tricresyl phosphate (TCP or TOCP), an organophosphate which is highly neurotoxic to humans."
There are no safe levels of these organophosphates established for humans, as everyone's sensitivity level is different. Ideally, "zero" would be the amount that we should breathe, however, that's simply not the case on airplanes. In addition to the toxins found in bleed air, there are also scores of additional airborne toxic compounds that are used in the manufacture, maintenance ,and cleaning of airplane cabins. This adds insult to injury as far as the toxicity of the flight experience.
Aerotoxic syndrome is a condition that affects air travelers, especially those who fly frequently. It is especially common amongst airline pilots and flight attendants. Symptoms of aerotoxic syndrome include:
– Fatigue
– Malaise
– Blurred vision
– Nausea
– Dizziness
– Headache
– Increased heart rate
– Respiratory irritation
– Feeling intoxicated
– Vertigo
– Loss of consciousness
– Possible immune system compromisation
So, if you feel any of these symptoms after flying, or if you find that you always get sick after a trip on a plane, it may be the result of breathing toxic cabin air. Although the vast majority of commercial airplanes use bleed air… there is one fairly new aircraft, called the the Boeing 787 Dreamliner, which eliminates the bleed air problem by introducing fresh outdoor air, making it the only "bleed free" aircraft in the sky.
The technology exists, but the vast majority of aircrafts are not employing it. This is very unfortunate case of companies putting profits over the health and safety of people.
I wish that the story ended there… but it turns out that the toxic bleed air, and the chemicals in the cabin itself, are not the only problem. In late 2016, the Association of Professional Flight Attendants, announced a plea for American Airlines to recall their new uniforms, which have reportedly caused allergy related symptoms to wearers. The airline received over 1,600 complaints regarding the uniforms, for symptoms such as rashes, trouble breathing, hives, eye irritation, and headaches. The union suspects that the manufacturing process of the new uniforms is to blame.
So, between toxic air, toxic uniforms, and brutal schedules that disrupt sleep… it's not very healthy to work in the airline industry. Many changes need to be made to make things safer, that's for sure. However, what are we to do in the meantime? Many people need to fly, some of us quite often. Sadly, there's not a whole lot we can do about the toxicity, and we can't always choose a trip on a 787 Dreamliner. As it stands, until changes are made, air travel is a toxic experience.
There is some good news though… and it's good news from within. Our bodies are remarkably good at getting rid of toxicity — we have five main organs that serve a detoxification function. The kidneys, liver, lungs, intestine, and the skin all play a role in helping your body get rid of toxins. It's an elegant and well coordinated system, and it works extremely well… except when it's overloaded.
The problem arises when the level of toxic exposure is so high that it outpaces your ability to dispose of the toxins you're exposed to. That is precisely why we need to do everything we can to support our detoxification system.
The most important step in taking good care of your detox system is to minimize your exposure to the toxins that you can easily avoid. That means eating organically grown food whenever possible, using non-toxic personal care and household products that are as natural, Earth-friendly, and human-friendly as possible. Simply minimizing your exposure to these common toxins allows your detoxification system to have "more room" for the not-so-fresh air you are likely to inhale on your next airplane trip.
– Dr. Joshua Levitt