Tis the Season for a Hot and Healthy Mulled Spice Beverage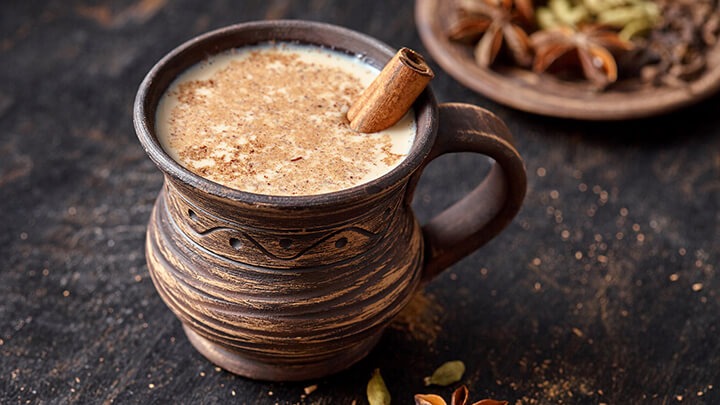 There are decorative gourds and cozy autumn-themed displays showing up everywhere…and pumpkin-spiced lattes on the menu again this season. As we fade into the fall…people naturally turn to hotter beverages to warm their insides. Drinks made with "mulling spice" are a delicious way to enhance holiday parties, enliven your taste buds, and do your health a world of good in the process. Let's look at an easy-to-make traditional mulling spice tea recipe (as well as the health benefits of some of the most common ingredients). First, here's a quick overview of some of the medicinal properties you'll find in common mulling spice blends.
Cinnamon

is an herbal medicine that has gone mainstream…one whiff and it's easy to tell why. It is derived from the inner bark of Cinnamomum trees and its medicinal use dates back to the age of the pharaohs of ancient Egypt. There are actually two varieties — Ceylon

cinnamon

(sometimes called "true cinnamon") and cassia cinnamon. The latter is what usually turns up on supermarket shelves, but I highly recommend Ceylon cinnamon, which is healthier for you. Studies show that Ceylon cinnamon is rich in antioxidants and has a potent anti-diabetic and glucose-lowering effect at 1 to 6 grams per day.

Nutmeg

is a spice derived from the Myristica fragrans tree. It has been used to add flavor to cuisines throughout the world and as a popular herbal remedy (particularly in India and Asia where it has been utilized for thousands of years).

Nutmeg

is loaded with essential oils and nutrients such as manganese, thiamin, vitamin B6, folate, magnesium, macelignan, and copper. Herbalists use nutmeg as a detoxifying tonic for the liver and kidneys. It also has compounds in it that have analgesic properties and neuroprotective effects. However, it is a potent spice and should only be used in relatively small amounts.

Cardamom

is an evergreen spice that comes from the forests in India. It is a staple of Ayurvedic medicine, where it is traditionally used to treat nausea and digestive problems. As a relative of both turmeric and ginger, cardamom also possesses anti-inflammatory and analgesic properties.

Cloves

are derived from the flowering buds of evergreen rainforest trees on the so-called "spice islands" near Indonesia.

Cloves

are rich in essential oils such as eugenol, which has both antiseptic and analgesic properties. Studies show that it can help relieve constipation and digestive problems.

Ginger

is derived from a flowering plant that first originated in China. The spice is rich in a compound called gingerol, which is packed with antioxidants and anti-inflammatory agents. Research has shown that ginger is especially therapeutic when it comes to morning sickness, menstrual cramps, and relieving

indigestion

.

Star anise

(as the name implies) is a star-shaped spice that originated in Asia. With a seed pod that looks like that…it's gotta be good. Star anise has been used in both Indian and Chinese cuisine for thousands of years as well as a folk remedy in both cultures. Studies suggest that it has potent antifungal, antibacterial, and antiviral properties.

Peppercorns

(from which black pepper is derived) have been used for centuries as a spice, a medicine, a preservative, and even as a currency!  Its wide-ranging health benefits include respiratory relief, a digestive aid, and as an agent that enhances the bioavailability of other nutrients.
Recipe — Chai Tea Blend
Here's a simple two-step process for brewing your own chai tea. The first thing you'll need to do is make your spice blend. Here's what you'll require:
Step One
Ingredients (For Creating Your Chai Tea Blend):
1 tablespoon nutmeg

1 tablespoon ginger

2 tablespoons cinnamon

2 tablespoons peppercorns

2 ½ tablespoons of cardamom seeds

1 tablespoon cloves

6 star anise pods

2 ½ ounces of loose black tea
Mix ginger, cinnamon, and nutmeg in a medium-size bowl. Next, separately grind peppercorns, cloves, and star anise pods in a coffee grinder or with a mortar and pestle. Add these additional ground spices to your bowl. Finally, add the loose tea to your mixture and stir thoroughly. Transfer your spice mixture to an airtight jar or tin and store in a cool dark place until you are ready to brew your chai tea.
Step Two
Ingredients (For Brewing a Cup of Chai Tea):
1 ½ tablespoon of chai tea blend (created in step one).

½ cup of milk (or non-dairy alternative like almond or coconut milk)

½ cup of water

1-2 teaspoons honey (optional).
Add ½ cup milk and ½ cup of water to a small saucepan or kettle. Simmer over a medium heat for several minutes. Slowly add honey (if desired) and stir. Finally, gently add 1 ½ tablespoon of your homemade chai tea blend. Continue heating on a low simmer for two minutes. After turning off the heat let your tea mixture steep covered for 3 to 4 minutes. Pour your tea mixture through a strainer and into a mug to enjoy!
Takeaway
A hot mulling spice beverage is a great way of sharing the love on social occasions, warming your insides, and getting a wide range of health benefits from plant-based medicines.
Brewing your own, however, is a much healthier alternative to the high-calorie pumpkin spice drinks at your local Starbucks. So, if you'd like to spice up your holiday season — and boost your wellbeing in the process — I hope I've given you a good recipe idea to mull over.
Take good care,
Dr. Joshua Levitt