5 Things That May Cause Constipation and How to be More Regular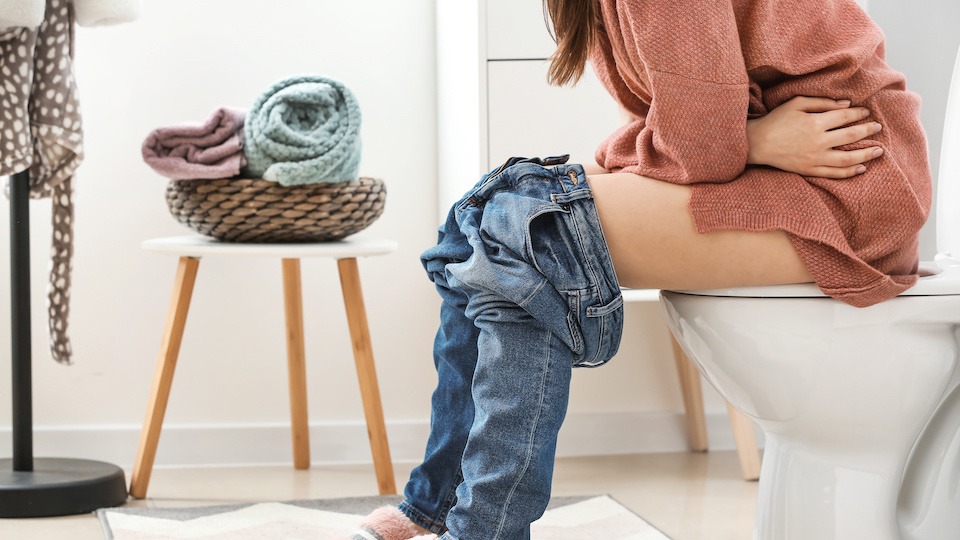 Do you struggle in the bathroom? Do you experience digestive upset frequently and have trouble passing regular bowel movements? If so, you may be constipated. Many people simply ignore and write off constipation, chalking it up to a heavy meal or just a disrupted routine. Most of the time, constipation will go away on its own over time; however, if you struggle with it regularly, your lifestyle and diet choices are likely exacerbating the condition. Here are a few primary things that can cause constipation and easy ways to encourage regular bowel movements. 
What is constipation?
You've certainly experienced constipation at some point in your life. That irritating (and often painful) feeling that you need to use the bathroom but are unable to do so due to hard or blocked stools. Constipation symptoms are officially defined as:
Fewer than three bowel movements per week

Dry, hard, or lumpy stools

Bowel movements that are difficult or painful to pass

Feeling unable to empty the bowel
What causes constipation?
Milk and dairy products 
Milk, cheese, and other dairy products can cause chronic constipation in many adults, but it is especially common in children and infants who are more sensitive to proteins found in processed cows milk. Keep in mind; if you frequently experience diarrhea after consuming dairy products, you may actually be lactose intolerant. 
Unripe bananas
You may be confused to see bananas on this list since they are also often eaten as a remedy for constipation. However, green, unripe bananas are the constipation-causing culprit, not the sweet, yellow bowel movement-improving ones. Green bananas are especially hard on the digestive system because they are loaded with starch, which is difficult for the body to digest and process. 
Red meat
Though some lean meats such as fish and poultry are healthy when cooked properly and enjoyed in moderation, red meat doesn't provide much benefit and is often the cause of constipation. Not only does it contribute to hard stools due to its low fiber and high fat, but it also fills you up at meals and prevents you from eating other, healthier foods that may be higher in fiber such as beans and veggies.  
Dehydration 
In order for your stools to pass easily through your digestive system, your intestines add water. Naturally, when you are dehydrated, your body doesn't have enough fluids to perform this and other natural functions, leaving you constipated and bloated.
Stress 
Stress doesn't just wreak havoc on your mental health, but it attacks your physical health as well. Studies show that physiological stress can often cause bowel and digestive upsets, such as abdominal pain, cramping, nausea, vomiting, and constipation. 
Other causes of constipation:
Changes to what you eat

Inactivity

Eating disorders

Irritable bowel syndrome

Pregnancy

Resisting the urge to poop

Stress

Overuse of laxatives

Some medications (especially strong pain drugs such as narcotics, antidepressants, and iron pills)

Antacid medicines that have calcium or aluminum

Problems with the nerves and muscles in your digestive system

Colon cancer

Neurological conditions such as Parkinson's disease or multiple sclerosis

Underactive thyroid
How to keep your bowel movements regular
Though many of the anti-constipation techniques suggested by doctors include the use of over-the-counter laxatives, these simply cover up the underlying issue of constipation and may cause damage in the long term. Thankfully, there are many natural ways to keep your digestive system running smoothly and avoid painful constipation.
Eat a whole foods diet
As with most things, diet is the best medicine for constipation. If your diet is causing you to have painful bowel movements or not poop at all, it is time to reassess what you're eating. Rid your pantry of any processed, sugary foods, and refined grains and stick to nutritious vegetables, whole grains, and lean meat. It may also be helpful to limit your dairy intake if you notice stomach upset following cheese or milk consumption. Eat foods high in fiber such as beans, prunes, wheat bran, broccoli, kiwi, and grapes.
Drink water
As mentioned above, one of the main causes of constipation is dehydration. Therefore, it stands to reason that drinking an adequate amount of water each day will provide immense benefits for your digestive system and keep your poop flowing smoothly.
Exercise more
Though the research is mixed regarding the benefits of exercise on your digestive system. Anecdotal evidence and a few small studies on those with IBS have shown that physical activity may actually significantly reduce symptoms and allow stools to pass easier. A gentle walk could help ease constipation, but it may also help limit pain and reduce cramping associated with this condition. 
Drink coffee
For many people, coffee acts as a natural laxative because it stimulates the muscles in your digestive system and also contains a small amount of soluble fiber, which is beneficial for regular stools. Keep in mind that caffeinated coffee can also cause diarrhea (though not usually severe), especially if you are not constipated. 
-The UpWellness Team