The #1 Supplement That People Should Be Taking But Don't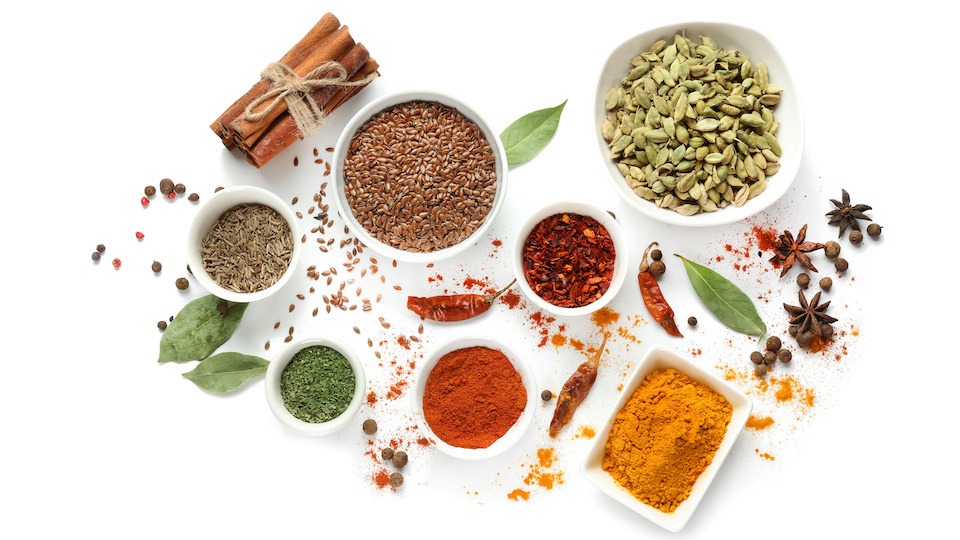 When exploring the wide world of supplements, things can get kind of murky. There are so many to choose from that it is tough to know which ones to take and which ones are the best to take. Interestingly enough, there is one form of supplement that everyone should turn to first and foremost – a supplement in it's whole, and natural form is always best…spices. Believe it or not, spices are entirely undervalued for their nutritional punch and therapeutic value.
Let's hear from our own Dr. Josha Levitt ND, about the awesome value of spices and why you should be using more.
Before I recommend any supplements…I'd like to reflect for a moment on the word "supplement" and what it actually means. A dietary or nutritional "supplement" is something that should augment, enhance, or improve that diet…they are not stand-alone health saviors. That said, there are many reasons to consider nutritional supplementation, including the sad reality of nutritionally depleted agricultural soil and modern food processing. Or to counter the adverse effects of pharmaceuticals, improve defenses against toxic exposures, and treat (or prevent) specific illnesses.  
Spices as supplements
The first supplement that I recommend for everyone is what I like to think of as the original dietary supplement…spices. Ounce for ounce, spices, and herbs (like cinnamon, garlic, ginger, rosemary, turmeric, cumin, basil, cayenne, oregano, and peppermint) are much more concentrated sources of the of anti-inflammatory, anti-oxidant, and health-enhancing compounds that we all associate with vegetables and fruits. Learning to love spices and use them in food preparation is "supplementing." It's a low-cost and high-yield way to improve your health deliciously. 
Three top spices explored
Cinnamon 
Cinnamon is not only aromatic and delicious but also a highly effective and rich supplement loaded with health-promoting properties. Cinnamon has a long history and is one of the oldest spices known to mankind. It received honorable mentions in the Bible and was used in ancient Egypt to flavor beverages, as medicine, and as an embalming agent. Some ancient Chinese botanical medicinal writings date its use as far back as 2700 BC.
Valued as much for its healing attributes as its culinary delight, cinnamon bark contains essential oils with highly active components including cinnamaldehyde, cinnamyl acetate, and cinnamyl alcohol, in addition to several other volatile substances. Cinnamon is rich in antioxidants, which help fight off free radicals and improve overall health and well being.
The essential oils in cinnamon allow it to be classified as an"anti-microbial" food. Research demonstrates that it can help stop the propagation of fungi and bacteria, including yeast Candida.
A study published in the International Journal of Food Microbiology showed that the spice effectively controlled the spread of foodborne pathogenic Bacillus cereus for sixty days when it was added to carrot broth. In addition, it was useful as a broth flavoring.
Cinnamon has proven itself to be a viable contender when it comes to lowering blood sugar in persons with diabetes. In fact, it has been found to have insulin-like impacts on blood sugar and slows the emptying rate of the stomach after meals, which improves insulin sensitivity.
Research from Wheeling Jesuit University found that just smelling cinnamon can help to increase memory and mental alertness. In another study, it was found that cinnamon extracts can halt the aggregation of tau proteins, a condition that is common in people suffering from Alzheimer's.
Other noted benefits of cinnamon include:
Reducing joint pain and stiffness
Helping to prevent tooth decay and gum disease
Turmeric
There's a wealth of scientific evidence to support claims that turmeric's healing properties — thanks to the compound curcumin — are based in truth. From its anti-inflammatory properties to its ability to help reduce stress levels, turmeric has been shown to aid the body and mind in various ways.
Curcumin, the active compound in turmeric, has been found to be an effective antibiotic in a study conducted by a team from Jawaharlal Nehru University in New Delhi and the India Beijing Institute of Microbiology and Epidemiology in 2015. Researchers tested the compound against four different bacteria types: S. aureus, E. faecalis, E. coli, and P. aeruginosa. They found that curcumin actually breaks down the membranes of these bacteria, causing them to fall apart, thanks to a leaky membrane.
Turmeric as an antifungal
 In another study, published in FEMS Immunology and Medical Microbiology, scientists found that curcumin "significantly inhibited" the Vibrio vulnificus infection, a bacterium from the same family as cholera. It is most often contracted when a person comes in contact with seawater or seafood, and causes gastrointestinal problems, including diarrhea, vomiting, and abdominal pain. Perhaps a sprinkling of turmeric on your oysters is a good idea!
People with compromised immune systems are more susceptible to fungal infections, and we're learning more about them all the time. Candida has become a topic of much conversation lately, and with good reason. The fungal infection can cause fatigue, brain fog, hormone imbalance, a loss of sex drive, bad breath, digestive problems, urinary tract infections and many more ailments. However, a 2011 study from the Department of Biosciences at Jamia Millia Islamia in New Delhi, India, found that curcumin displayed antifungal properties when tested on 14 strains of candida.
 Turmeric may help treat other fungal infections as well. Individuals who suffer from chronic asthma can become infected with Oropharyngeal candidiasis (OPC). In fact, OPC is very common for people who have to undergo treatment for the condition. Curcumin's antifungal and anti-inflammatory properties we found to help reduce the fungal burden on chronic asthma sufferers in a 2011 study. It appears that turmeric is a must-have for anyone with asthma. 
Turmeric as an anti-inflammatory
When a part of the body is injured, white blood cells and other protective substances flood to the area in an attempt to protect it from further injury or to fight infection. This process, in the short term, is natural and healthy; however, when chronic inflammation sets in, it might be a sign of an autoimmune disease. Naturopaths and other practitioners have long recommended patients use turmeric for its anti-inflammatory properties.
One study investigated the effect of turmeric on the treatment of arthritis. The 2006 study from the University of Arizona, in Tucson, found that turmeric reduces joint inflammation and joint destruction in live subjects, making it a viable treatment option for those who suffer from the condition.
In 2003, the University of California conducted a literature review on the anti-inflammatory uses of turmeric curcumin. The reviewer found that traditional claims that turmeric has anti-inflammatory — as well as the antioxidant, antiviral and antifungal —properties were valid. It also found that even people who consume excessive amounts of the spice — 8,000 mg of curcumin per day for three months — did not experience any toxic effects as a result.
Turmeric as an antiviral
Many patients who have contracted the hepatitis C virus (HCV) undergo liver transplantation surgery; however, the reinfection of the graft is a very real health threat for these patients. In an attempt to find a natural and affordable antiviral agent, researchers tested human liver cells to learn if turmeric blocked HCV from entering new, uninfected cells. 
The 2014 study published in the medical journal Gut found that curcumin actually inhibits the entry of hepatitis C virus genotypes into human liver cells. The team also found that turmeric prevents the virus from binding with liver cells. 
Another study found that a curcumin-based vaginal cream kills human papillomavirus (HPV) cells. The 2013 test-tube study found that curcumin prevented the expression and spread of pro-cancer proteins when introduced to HPV cells. HPV has been shown to cause cervical cancer.
Garlic
Garlic offers a wide range of beneficial properties for the body, with one of the most important being the ability to detoxify – or remove harmful toxins, which is a key factor in overall health as well as longevity.
You probably already know some of garlic's amazing health benefits. In addition to removing heavy metals and toxins, the shortlist of benefits includes:
Stabilizing blood pressure

Lowering LDL cholesterol

Reducing atherosclerotic buildup

Regulating

blood sugar levels

Preventing blood clots from forming to reduce the risk of stroke

Helping to decrease the risk of cancer

Reducing the instance of yeast infections
Did you know that garlic should also be a staple in your medicine cabinet? Crushed raw garlic can be used as a potent antibiotic when applied to the site of an infection. It will initially burn but is one of the best ways to eradicate an infection without prescription medication.
It can even kill strains of staph and bacteria that have become immune to modern antibiotics. The best way to use it is to crush a clove of raw garlic and let it sit for about 10 minutes before using. This allows it to form the maximum amount of allicin, providing greater antibacterial properties.
Don't be afraid to use garlic as often as possible – if you're worried about the smell, try eating a sprig of fresh parsley with it. Parsley contains high levels of chlorophyll, which act as a natural breath freshener.
Additional spices that Dr. Joshua Levitt recommends 
Other more traditional supplements that I regularly recommend include: magnesium, curcumin, digestive enzymes, probiotics, omega-3 oils, vitamin D, and adaptogenic herbal medicines. 

-The UpWellness Team