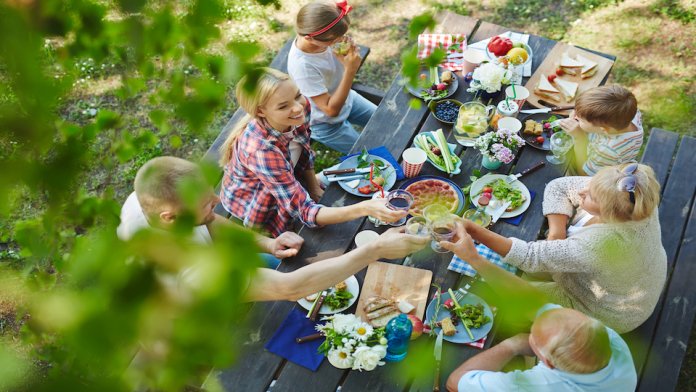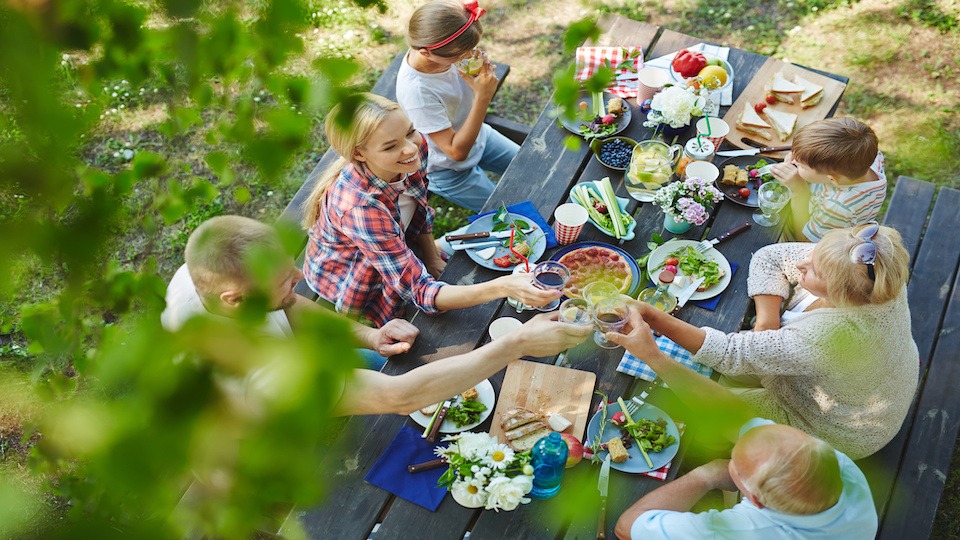 These chilled, healthy side salads are portable, flavorful, and unique additions to any picnic or backyard party. Be sure to make extra because everyone is sure to love your dish!
Tropical fruit salad
This naturally sweet, citrusy fruit salad is sure to be a hit at your next get together. Make it the night before and serve in a glass bowl for eye-catching appeal.
Ingredients:
2/3 cup freshly squeezed orange juice

1/3 cup freshly squeezed lemon juice

1/3 cup honey

1/2 tsp grated orange zest

1/2 tsp grated lemon zest

1 tsp vanilla extract

2 cups cubed fresh pineapple

2 cups strawberries, hulled and sliced

3 kiwi fruit, peeled and sliced

3 bananas, sliced

2 oranges, peeled and sectioned

1 cup seedless grapes

1/2 cup flaked, unsweetened coconut, optional
Instructions:
Add orange and lemon juice and zest and honey to a small saucepot over medium-high heat. Bring to a boil.

Reduce heat to low and simmer for 5 minutes.

Remove from heat and stir in vanilla extract.

Transfer to a bowl and set aside to cool.

While cooling, add fruit to a glass bowl. Drizzle sauce over fruit salad.

Chill for at least 4 hours before serving.
Tomato quinoa salad
This healthy salad has a great kick from the jalapenos, while the quinoa and black beans help to balance out the flavor. Double the recipe if you're feeding a large crowd.
Ingredients:
1 cup uncooked quinoa, well rinsed

1/2 tsp salt

2 cups water

1/3 cup diced red onion

2 Tbsp lime juice

1 15-ounce can black beans, drained and rinsed

1 cup of fresh corn, parboiled, drained and cooled

3 medium tomatoes, seeded and cut into chunks

5 oz fresh Mozzarella, cut into 1/4-inch to 1/2-inch cubes

1 jalapeño, seeded and finely chopped

1/4 cup chopped cilantro, including tender stems, packed

3 Tbsp olive oil
Instructions:
Cook quinoa according to package directions and transfer to a bowl. Fluff with a fork to prevent clumping.

While quinoa is cooking, combine red onions and lime juice in a bowl to allow onions to soak.

Mix corn, cheese, tomatoes, jalapenos, cilantro, black beans, and oil together in a large bowl.

Add in quinoa and onions and lime juice and season with salt, as needed. You may want to add more lime juice as well for a more tangy salad.

Serve cold or at room temperature.
Grilled vegetable salad
Nothing says summer quite as well as grilled food. Turn up the propane or light the charcoal and grill these yummy veggies for a gourmet side salad.
Ingredients:
1 zucchini, sliced lengthwise into ½ strips

1 yellow squash, sliced lengthwise into ½ strips

1 large eggplant, sliced into 1-inch rounds, about 4 slices

2 bell peppers, tops removed, seeded and cut from the top into 4 large pieces

1 ear of corn, hair removed, corn cleaned and husks intact

Olive oil, extra-virgin, for drizzling on vegetables for grilling

Salt, as needed

Black pepper, as needed

1 cup mini tomatoes, sliced in half

1/4 cup shallots, very thinly sliced

2 cups baby spinach, washed and dried
Citrus Vinaigrette ingredients:
1 Tbsp apple cider vinegar

2 Tbsp lemon juice,

1 tsp lemon zest

2 Tsp lime juice

1 tsp lime zest

1 Tsp honey or maple syrup

5 Tbsp olive oil, extra-virgin

1 tsp shallots, minced

1 tsp parsley, minced

1/4 tsp salt

⅛ tsp black pepper, freshly ground
Instructions:
Coat zucchini, yellow squash, bell peppers, and eggplant with a light layer of olive oil in a large bowl. Keep corn separate and brush with olive oil.

Season all veggies with salt and pepper.

Use a paper towel and lightly coat grill to olive oil to help prevent sticking.

Cook zucchini, yellow squash, bell peppers and eggplant for 3 minutes on each side with the grill closed at medium-high heat for 6 minutes total.

Cook corn, making sure to turn cobs every few minutes until tender, 12-15 minutes

Cover and refrigerate grilled vegetables to chill.

Using a sharp knife, slice kernels off corn and place in a large bowl. Cut remaining grilled veggie into ½ pieces and add to corn.

Add tomatoes, spinach, and shallots and gently toss to combine.

Place in fridge until ready to enjoy.

For the vinaigrette, whisk lemon and lime juice and zest, apple cider vinegar, and honey together.

Slowly whisk in the olive oil until it is thoroughly mixed and no oil droplets remain on the surface.

Add remaining dressing ingredients and adjust taste as needed.

Drizzle over salad and toss to coat all vegetables evenly.
What summer salads do you love? Let us know in the comments below!
-The UpWellness Team