So Annoying…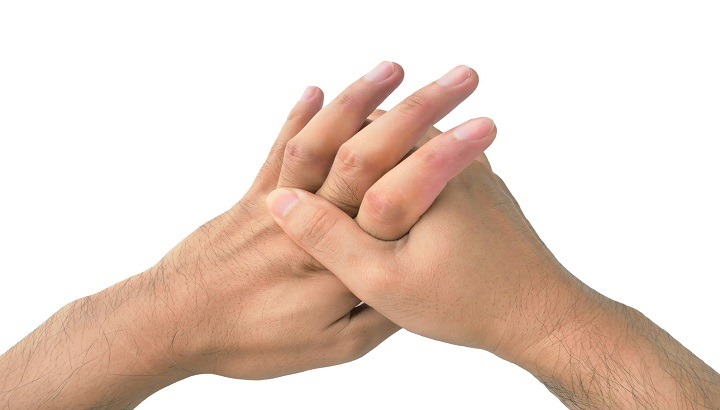 My name is Joshua Levitt and I'm a knuckle cracker. And it's not just my fingers either… I can "crack" or pop just about all of my joints whenever I feel like it. I know that it drives some people crazy and it really grosses some people out, so I try my best to keep my bad habit to myself. But wait, is it really such a bad habit after all???
One thing is for sure… I'm not alone. It's difficult to get an exact count, but estimates suggest that at least 25% and possibly as much as 50% of the population pop their knuckles, too. It's a very common habit, and most habitual knuckle crackers will generally say that it feels almost like an addiction. It is common to feel that a joint "needs to be cracked," and that doing the deed provides immediate, but only temporary, relief.
So, what is going on inside a joint that causes it to make that loud popping sound? A little anatomy and physiology lesson will help you understand. Our joints are formed by the ends of two bones coming together. The joint itself is surrounded by a capsule and inside the capsule is lubricating fluid called synovial fluid. In addition to its role as a lubricant, synovial fluid is also quite nutritious. It provides a source of fuel for the tissue within the joint.
Before we leave the subject of synovial fluid, think for a moment of an unopened can of soda. No bubbles until you pop the top, right? Well, much like the carbon dioxide that is dissolved inside the soda before you open the cap, synovial fluid is also home to dissolved gasses including nitrogen, oxygen, and carbon dioxide.
When a person cracks or pops a joint, they are setting off a process that scientists call "cavitation," which is similar to what happens when you open that soda can. The mechanics of the movement stretches the joint capsule and thereby creates a rapid pressure change inside the joint. This pressure shift causes the dissolved gasses to rapidly bubble out of solution, and you hear a pop… much like the sound of popping the top of a cold can of soda (or beer :-).
Now that we understand what's happening inside a joint when it is cracked… it's time to talk about whether or not it's safe. All of us have heard that that habitually cracking your knuckles will cause joint problems over time. The most common story is that it will lead to arthritis. The research budget for investigating such a subject is rather small so no large scale studies have been conducted, but there is some evidence that suggests that knuckle crackers like me can relax… it may be annoying to those around us, but popping knuckles does not appear to cause any serious long term damage. The idea that this habit causes arthritis was probably invented by moms and dads who were trying to come up with a way to get their kids to stop doing it.
One of the more interesting experiments on knuckle popping occurred over the course of 50 years… in the hands of a physician named Donald Unger. As a child, Dr. Unger heard that knuckle cracking could be dangerous, and he then designed an elegant experiment over the next 50+ years. He cracked the knuckles on his left hand twice per day (that's over 36,000 times) and left his right hand alone, un-cracked. After 50 years, there was no apparent difference between hands, and no arthritis in either hand. Not exactly proof, but a remarkable experiment nonetheless.
Two additional studies have reached a similar conclusion. A 1990 study published in the Annals of the Rheumatic Diseases concluded that there was no evidence of increased arthritis risk in habitual knuckle crackers, but there was a suggestion that they might have lower grip strength. Then, more recently, a paper published in 2016 in the journal Hand Surgery and Rehabilitation found no evidence of decreased grip strength in knuckle crackers. At this point it seems fairly clear that knuckle cracking does not lead to arthritis, but it may stretch ligaments a bit and make the affected joints slightly loose or less stable.
So, there you have it. Cracking your knuckles is fairly safe… and I, for one, plan to continue.
– Dr. Joshua Levitt
P.S. It is important to note that if you are feeling compelled to regularly crack your spine (like your neck or back), it may be a signal that you have an underlying musculoskeletal issue that deserves more attention. Often, chronic inflammation and muscle tension are at the root of problems like this, so you might want to consult with your physician or a health professional with musculoskeletal expertise to investigate. If you do indeed have chronic inflammation or muscle tension, my go-to herbal supplement for inflammation and muscle tension is our very own AI-4X.