Science Backed Pros and Cons of Barefoot Running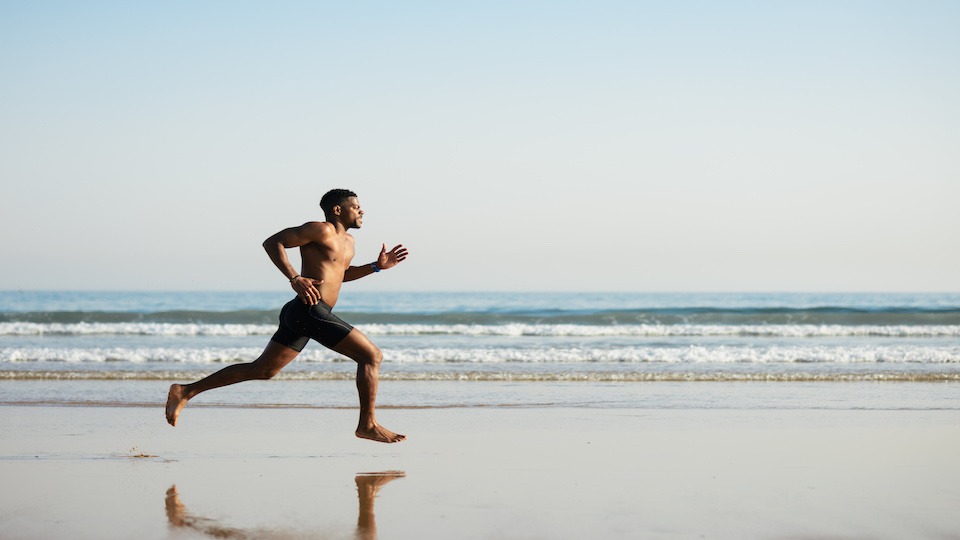 A toddler's first pair of shoes is often celebrated as a milestone. In fact, most parents get their baby their first pair before they even learn to walk. And when baby outgrows that first pair of shoes, many families have a tradition of preserving them in bronze for posterity. What most of us (and our parents and grandparents) never realized is that first pair of Stride Rite's unintentionally changed the way we all walk. The human foot is a marvel of engineering and is well designed to perform on soft, uneven natural terrain. But modern lifestyles have changed all that.
This article by my UpWellness team discusses the pros and cons of running with your feet as nature intended…barefoot.    
-JL

Shoes have become so high tech that it can be hard to narrow it down and find what's best for you. Do you need extra support, breathability, traction, flexibility, or maybe just no shoes at all? Barefoot running may be just what you need to get back in touch with the earth and embrace your natural stride. Check out our list for the top pros and cons of barefoot running and learn how you can ditch those shoes for good. 
Pros:
Prevents heel strike
Shoes with excessive padding in the heel have caused many runners to develop the bad habit of landing on the heel instead of on the middle of the foot. When you strike the ground with your heel first, you are engaging your body's braking system. This movement interrupts the flow of your stride and prevents you from moving naturally. Plus, the heel is the worst shock absorber on your foot, so constant pounding on this bone could lead to joint injury over time. 
Barefoot running forces you to reconsider the way you run and get back in touch with your body. You are more likely to land on the forefront of your foot and keep your stride smooth and fluid. 
Strengthens muscles
Shoes place your foot in a somewhat unnatural position that prevents full muscle development. Ditching the tennis shoes and going barefoot will actually strengthen the muscles, tendons, and ligaments in your foot and improve your Achilles tendon and calf muscles. When these muscles are engaged, you are getting a more intense, comprehensive workout.
Improve balance
Though your calves may be the sorest after a hard run, you use hundreds of seemingly insignificant muscles to maintain balance and prevent injury. Barefoot running hones in on these small muscles in the feet, ankles, legs, and hips and helps you develop better balance and proprioception. Plus, instead of your toes being trapped in a shoe, they are free to spread out and create a wider, more solid base to spring off of. 
Other research-based benefits of barefoot running
Cons:
Feet aren't as protected
There is a reason humans wear shoes. Our feet are tender, soft, and incredibly sensitive, which makes barefoot running a bit challenging. Simply kicking off your shoes and socks and running along your typical path could leave you vulnerable to scraped feet, thorns, and other debris like glass. 
You may develop blisters
When you first begin barefoot running, you will likely develop blisters until your feet form calluses. This is normal, and the blisters should go away once your feet adjust; however, you may have to take it slow the first few weeks. 
Could shock the foot
If you have been running in shoes your entire life, suddenly losing that support is a serious shock to your system. The initial change in gate could cause your muscles to feel overworked and sore, so it is essential to acclimate slowly. 
How to transition to barefoot running
If you decide that barefoot running is for you, it is important to keep a few things in mind as you begin the transition.
Get barefoot shoes
Though "barefoot shoes" may seem like an oxymoron, many companies have embraced the idea of barefoot running and created a number of protective covers for your feet. Whether you choose to go with the funky-looking toe shoes or a more minimalist barefoot shoe, just make sure that it offers adequate protection from the terrain you will be running on. This is a great compromise that allows you to reap the benefits of barefoot running without the danger of injury. You may have to try a few different brands and styles before you find the best ones for your feet.
Work on running form
Barefoot running does naturally help correct your running form. However, it's not instantaneous. You still have to focus on where your feet land and remain mindful as you run. Keep these tips in mind as you practice barefoot running. 
Land lightly on the middle of your foot and roll through the front of your toes, gently lifting off and propelling yourself forward.

Use short strides and don't smack the ground.

Avoid pushing the ground with your toes as this could lead to injury and blisters.

Keep your back straight and don't hunch over
Have you tried barefoot running? What did you think? Let us know in the comments below!
-The UpWellness Team