5 Reasons to Add Flaxseed Oil to Your Diet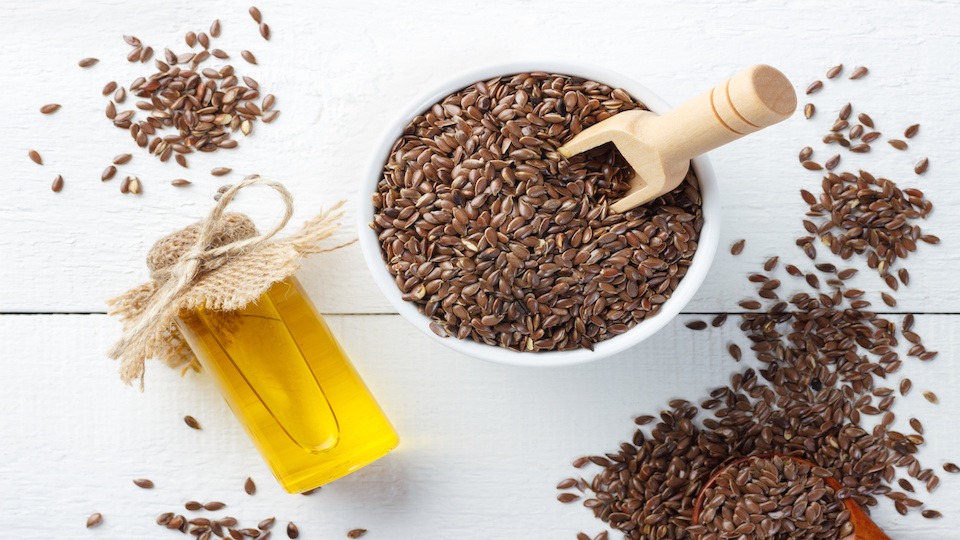 Botanically speaking, the plant is called Linum usitatissimum which roughly translates to "useful linen" which it is indeed. Linum is more commonly known as flax…which is one of the most useful plants in the natural world. The archeological record demonstrates the earliest use of wild flax dates back over 30,000 years to the paleolithic era where the fiber was likely used for rope or twine. And since then, the use of flax has spread all over the world, and the benefits of its seeds, oil, and fiber have played a major role in human health and culture. Whether it's linen clothing, linseed oil, or the remarkable health benefits associated with consuming flax seeds… this is a plant you need to know about. And in this article, my team at UpWellness will help you do just that.
-JL
Flaxseeds have been around and used therapeutically for over 6,000 years, which makes them one of the very first superfoods to be cultivated. What is it that makes flaxseed such an amazing superfood? The main reason that flaxseeds get a shining star when it comes to nutrition and therapeutic value is because of the powerful anti-inflammatory omega-3 fatty acids and antioxidant substances known as lignans that promote hormonal balance and provide other value.
What is flaxseed oil?
Flaxseed oil is also known as linseed oil and is made by pressing ground flaxseeds to release their natural oils. The benefits of this oil are far-reaching and benefit skin and body.
Here are five reasons why adding flaxseed oil to your diet is a great idea.
Flaxseed oil contains cancer-fighting properties
Both animal and test tube studies show that flaxseed oil might reduce tumor growth. In one study mice were given 0.3 ml of flaxseed oil for 40 days. After the trial period, it was found that the oil helped prevent the growth and spread of lung tumors.
Another study found that flaxseed oil blocked the formation of cancer in rats. Studies done in test tubes have shown similar results. Several such studies show that flaxseed oil reduced growth in breast cancer cells.
Flaxseed oil is good for your heart
Numerous studies support the fact that flaxseed oil can make your heart very happy. One study of 59 participants compared the impact of flaxseed oil to safflower oil (an oil high in omega-6 fatty acids). Study subjects who took one tablespoon of flaxseed oil for 12 weeks had a significantly lower blood pressure than those supplementing with safflower oil.
It is thought that flaxseed oil may help improve the elasticity of arteries something that is compromised by aging and high blood pressure. Researchers feel that these benefits are likely due to the high amount of omega-3 fatty acids in flaxseed oil. Supplementing with flaxseed oil increases the amount of omega-3s in the blood. Furthermore,  research shows that omega-3 fatty acids reduce inflammation and blood pressure.
Flaxseed oil can make your skin glow
Women who supplemented with flaxseed oil for twelve weeks found that their skin was smoother and more hydrated. They also had a noticeable reduction in roughness and irritation.
Animals studies seem to have similar results. Mice that had dermatitis were given flaxseed oil for three weeks. There was a measurable improvement in the condition after the study period including less itching, redness, and swelling.
Flaxseed oil can reduce inflammation
Research shows that obese people may benefit from flaxseed oil's ability to reduce inflammation. In one study, flaxseed oil had reduced levels of C-reactive protein, an inflammation marker in obese individuals.
Flaxseed oil may help reduce constipation and diarrhea
If you suffer from the digestive woes of either constipation or diarrhea, flaxseed oil may be just what you need. An animal studied showed that flaxseed oil acted as a laxative to encourage regularity, and also an antidiarrhea agent at the same time.
In another study, 50 patients were given hemodialysis with flaxseed oil, olive oil or mineral oil. After four weeks, the flaxseed oil increased the frequency of bowel movements while improving stool consistency. It was found to be as effective as olive oil and mineral oil.
How to supplement with flaxseed oil
Flaxseed oil is so versatile that it is easy to incorporate into any diet. One excellent way to use it is to switch it out for other oils that you use to make salad dressings, dips, and sauces. You can also add it to smoothies and never know that it is in there.
Do not use flaxseed oil to cook with as it has a very low smoke point and can form dangerous compounds when heated.  
As an added bonus, you can apply flaxseed oil directly to the skin and also use to moisturize hair.
Purchase only high-quality oil and store in a cool and dark place – the fridge is best.
-The UpWellness Team