Purslane 3 Ways: A Delicious and Nutritious "Weed" You Can Eat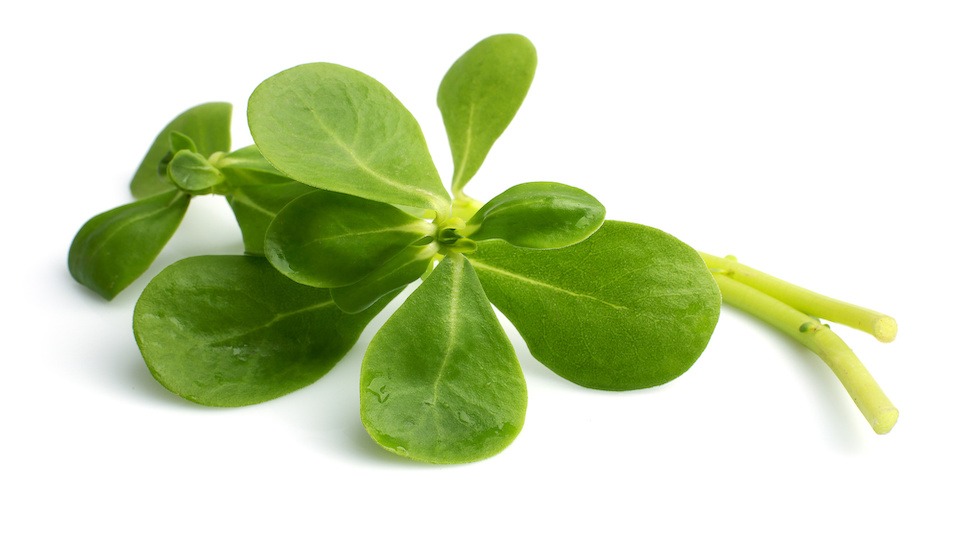 What is a weed? A plant whose virtues have yet to be discovered.
-Ralph Waldo Emerson
Emerson was right. And I would add that the definition of a weed depends largely on where it grows…and who you ask. If it's growing in the cracks in your walkway, even I might call common purslane a weed. But when it's part of a healthy Mediterranean salad, it's a trendy superfood. Either way, purslane is a plant you should know about.  
Enjoy,
-JL
With spring on the horizon for many people, it is time to start thinking about all that delicious food you will be growing and harvesting from your garden this season. While having a vegetable garden is an amazing thing, there may be one very special power-packed plant you are leaving off your table.
Common purslane (Portulaca oleracea) – also known as duckweed, fatweed, pursley, pussley, wild portulaca and verdolagas, purslane is the most commonly reported "weed" species in the world partly because it can grow anywhere that has a two-month growing season.
Until recently, purslane, native to Asia, has only been recognized as a pesky weed – not something to be enjoyed alongside other "star" veggies harvested from the home garden. Now that more and more people are tasting this weed that has a light crunch and lemony taste, it has started to grow out of its early reputation as a bothersome weed into a valuable culinary ingredient.
What does purslane taste like?
Some people compare purslane to spinach or watercress. Young, raw leaves and stems are an excellent addition to salads and sandwiches. In addition, you can steam or stir-fry them without compromising their delicate flavor. Because purslane contains a good amount of pectin, it also works well to thicken soups and stews.
Nutritional benefits of purslane
Don't let purslane's known "weed" status fool you; it is incredibly nutritious. It is top of the pack when it comes to vitamin E and essential omega-3 fatty acids alpha-linolenic acid ( ALA). In fact, ounce for ounce, purslane contain six times more vitamin E than spinach and seven times more beta carotene than carrots. It also contains vitamin c, magnesium, potassium, riboflavin, and phosphorus.
Growing purslane
You can grow purslane from cuttings or seeds. If you do plant from seeds simply clear an area and scatter seeds. Don't cover them up as they need light to germinate. If you use cuttings, simply lay them on the ground and water the stems to help them take root. Harvest regularly for plenty of greens all season. Because this is an annual, you will need to plant each season.
Here are three delicious ways to enjoy all the benefits and great taste of purslane.
Purslane Dinner Salad
(Serves 4)
Ingredients
4 cups purslane sprigs or 1 cup purslane sprigs and 3 cups arugula, escarole,

romaine, chicory frisée and/or young spinach leaves

2 scallions, trimmed, 

the best green parts left intact, and thinly sliced (optional)

Coarse sea salt and cracked pepper to taste

Strained juice of 1 small lemon, or to taste

5 tablespoons extra virgin olive oil, or to taste
Instructions
Rinse the purslane and remove the small fleshy leaves in clusters (the stems are easily broken with your finger and thumbnail).

Rinse the salad greens and pat dry; tear into bite-size pieces.

Mix the greens and scallions in a salad bowl and sprinkle with salt and pepper, lemon juice, and olive oil.

Toss with a wooden spoon and fork, and add salt, pepper and/or lemon juice to taste.

Serve immediately.
Purslane and Young Beets
(Serves 4)
Ingredients
3 medium young beets, baked in a clay pot or boiled and peeled

Large pinch of ground cloves

Coarse sea salt and cracked black pepper to taste

Strained juice of 1 large lemon

1/3 cup extra virgin olive oil, or to taste

3 cups purslane sprigs

2 scallions, white parts only, thinly sliced
Instructions
Cut the beets into large matchsticks.

Place in a non-reactive bowl, sprinkle with the cloves, salt and pepper, and half the lemon juice and olive oil.

Gently toss together, taking care not to break the beets.

Cover and set aside for 1 hour or refrigerate for up to 4 hours.

Thoroughly rinse the purslane and remove the small fleshy leaves in clusters.

Combine the beets, purslane and remaining lemon juice and olive oil in a salad bowl.

Add salt and pepper to taste, sprinkle with the scallions.

Enjoy immediately.
Purslane and Feta Cheese
(Serves 4)
Ingredients
2 cups purslane sprigs, rinsed and patted dry

2 ripe tomatoes, peeled, seeded, and cut into a 1-inch pieces

1 small English cucumber, peeled and diced

4 scallions, including the best green parts, cut in slivers

2 radishes, scrubbed and thinly sliced

1 cup coarsely chopped flat leaf parsley

1 tablespoon dried oregano

1 tablespoon fresh lemon juice, or to taste

1/4  cup extra virgin olive oil

Black pepper to taste

8 Kalamata olives, drained

1 cup drained feta cheese, cut in pieces
Instructions
Combine the purslane, tomatoes, cucumber, scallions, radishes, parsley, and oregano in a serving bowl.

Whisk together the lemon juice and olive oil. Pour over the salad and sprinkle with the pepper and olives.

Lightly toss everything together, then sprinkle with feta cheese.

Serve with pita bread.
-The UpWellness Team