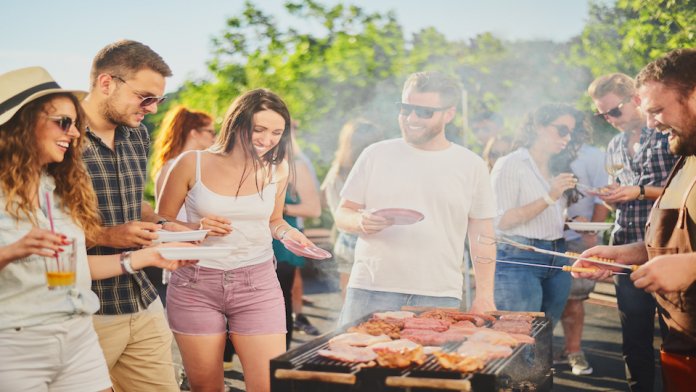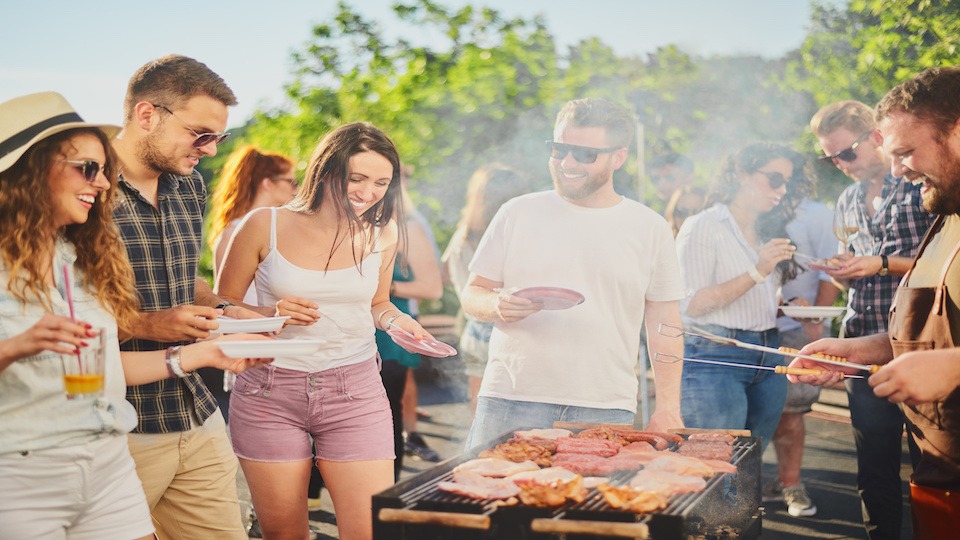 If the grill in my backyard could talk…it would tell a very different story than most American barbeques. The typical barbeque is a very meaty affair: hot dogs, burgers, chicken breasts, steaks, ribs…you know the routine. We use our grill often in the summertime, but for a very different type of meal. Fish and vegetables are what our grill knows best. Here's a sample of a less meaty meal for your next cookout. I think you'll love it!  
-JL 
There's nothing more "summery" than the smoky scent of an evening BBQ. Family and friends gathered around on the back patio, enjoying drinks and good conversation as they eagerly await whatever meat is sending off those delicious smoke signals. Unfortunately, most of the time, summer barbeques are an excuse to cheat on your meal plan and fill up on hormone-laden meat, sugary soda, and unhealthy dessert. This full barbeque menu will help you throw a healthy party and prevent that post-cookout guilt. 
Main dish:
Grilled salmon with avocado salsa
Grilling the salmon gives it a delicious, smoky flavor that pairs wonderfully with the mild, yet flavorful avocado salsa. Always buy fresh-caught salmon to ensure you are getting a quality fish.
Ingredients:
4 frozen or fresh sockeye salmon filets

Olive oil, as needed

Coconut sugar, to taste

Salt & pepper to taste
Avocado salsa:
1 avocado, diced

1 red pepper, diced

1 yellow pepper, diced

1 small red onion, diced

Juice of 1 lime

1/4 cup cilantro, chopped

1/2 tsp salt

1/4 tsp red chili flakes
Instructions: 
Preheat BBQ to medium-high heat. Don't forget to clean your BBQ between uses. 

Place salmon on a plate and brush top with olive oil and coconut sugar. Sprinkle with salt and pepper. This should just be a light dusting so don't go overboard on the sugar. 

Put salmon on the grill, skin-side down for about 10-12 minutes. (Note:  If you want those perfect grill lines on your fish…you should start the fish flesh side down and then flip after several minutes. If the fish is stuck…be patient and do not scrape! On a good quality grill grate, when the fish is ready to flip, it will pull away from the grill and flip fairly easily.)  Be sure to observe salmon as it could easily burn or catch on fire. 

Combine all salsa ingredients in a large bowl or use a food processor to chop it up if you prefer fine salsa. 

Remove salmon from the grill and top with a dollop of salsa. 

Serve immediately with remaining salsa. 
Side dish:
Grilled Asparagus
Since you already have the grill fired up, you might as well take advantage of this easy, tender asparagus recipe that makes the perfect side for your smoky fish. 
Ingredients:
2 lbs. asparagus stalks, trimmed

2 Tbsp extra-virgin olive oil

Kosher salt

Freshly ground black pepper
Instructions:
Preheat the grill over medium heat. 

In a large bowl, drizzle olive oil over asparagus stalks and sprinkle generously with salt and pepper. Toss to combine

Place stalks on the grill and cook until they can be pierced with a fork, about 3-4 minutes. Turning occasionally. 
Drink:
Basil lemonade
Basil gives your classic lemonade a serious upgrade with this refreshing drink. With alcoholic and non-alcoholic variations, this yummy lemonade can be adjusted to suit your needs. Once you try this recipe, you'll never go back to boring iced tea or unhealthy soda again. 
Ingredients:
1¼ cups fresh lemon juice (from about 8 lemons)

Lemon slices for garnish

½ cup honey

1 cup packed fresh basil leaves, plus more for garnish

3 cups cold water

Ice cubes

Add a splash of alcohol of choice, if desired.
Instructions:
In a blender, combine honey, basil, and lemon juice until a smooth paste is formed.

Place in cheesecloth and strain over a large pitcher, making sure to squeeze out all of the liquid. 

Add water and mix with a long spoon. 

Chill. 

Serve over ice with basil leaves and lemon slices for garnish. Enjoy!
Dessert:
Raspberry frozen yogurt 
No summer cookout is complete without a chilled dessert to cool you down. This easy frozen yogurt can also be made with strawberries. 
Ingredients:
1 cup plain greek yogurt

1 ½ cups frozen raspberries

1/3 cup fresh lemon juice

2 tsp fresh lemon zest

3 Tbsp honey
Instructions:
Add raspberries, greek yogurt, honey, lemon juice and zest to the blender and pulse until totally smooth. 

Depending on desired consistency, serve immediately, or transfer to an airtight container and place in the freezer for up to 2 hours, occasionally checking to make sure it is not over-frozen.

Remove and serve when yogurt has reached optimal consistency and serve immediately. Use fresh raspberries as a garnish. 
Other summer BBQ essentials:
Fresh summer fruit: Be sure to provide a variety of in-season summer fruit such as strawberries, watermelon, and blueberries. 
Fresh veggies: Depending on the size of the group, grilling the salmon could take a while. Provide fresh veggies with a healthy, greek-yogurt based dipping sauce for snacking before dinner. 
Are you ready to throw the best summer barbeque? Go fire up that grill!
-The UpWellness Team