Natural Fixes for Painful Feet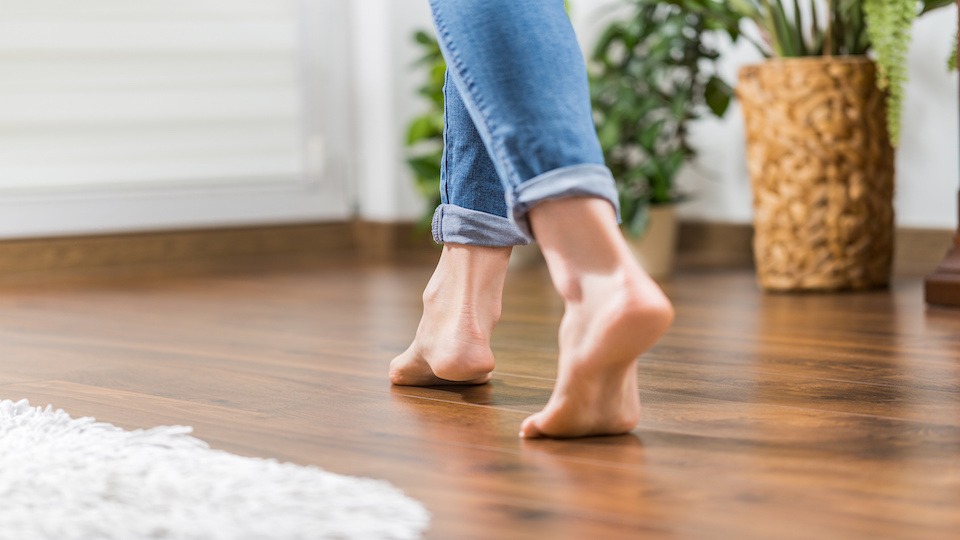 It's hard to be happy when your feet hurt. In my practice, I have seen countless patients who have long term chronic illnesses that all started with a painful foot condition. It seems crazy that a problem like diabetes or heart disease could begin in the feet…but it happens all the time. Here's why: Painful feet leads to inactivity. And as you know, inactivity leads to weight gain and the vicious cycle begins. The tips in this article will help you appreciate your feet…and help you take good care of them so that they can take good care of you.  
-JL
Painful Feet: Natural Medicine Can Help
Our feet are shock absorbers, buffering up to one million pounds of pressure during one hour of strenuous exercise. In addition, they also support 1.5 times our body weight during walking and running activities.
It's easy to injure your feet. Sometimes you have pain in your feet and don't even know why. There are over 26 bones, 33 joints and five ligaments in the feet that can be easily injured without any obvious trauma. Routine daily impact (especially in people who are carrying extra weight) on the feet can lead to not only pain but also limited mobility.
Common Conditions That Cause Foot Pain
Here are some of the most common diagnoses in people with foot pain:
Plantar Fasciitis –  Plantar fasciitis is an extremely common condition that causes foot pain and results from irritation of a thick band of tissue that connects your heel bone to your toes. Pain resulting from plantar fasciitis is worse in the morning and with strenuous exercise such as running.
Metatarsalgia – This condition causes pain on the ball of the foot and is usually the result of jumping or running when an increased stress load is placed on the region. The metatarsal bones become swollen and painful.
Tarsal Tunnel Syndrome – Tarsal tunnel syndrome happens when the main nerve that goes to the foot is compressed by bone or tissue. In the wrist, this is called carpal tunnel syndrome. Tarsal tunnel syndrome causes burning, numbness, tingling and shooting pains.
Turf Toe –  Turf toe is caused by a sprain at the base of the big toe. This occurs when the big toe bends beyond its normal range of motion and the ligaments that support it tear. Walking and running can both cause pain.
Natural Treatment For Foot Pain
Hot and Cold Water Baths
Hot and cold immersion therapy is used to soothe sore muscles and can reduce swelling, pain, and encourage blood flow in the feet. The warm water causes blood vessels to open up, while the cold water produces vasoconstriction. When you alternate between hot and cold baths, the result is increased blood flow to the area which helps to reduce inflammation and speed healing.  Start with two basins large enough to soak your feet up to the ankles. Fill one with hot water and the other with ice water. Soak your feet in the hot water for 2-3 minutes and then switch to the cold bath for 30-60 seconds. Switch back and forth 5-6 times, and refill the hot water as needed. End on cold, then dry your feet and put on a pair of cozy warm socks.
Epsom Salt Soak
Soaking your feet in an Epsom salt soak helps decrease pain and muscular tension.  Be sure that the water is quite warm and soak your feet for 10-12 minutes.
Ice Bath
Known as one of the most successful home remedies for alleviating foot pain, an ice bath can quickly reduce pain and swelling while promoting healing. Fill a basin with water and add some ice. Dip your feet into the basin for about ten minutes and wait for a few minutes before putting them back in for another ten-minute soak.
Massage
Few things feel better than a good foot massage. Give feedback to the person working on your feet to make sure that they hit the trigger points in your feet. Consider using a bit of oil to help encourage blood flow, increase flexibility and stretch muscles.
Fish Oil
Omega-3 oils support nerve health and keep foot pain a bay. Taking a fish oil supplement daily can help prevent foot pain. Fish oil helps to reduce stiffness, swelling, and pain in joints and can make your feet feel more flexible.
Foot Workout
Your feet will really benefit from a workout seeing as the muscle groups in them make up about 25% of your body's muscles.  Doing exercises specifically to strengthen your feet and lower leg muscles will help give you better balance and reduce pain. One simple exercise that you can try is to drop a towel on the floor and use your toes to scrunch it up towards your feet. Do this four or five times each morning.
Elevate Your Feet
Sometimes, just the simple act of resting your feet can provide relief. Take some time and lift your feet so that the pressure will be alleviated in your leg and feet. They should feel better right away. Elevation improves circulation within veins and lymphatic channels which helps reduce fatigue and pain.
Change Your Shoes
Even though you may be really comfortable in those old shoes, they could be contributing to your aching feet. The more worn your shoes are, the more likely that they are creating an unstable environment for your feet which causes abnormal movement. It is important to replace your shoes every six months. Take a look at the sole tread pattern. If it is worn down, it's time to go shopping.
-The UpWellness Team