Must-Watch Underwater Video From a Salmon Farm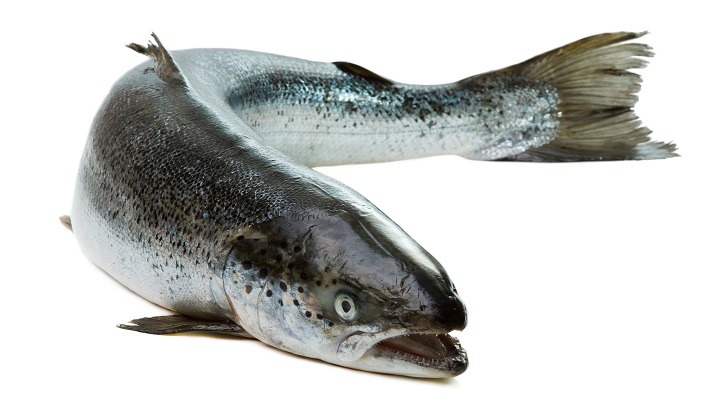 Salmon lovers… I have some troubling news. Wild salmon populations are in serious peril, and if the decline persists at current rates, marine biologists have predicted that the world could run out of wild salmon in 30 years! This devastating process is the result of a combination of environmental factors including risks related to large-scale salmon farms, and the diseases that tend to spread through them. Recently, a marine biologist, Alexandra Morton, was able to get a GoPro camera into a Pacific Salmon farm, and what she found was pretty shocking.
First, a bit of history: For hundreds of years, the rivers in the Eastern United States teemed with wild Atlantic salmon. The historical records are amazing… it's hard to imagine our local rivers and streams here in Connecticut running thick with wild Atlantic salmon, but indeed they were once here in large numbers. Sadly, today Atlantic salmon are extremely endangered and nearly extinct. This devastating decline is the result of dams on the rivers they once used for migration, and infectious diseases that arise on salmon farms. The only salmon left in the wild are the Pacific species, and their populations are in serious danger, as well. They face threats from industrial pollution, rising global temperatures, and diseases that arise from salmon farms located along their migration routes.
Alexandra Morton has been working to investigate the threat of salmon farms on Canada's West coast for many years despite the many financial, corporate, and government roadblocks she has encountered along the way. During a recent protest at a salmon farm off the coast of British Columbia, she was able to get a GoPro camera mounted on a pole into a salmon pen for a few minutes. She released the video and the results of her investigation in a short documentary called, "Hard Evidence."
As you can see for yourself in the video, many of the salmon in the pen are sickly and thin, and tend to line up against net pens. This, according to Morton, is symptomatic of a serious disease known as heart and skeletal muscle inflammation, also called HSMI. HSMI is a lethal disease found in salmon that appears to be related to infection with a virus called piscine reo-virus (PRV). One of the most serious concerns related to this virus is that it appears to have the ability to make the leap from farmed salmon to wild salmon, endangering the species as a whole.
The video that Morton took also clearly shows the penned salmon eating small, wild fish that swim through the pens. This cuts into the natural food supply of the area's wild salmon populations. Farmed salmon eating wild fish is actually illegal in Canada… but there is no question that it is happening.
This rampant sickness in farmed salmon populations is certainly a sad state of affairs. Not only are these farmed salmon sick and caged, they can easily spread their sickness to wild salmon. This disturbing video footage strengthens the case that we should not be supporting salmon farms because they pose risks to the environment and to wild salmon populations.
In addition to the environmental concerns, it has been well established that farm raised salmon poses health risks to those who choose to eat it. Farmed salmon is notoriously high in heavy metals and PCBs and significantly lower in the heart-healthy omega-3 oils that are so rich in wild salmon. As people understand the health and the environmental risks associated with farmed salmon, I am confident that the industry will begin to take notice. There are ways to farm salmon sustainably with much lower risk to wild populations, and consumer pressure will force the industry to clean up its act.
There is ample evidence that wild salmon populations can be both protected and fished in a sustainable way. So, for the sake of this remarkable fish: the next time that salmon is on the menu… make it wild.
– Dr. Joshua Levitt