How to Make Your Own Healthy Plant-Based Vegan Pizza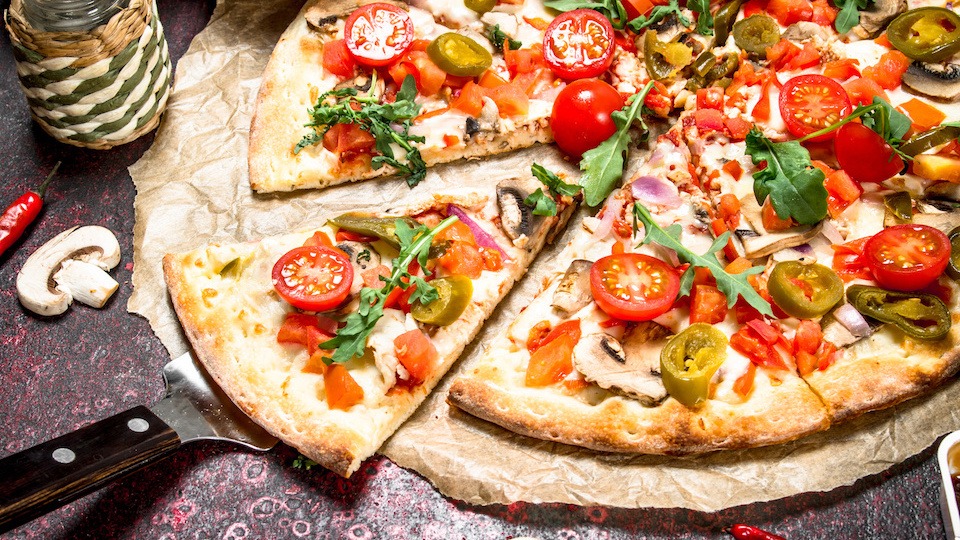 I live just up the road from New Haven, Connecticut, which is home to a large Italian-American population who takes their pizza very seriously. The classic New Haven "apizza" comes with an ultra-thin crust that is cooked in a wood-fired oven until it's extra crispy…almost burnt. Forgive me because I don't want to start World War III here– but New Haven pizza is the best pizza in the world. 
Because I am a naturopathic doctor, I see lots of people who avoid specific foods for health and/or ethical reasons. For those people who want to enjoy a meat-free, dairy-free pizza…this article by my UpWellness team would make New Haven proud. 
Buon appetito, 
-JL 
If you've recently gone vegan, there are probably a few things that you have started to miss. Along with honey and dairy ice cream, pizza is one of the hardest things to give up for those who are attempting to stick solely to a plant-based diet. Yes, the warm, cheesy, bread with the perfect amount of tomato sauce sprinkled with your favorite toppings. That pizza. Believe it or not, you can still enjoy a hearty homemade plant-based pizza. If you are vegan or are simply looking for ways to make your greasy indulgence, less, well, greasy, this easy vegan pizza recipe will quickly become a staple in your home. 
Vegan Pizza Crust
Note: This crust is not gluten-free. However, you can purchase premade gluten-free crusts or make your own. 
Ingredients:
1 tsp active yeast

1/2 cup warm water

1 1/4 cup and 1 Tbsp whole wheat flour

1/3 tsp salt

1 tsp olive oil

1/2 tsp dried oregano or other herbs

1/4 tsp garlic powder optional
Instructions:
Mix warm water, yeast, and 1 Tbsp flour in a medium-sized bowl. Set aside the bowl for a few minutes to give the yeast time to activate. 

Stir in 1 cup flour, salt, olive oil, herbs, and garlic. Don't be afraid to get up close and personal with your dough and knead it with your hands. 

Knead in 3 more Tbsp of flour until the mixture is sticky and well combined. If you feel like the dough is still too wet, add another Tbsp of flour. 

Form the dough into a large ball and let it sit on the counter for about 15 minutes to rise slightly.

Preheat the oven to 435 degrees Fahrenheit.

Pour ½ tsp olive oil over the dough and spread it around to cover the ball. Collect the dough and place it onto a parchment paper-lined baking sheet or pizza tray.

Grab some flour into your hands to keep the dough from sticking to them and spread it into a circle about 12 or 13 inches in diameter. 

Use your judgment to determine how large the pizza should be depending on your desired crust thickness. 

Keep the edges a little thicker than the center and pinch it slightly to form a crust. Let it sit for a few minutes before adding toppings. 

Add pizza sauce, cheese sauce, and toppings as desired. 

For optimal flavor, combine some minced garlic with a tsp of olive oil and a pinch of salt and oregano. Sprinkle this mixture over the pizza before baking. 

Bake for 17-18 minutes or until crust is golden-brown on the edges.

Add vegan parmesan, chopped fresh basil, and red pepper flakes on top, if desired. 
Toppings
When it comes to choosing toppings for your plant-based pizza, don't be afraid to let loose and get creative. Experiment with your favorite veggies and try different flavor combinations that you've never tried before. Here are a few of our favorites. 
Mexican: Smashed pinto beans, black olives, onions. Top with shredded lettuce, tomatoes, and salsa after cooking
Thai: Peanut sauce, red peppers, baked tofu, onions. Top with cilantro after cooking.
Classic Veggie: Tomato sauce, red peppers, mushrooms, black and green olives, onions, pepperoncini.
Greek: Hummus, kalamata olives, roasted red peppers, and red onions
Other yummy vegan toppings:
Mushrooms

Pineapple

Bell peppers

Avocado 

Zucchini

Fire-roasted tomatoes
Tomato sauce
Use crushed or diced tomatoes with Italian seasoning and garlic sauce. You can also use simple tomato sauce from a can or make your own homemade pizza sauce if you have time. Be sure to mix in fresh herbs like basil to enhance the flavor. 
Cheese sauce
Ingredients:
1 cup cauliflower, chopped, ½" pieces

½ cup uncooked millet

⅓ cup raw carrot, diced

3 cups of water

1 tsp garlic powder

1 tsp salt (optional)

2 Tbsp corn starch

2 Tbsp wet mustard

1 tsp red Tabasco sauce
Instructions:
Add cauliflower, millet, raw carrot, and 2 cups water to a small saucepot on medium heat. Bring to a boil then reduce to low and simmer for 25-30 minutes.

Turn off heat, cover, and let sit for 10 minutes. 

Uncover and allow to cool to room temperature. You may have to drain off excess water. 

Add this mixture to a high-speed blender or food processor and dump in the remaining ingredients, except the water. 

Add the remaining cup of water slowly while the food processor is running on low to help it incorporate smoothly. 

Slowly increase the speed until the mixture resembles the consistency of pancake batter.

Pour as much as desired over pizza and enjoy the smooth, cheesy taste!
Enjoy leftover cheese sauce by heating it in a saucepot, and using in stir-fry, on baked potatoes, cooked grains (think rice and quinoa), or pasta. You can also use it as a dip, dressing, and whatever else you can think of!
Happy cooking!
-The UpWellness Team