3 Lemon Balm Recipes and Other Great Ways to Use Lemon Balm
When we first moved to our current home about 6 years ago, we brought transplants of some of our favorite plants from our old house, hoping that they would like their new home as much as we did. One of those plants was a small root cutting of Melissa officianalis, also known as lemon balm. Let's just say that our little lemon balm plant is VERY happy in her new home. These days, one of my weekly tasks in the garden is making sure that the lemon balm plant doesn't take over the entire yard! It's always a pleasure to work anywhere near our lemon balm patch because the smell of the leaves is absolutely delicious. And "weeding" the lemon balm patch means that we bring those leaves inside and use them in the kitchen. My team here at UpWellness has put together a few of the most delicious ways to enjoy the lemony delight of Melissa.  Enjoy! 
-JL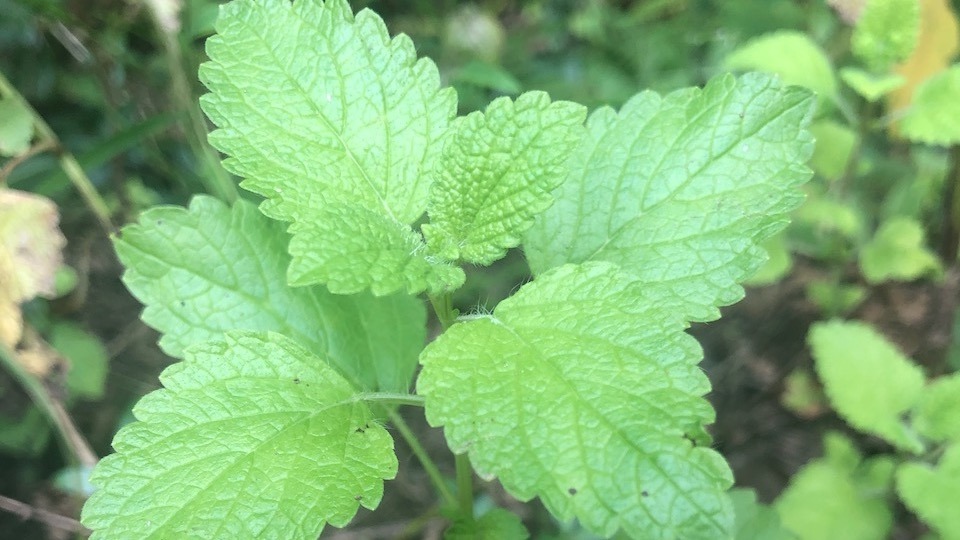 Lemon balm is the less popular, but equally delicious cousin of mint. It is just as prolific in the garden, (grow it in a pot!) just as versatile, and just as healthy as its minty counterpart. In fact, lemon balm has been shown to improve mood, cognitive function, decrease stress, and even help ease insomnia. 
The fresh, bright taste of lemon balm deserves to be recognized and appreciated. Check out our favorite recipes to do just that!
Lemon balm sweet tea
Indulge your need for sweet, summer tea without drinking syrupy sweet black tea that sends your blood sugar through the roof. Add green tea to this recipe for a little burst of caffeine and a mid-afternoon pick-me-up. 
Ingredients:
3 cups loosely packed lemon balm leaves

6 cups of filtered water

2 bags green tea, optional 

Honey or stevia, to taste
Instructions
Wash and roughly chop lemon balm. 

Add water, green tea (if using) and leaves to a large pot on the stove and bring to boil over medium-high heat. 

Turn to low and let simmer for 5 minutes. Remove from heat and let steep for up to 30 minutes depending on the desired strength of the tea. 

Strain well to remove leaves and tea bags. 

Stir in honey or stevia to taste.

Let chill in the fridge before serving.

Serve over ice with a lemon slice for garnish. 

Note: Omit green tea if trying to avoid caffeine.
Lemon Balm Pesto with Basil 
Use this delicious pesto on sandwiches, salads, or even on a warm piece of gluten-free toast with a sprinkle of feta cheese and fresh tomatoes. 
Ingredients:
3/4 cup lemon balm leaves, firmly packed

1/2 cup pine nuts

3/4 cup Parmesan cheese

1/4 cup extra virgin olive oil

3 Tbsp lemon juice

1 tsp fresh chives

Salt and pepper to taste
Instructions: 
Add all ingredients to a food processor or high-speed blender and pulse until smooth.

Stir in salt and pepper as needed.

Keep in an airtight container in the fridge for up to one week or freeze for no longer than 3 months. 
Roasted Lemon Balm Chicken
If you are looking for a fresh twist on boring, dry roasted chicken, this fragrant main dish will certainly deliver. Sage and lemon balm combine beautifully in an exquisite flavor explosion that will leave your taste buds singing. 
Ingredients:
¼ cup lemon balm leaves, divided

¼ cup fresh sage leaves, divided

¼ cup butter, softened

Salt and pepper to taste

1 (3 1/2) pound whole chicken

1 tsp garlic powder

2 Tbsp olive oil
Instructions:
Preheat over to 400 degrees Fahrenheit.

Place ⅓ of the sage and ⅓ of the lemon balm in a separate bowl and chop the remaining leaves. 

Add butter, chopped herbs, and salt and pepper in a large mixing bowl and stir until well combined.

Loosen the skin of the chicken and rub the butter mixture all around the chicken and under the skin. Be sure to cover the breast and legs as well.

Follow this by rubbing garlic powder and more salt and pepper into the skin of the chicken as well. 

Stuff the reserved herbs into the cavity of the chicken and place breast side down into a roasting pan.

Roast for 30 minutes then flip the chicken so that the breast side is up. 

Bake for 30 more minutes or until chicken is no longer pink and juices run clear. 

Check to make sure it is done by sticking an instant-read thermometer into the thickest part of the chicken. The thigh, near the bone. It should read 180 degrees Fahrenheit. 

 Remove from heat, cover with aluminum foil and allow to rest for 10 minutes before slicing. 
Other ways to use lemon balm:
Use it in place of mint: Though the flavors are different, the texture is the same and lemon balm can be used in many recipes instead of mint.
Infuse vinegar, honey, or oil: Fill a jar half full with washed lemon balm leaves and top with olive oil, raw honey or white wine vinegar. Seal with an airtight lid and place in a cupboard for about a month. Strain leaves and use for salad dressing or cooking. 
Fruit salad: Tie your fruit salad together with a few tablespoons of finely sliced lemon balm. It will bring a great citrus note without the overpowering flavor that often comes from lemon juice.
Dry leaves for tea: Unfortunately, summer doesn't last forever, and unless you grow a lemon balm plant indoors (which is a great idea!) you won't get to enjoy fresh leaves all year long. At the end of the season, cut down your lemon balm and tie the stems together. Hang upside down to dry for a few weeks in a dark, dry place. Remove the leaves and store them in an airtight container for tea on those cold winter days. 
-The UpWellness Team