Inside JFK's Medical History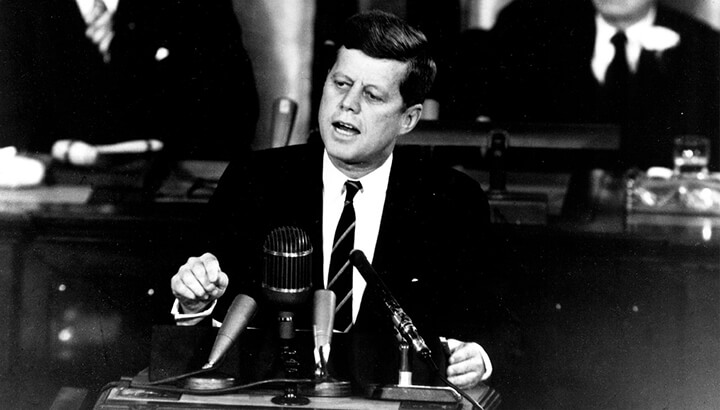 John F. Kennedy would have turned 100 this year. He is most certainly one of America's most well-known and iconic political leaders… but his medical history tells the story of man that America barely knew.
As the youngest person ever to be elected president, JFK radiated health and vitality… but he was a master of disguise. Underneath those chiseled good looks and robust appearance were some very serious health problems.
I often use the abbreviation "MMP" in my chart notes to describe a patient who has "multiple medical problems"… and JFK was most certainly a man with MMP. He had an adrenal disorder called Addison's disease, GI problems, prostate problems, high cholesterol, insomnia, and severe chronic back pain.    
JFK's back pain was the focus of a fascinating recent report published in the Journal of Neurosurgery. The title of the article is, "John F. Kennedy's back: chronic pain, failed surgeries, and the story of its effects on his life and death."
The Origins of JFK's Back Troubles
During his presidency, JFK was on the brink of complete disability as a result of back pain. He often had to walk on crutches and almost always wore a corset-like back brace. Unfortunately, the traditional treatments that Kennedy received, which included a cocktail of medications and multiple surgeries only compounded his medical problems. Given what we now know about how to approach back pain, there is no question that JFK's condition was grossly mismanaged.
Medical historians are not exactly sure how JFK's back pain originated, but most experts believe that it started with football injuries in his days at Harvard. After college, his spinal troubles were so bad that he was rejected by both the Navy and the Army after failing two physical exams. Ultimately, however, JFK's influential father intervened and was able to help his son secure a spot in the Navy during WWII.   
A famous incident during the war only made an already bad back even worse. JFK was commanding PT-109, a small patrol boat, when his ship was rammed by a Japanese destroyer.
PT-109 quickly sank following the encounter, which left the surviving crew members floating in shark-infested water miles away from shore. According to the official reports, "Kennedy towed a badly wounded crewman with the strap of his life jacket clenched between his teeth for a punishing 5-hour swim to a nearby island." Amazing and heroic for sure…but rough on an already bad back.  
Kennedy Was Ill-Served by Traditional Medicine
Starting in 1944, Kennedy endured a series of surgical procedures that almost certainly made things worse. To begin with, as historian Robert Dallek has noted, there is no evidence that JFK actually had the compression fractures that would have warranted the kinds of surgeries that were ultimately performed.
Misdiagnosis was the first link in a chain of medical mistakes. Had Kennedy's doctors been more mindful of the principle "First Do No Harm" and used the least invasive methods of medical intervention first, then their patient might have been spared a lot of medical misfortune. In fact, during one of his surgical procedures, JFK contracted a potentially life-threatening staph bacterial infection.
To make matters worse, Kennedy was prescribed a variety of medications, many of them just as dubious as the multiple operations he endured. For example, JFK was given injections of procaine and a mixture of amphetamines. As Dr. Glenn Pait pointed out in the recent article, the cocktail of pharmaceuticals being pushed on the president are very reminiscent of the medical approach that's at least partly responsible for the "opioid epidemic we're seeing today."
A Naturopathic Approach to Back Pain Finally Offers Kennedy Relief
Although his health care was far from ideal, JFK did have some very good physicians on his team.  His personal physician, Dr. Janet Travell, did pioneering work in the treatment musculoskeletal pain by identifying and releasing myofascial trigger points. (She was also responsible for many of his problematic prescriptions as well…) Dr. Travell's research into trigger point therapy had a major impact on the way I treat muscle and joint pain in my practice every day. JFK also sought help from an orthopedist named Dr. Hanks Kraus who succeeded in weaning the president off the toxic drugs he had been consuming. Kraus's approach emphasized a combination of strength training, deep massage, daily swims, and heat treatments. According to independent observers, "within months the improvements were dramatic."
Tragically, Kennedy's progress was cut short by his untimely death. Sadly, not that much has changed in last 60 years when it comes to the conventional treatments for back pain. Revised guidelines for treating spinal problems now include non-invasive and non-pharmaceutical options. But traditional practitioners have been surprisingly slow learn the lessons of the past. However, as the case study of JFK's back pain illustrates naturopathic approaches are frequently the wisest form of medicine.
JFK's spinal problems stemmed from activities–football and wartime injuries–which thankfully many of us can avoid. Nevertheless, back pain is a serious issue for the patients I see every day. Thankfully, there is increasing acknowledgment that "alternative" medicine can help…In fact, the new low back pain guidelines by the American College of Physicians (ACP) that I describe here include a wide range of naturopathic techniques which I'm grateful to say have made a tremendously positive difference in the lives of my patients. I wish JFK would've had the chance to put this approach to the test.
Back and neck pain can be seriously debilitating. But there are simple and all-natural steps you can take to support your spine's health. I think I can say with confidence that naturopathic measures have got your back.
Take good care,
Dr. Joshua Levitt