Help…I Am Bloated at Night, What Can I Do?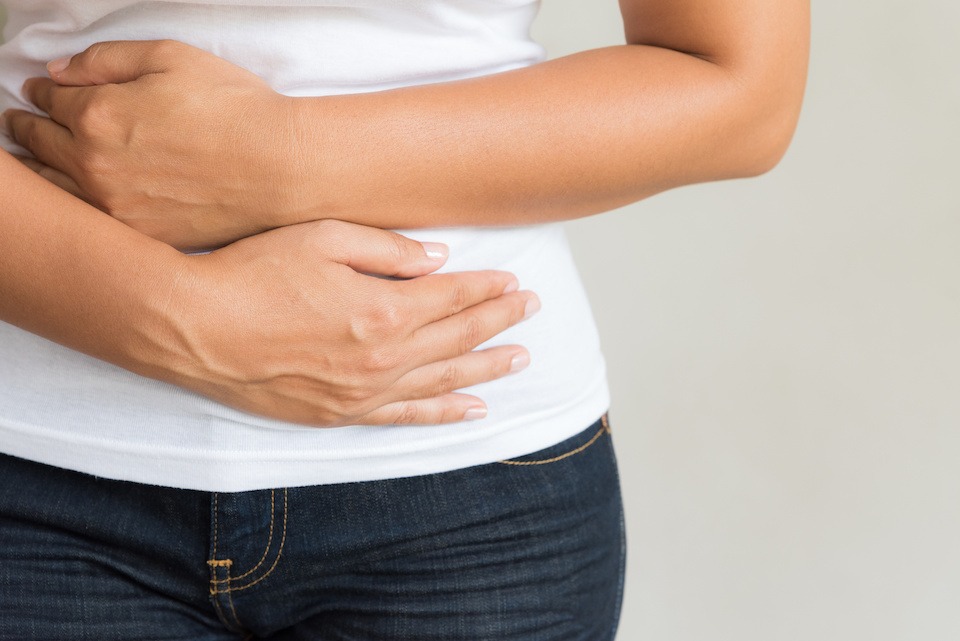 When the question came out of my mouth…I almost couldn't believe what I was asking. I was on the phone with a gastroenterologist, talking about one of the most challenging GI cases that either of us had ever seen. After every meal, this 50-year-old woman would writhe in pain as her otherwise flat belly rapidly distended so massively that it looked like she was pregnant…with triplets. 
My "crazy" question was about whether this patient's surgical team could install a port or some sort of release valve into her abdominal wall that would allow her to release the massive amount of gas she was producing manually. It turned out that my question wasn't so crazy after all; in fact, I was not the first person who had floated the idea. But thankfully, before it came to that, we were able to develop an anti-bloating protocol that included several of the strategies presented in the article by my UpWellness team below. If these simple techniques can help "beat the bloat" in a case like that…I'm sure they can help you too. 
Be Well,
Dr. Josh
That uncomfortable feeling when you can't button your pants and feel as though you would burst if someone poked you with a pin is something that millions of people experience daily. Night bloating can be particularly aggravating because it may interfere with a good night's sleep. Let's dig into some of the reasons why you may experience bloating at night. The good news is, there are several natural things you can do to relieve this condition so you can get some sleep.
What is bloating, and why does it happen at night?
Bloating an overly full feeling that generally happens after you eat. It is usually caused by excess gas or a disturbance in the movement of the muscles in the digestive system. Bloating should not be confused with water retention, although the two are often used interchangeably. Bloating involves excess solids, liquids, or gas in the digestive system that causes pain, discomfort, and often a noticeably bigger belly. Rarely, bloating is caused by something serious and is generally linked to diet. Bloating at night is most often the result of something you ate towards the end of the day. Paying careful attention to which foods cause bloating will help you better understand your body.
Here are some things that you can do to avoid that uncomfortable nighttime bloat.
Eat less at one time – If you are eating large meals and feeling uncomfortable afterward, try smaller portions more frequently. This gives your digestive system a break and allows food to be properly broken down and digested.
Slow down and chew your food thoroughly – Slowing down when you are eating and taking the time to chew food properly reduces the amount of air that you swallow, which can also cause bloating.
Know your digestive sensitivities – Paying attention to how your body responds to particular foods and food groups is essential to avoiding bloating and other digestive issues. If you are susceptible to bloating, keep a food diary and a list of no, no foods. 
Some common food sensitivities include:
Lactose

– People with

lactose

(milk sugar) sensitivity often experience gas, bloating, and other digestive symptoms.

Fructose –

Fructose is a simple sugar that may

cause bloating.

Wheat and gluten –

A lot of people are sensitive to gluten, a protein that is found in wheat, spelt, barley, and other grains. Consuming gluten can often lead to

digestive distress,

including bloating.

Eggs – 

An egg allergy can often cause gas and bloating.
Watch your sugar alcohols – They are promoted as a great substitute for sugar as they have zero calories, but some sugar alcohols can tear up the gut, causing bloating, diarrhea, and pain. Once consumed, gut bacteria begin to munch on the sugar alcohols and in doing so, produce gas, which can lead to bloating. To avoid issues, don't consume xylitol, sorbitol, or mannitol. For those with sensitivities, erythritol is the best sugar alcohol option.

Take a probiotic –  There is an entire army of bacteria in your gut – some are friendly, and some are unfriendly. These bacteria produce gas that can lead to bloating. Clinical studies have shown that certain supplements can help relieve gas and bloating. Other studies show that probiotics can help decrease gas, but not symptoms of bloating.
Try peppermint oil – Bloating can be the result of muscle spasms in the muscles in the digestive tract. A group of drugs known as antispasmodics has been found helpful in reducing spasms. Peppermint oil is a 100% natural substance that has been found to operate similarly to antispasmodic drugs. People with irritable bowel syndrome have reported relief from several symptoms, including bloating, when they use peppermint oil. Be sure to use a high-quality food-grade oil only.
Take a digestive enzyme supplement –  Taking a high-quality digestive enzyme can help to reduce incidences of gas, bloating and general discomfort
More things you can do to reduce nighttime bloating
Workout before bedtime

– A quick after-dinner walk will do the trick.

Eat dinner at the same time daily

– This gives your body time to digest.

Stretch in bed

– To help keep your digestive system working efficiently, do a few easy stretches once you get into bed. Side twists and toe touches are great.

Avoid loads of carbs before bed –

Meals that are heavy on starchy carbs like pasta and rice can lead to bloating. If you are sensitive, eat your carbs earlier in the day.

Eat an apple after dinner –

Really, eating any high fiber piece of fruit after dinner will help increase digestive efficiency.

Massage your belly –

Massaging your belly lightly after dinner can help improve digestion and reduce the risk of bloating.

-The UpWellness Team