5 Healthy Ways to Get Your Watermelon Fix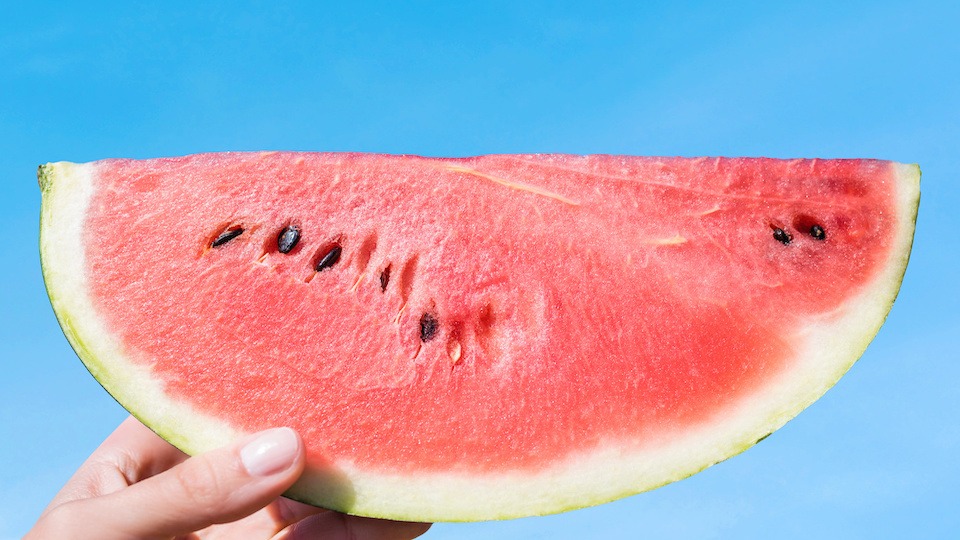 Watermelon. It's a summer staple in our house. We're purists about it most of the time…meaning that big triangular wedges are how we usually serve it as a summertime snack. But, there's good reason to think outside the box when it comes to watermelon. The sweet fruit can be used in all sorts of ways including blended into drinks, frozen into healthy popsicles, and even grilled and added into savory salads. Go pick up a big red beauty from the farmers market this week and try a few of these delicious UpWellness watermelon recipes!. 
-JL

Watermelon and summer just go together. The sweet taste of this delicious fruit is enjoyed at picnics, barbeques, and summer festivities all over the country. Not only does watermelon taste great, but it is also a delicious way to stay hydrated, as it contains 92% water. Watermelon is also loaded with vitamins A and C as well as lycopene, potassium, and amino acids.
Here are some creative and fun ways to enjoy this healthy and sweet treat this summer!
Blend it
Make a tasty watermelon smoothie that is perfect for an anytime treat.
Ingredients
1 1/2 cups fresh watermelon (seeded and cubed)

1 cup frozen strawberries

1/2 medium ripe frozen banana

1/2 – 3/4 cup unsweetened plain almond milk 

1 medium lime (juiced)

1 tsp chia seeds
How to make it
Add all ingredients to a blender and blend until smooth and creamy.

Add more almond milk as needed.
Lick it
Although they may sound simple, these refreshing popsicles are delicious. Here is how to make your very own watermelon lollipops.
Ingredients
Watermelon slices, cut to triangular wedge shapes about ½ – 1" thick

Popsicle sticks
How to make
Line a baking tray with parchment paper.

Insert popsicle sticks into the watermelon slices.

Freeze the slices and enjoy!
Detox with it
Watermelon is a powerful detox and a tasty addition to summertime fun drinks. Here is one you can try.
Ingredients
2 cups watermelon cubes

⅓ large lemon, peeled

1 1 /2 Tablespoons peeled fresh ginger

2 medium carrots (cut into rounds for the Vitamix only)
How to make it
Add watermelon and then remaining ingredients to a Vitamix.

Turn on low until watermelon has liquified and increase speed.

Blend for two minutes and drink immediately.
Grill it
Your family and friends are going to love grilled watermelon as a tasty addition to your next barbeque.
Ingredients
1 tbsp lime zest

¼ cup lime juice

¼ cup honey, divided

2 tsp garlic chili sauce

Pinch salt

1 Medium-sized Watermelon

1 tbsp fresh chopped cilantro
How to make it
Heat grill to high.

Whisk lime zest, juice, 3 Tbsp of honey, garlic, salt and chili sauce together.

Cut watermelon into 1-inch thick wedges.

Drizzle each side with honey that is left and place on grill.

Grill until brown – about 2 minutes each side.

Place on plates and drizzle with lime dressing.

Garnish with cilantro.
Sip it
Drinking your watermelon as part of a refreshing family-friendly drink is a great way to get your watermelon fix on.
Watermelon Slushy
Ingredients
4 cups seedless cubed watermelon

10 ice cubes

⅓ cup fresh lime juice

¼ cup white sugar

⅛ tsp salt
How to make it
Place watermelon and ice in the blender.
Pour in lime juice, sugar, and salt.
Blend well until smooth.
Serve immediately.
Is anyone ready for watermelon?
-The UpWellness Team