3 Healthy and Delicious Ways to Get your Cherry Fix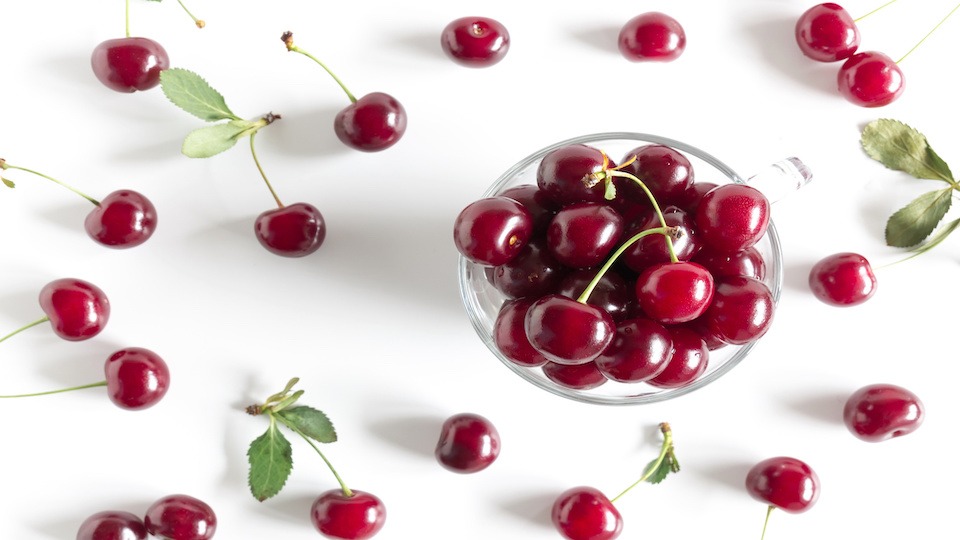 There is an old Italian neighborhood in New Haven called Wooster Square that is widely regarded as the best place in the world for pizza. I know how strongly people feel about their pizza, and I don't want to start World War Three here…because this post isn't even about pizza. I only mention Wooster Square because it is also known for the cherry trees that are planted all around the area. We go there for the cherry blossom festival (and a pizza picnic) every year in May. Cherry blossoms in full bloom are stunningly gorgeous- especially when the wind lifts off the petals in what looks like a pink springtime snowfall. And then…a few weeks from now, those trees will be heavy with fruit.  The fruit on those ornamental cherry trees is tart…they wouldn't make a very good pie. But the sweet, edible variety that you'll start to see in farmers markets this time of year are packed with health benefits worthy of a blog post…so here you go! Enjoy.
-JL
Fresh cherries are not only beautiful but also delicious. Cherries are one of the healthiest fruits containing powerful nutrients, and 21 cherries contain only 100 calories and 15% of the daily recommended amount of vitamin C.
More health benefits of cherries
Cherries contain powerful antioxidants – But that's not all, cherries are loaded with antioxidants and inflammation-busting compounds. These compounds are protective and help slow the aging process while keeping chronic illness such as heart disease, diabetes, cancer, obesity, and Alzheimer's at bay.
Cherries don't spike blood sugar – Although cherries are deliciously sweet, they are lower on the glycemic index than other fruit. What this means is that they won't cause your blood sugar to spike and crash. This helps protect you from diabetes.
Cherries help you sleep – Although it may sound strange, it is true. Tart cherries, in particular, contain melatonin, the hormone that controls the sleep and wake cycles.  In one study, participants with insomnia found that eight ounces of tart cherry juice each morning and again before bed increased sleep time by an hour and 24 minutes.
Cherries help with arthritis pain – Numerous studies show that regularly eating cherries or drinking cherry juice can help ease osteoarthritis and other joint pain.
Cherries help lower cholesterol – Research shows that drinking tart cherry juice can help lower total cholesterol – including bad cholesterol. For every 1% reduction in cholesterol, the risk of heart disease is reduced by 2%.
Cherries lower the risk of gout attacks – Gout is inflammatory arthritis that impacts over eight million adults in the U.S. The condition is triggered when a waste product known as uric acid, crystallizes within the joints, causing pain and swelling. A study of gout patients who consumed cherries for just two days as well as cherry extract and juice had a 35% lower risk of gout attacks compared to those who did not consume cherries.
Cherries help reduce post-exercise pain – Cherries can help reduce the soreness after a workout. They can also protect against cellular wear and tear caused by exercise while supporting muscle recovery. Cherry juice is great for professional and competitive athletes, but it can also help people who are regularly active.
How to get more cherries into your diet
While eating cherries one at a time when they are in season is delicious, there are so many ways to enjoy all of their goodness. Here are just a few suggestions.
Cherry Almond Smoothie
1 cup unsweetened almond milk

1 tablespoon hemp hearts

2 tablespoons raw almonds

1/4 of a frozen banana

1 cup frozen tart cherries

1 heaping cup baby spinach leaves

1/8 teaspoon, pure almond extract
How to make it
Layer all ingredients in a blender and mix well, Drink immediately
Barley and Cherry Salad
For the Salad
1 cup hulled barley, uncooked

14.5 ounce can chickpeas, drained and rinsed

1/2 cup celery, diced

1/4 cup green onion, chopped

1 cup cherries, pitted and halved

1/4 cup slivered almonds, toasted

2 ounces goat cheese, crumbled
For the Dressing:
2 T. fresh lemon juice

1 T. white balsamic vinegar

1 T. grapeseed oil

1 T. dijon mustard

1 T. honey

1/2 t. sea salt
How to make it
Cook the barley until chewy.

Drain and rinse the barley and set aside in a bowl.

Add in the chickpeas onion, celery, and toasted almonds.

Whisk together the ingredients for the dressing and add them to the barley. Toss until coated.

Add cherries and goat cheese.

Serve immediately or refrigerate for an hour before eating.
Cherry and Lime Popsicles
4Tbsp sugar

4Tbsp filtered water

2 cups fresh cherries pitted

6 Tbsp fresh lime juice

1/2 cup pomegranate juice
How to make
Mix the sugar and water together in a small pan and cook on low until the sugar dissolves. Turn the heat off and let the mixture cool.

Combine all ingredients in a blender and mix until there are no more cherry chunks.

Pour mixture into molds and freeze overnight.
-The UpWellness Team