The Healthiest Way to Eat Honey and Why You Should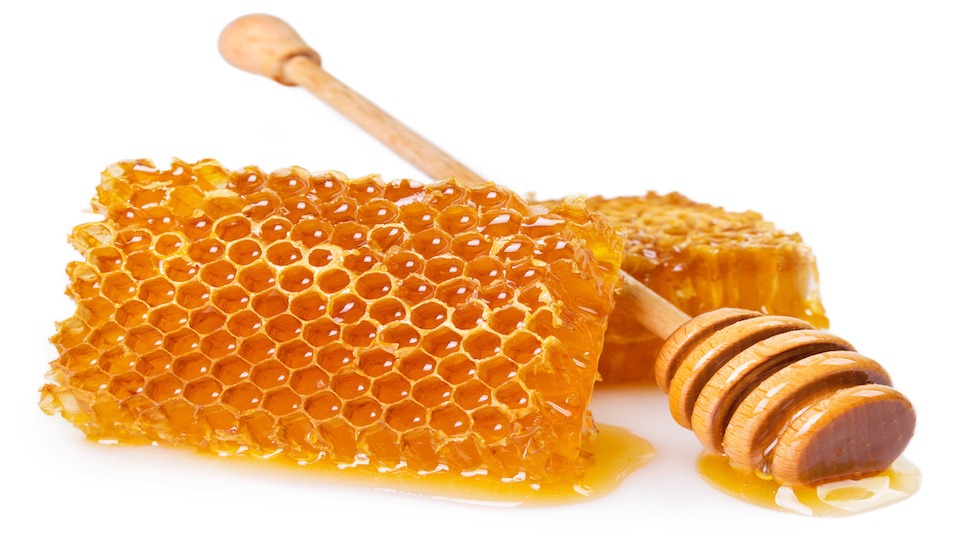 It's been called many things including liquid gold. Honey, the fantastic gift from the bees, has enamored humanity since antiquity. With its long list of therapeutic attributes, honey continues to grow in popularity and has superseded superfood status. But, is there a preferred way to eat this favored nectar? A way that guarantees you will reap all the benefits without overdoing it? The answer is yes.
What exactly is honey?
Perhaps you know that this sweet and sticky substance comes from the bees, but beyond that, you are not entirely sure what it is comprised of. Here is a breakdown.
Honey is made from nectar.  The bees collect the nectar from plants, produce an enzymatic activity after ingestion, spit it up into honey cells and evaporate the water out of it, leaving a deliciously sweet liquid we call honey.
Comprised mostly of fructose and glucose – the simple sugars in honey are converted into energy and water in the body.
Honey also contains some vitamins, minerals, electrolytes, enzymes, amino acids, and flavonoids. According to dietitian Jenny Friedman,
"These compounds are responsible for some of honey's potential health benefits and part of what distinguishes the sweetener from more traditional ones like sugar."
How healthy is honey?
Honey is truly a healing gift from nature, and is rich in medicinal properties. Here is just a snapshot.
Hygroscopic property –

In its natural state, honey has a very low water content, but it absorbs moisture when exposed to air. This hygroscopic property makes honey highly beneficial to dry skin by allowing it to retain moisture better. It also helps speed up

wound healing time.
Antibacterial property –

One especially vital component in honey, glucose oxidase, is an enzyme that produces hydrogen peroxide.

Research

indicates that this is one of the main reasons why honey seems to have such powerful antibacterial and wound-healing capabilities. The production of hydrogen peroxide is just one of the remarkable ways that honey helps to kill bacteria and heal wounds.
Antioxidant property –

Although darker honey generally contains more antioxidant power than light colored, both are still a rich source of valuable

antioxidants.

Antioxidants go to work against free radicals and encourage new tissue growth. This, in turn, helps expedite the healing of damaged tissue and also helps skin appear younger and more radiant.
Honey is a nutritional powerhouse

–

Honey is also a nutritional powerhouse

, containing glucose, fructose and numerous minerals including calcium, iron, copper, phosphate, sodium chlorine, magnesium, manganese, and potassium. Vitamins in honey include B6, niacin, riboflavin, thiamin, pantothenic acid and a number of amino acids. It is also quite acidic, with a pH between 3.2. and 4.5. This helps prevent the growth of bacteria. It is also loaded with protective antioxidants.
Awesome ways to use honey
Both internally and externally, honey has proven itself a winner. Here are just some of the amazing ways that you can benefit from honey.
Wound cleaner

Diaper rash remedy

Hair conditioner

Makeup remover

Skin conditioner

Nail strengthener

Lip moisturizer

Healthy energy drink

Remedy for insect bites

Skin softener

Remedy for parasites

Fight oral infections

Heal wounds

Improve fertility

Heal gut problems

Blood sugar balancer
As you can see from this short list, honey is a versatile superfood and something you should always have on hand.
The healthiest way to eat honey
Yes, the list of honey's benefits is incredible, however, it is essential to remember that honey is still a sugar.  The American Heart Association recommends that women limit sugar to six teaspoons a day and men to nine teaspoons a day.  However, the average American consumes two to three times the recommended amount.
Consuming too much sugar has been linked to a number of health conditions such as obesity, diabetes and heart disease. Although honey comes from a completely natural source, it is important to remember what it actually is. The body sees honey and sugar added to foods the same way. This is why moderation is key.
The average serving of honey is one tablespoon which contains 64 calories, and 17 grams of sugar. It is best to keep calories from sugar under 100 for women and 150 for men.
Because honey is so special, it works great to highlight flavors. This might mean drizzling some on yogurt, oatmeal or even using in dressings and dips.
What is the best type of honey to use?
There are over 300 varieties of honey with the main types being organic, dark, light, raw and filtered. The quality, flavor, and color of the honey depend upon the type of flowers that the bees have dined on.
The best type of honey depends on what you are going to use it for and what flavors you desire. While darker honey has more antioxidants, it has a bitter taste that not everyone likes. Buckwheat honey has a rather impressive nutritional profile, and manuka has been highlighted for its medicinal properties but is not so great when used in baking.
Before selecting your honey do your research. Purchasing raw, local honey will not only help the economy but also offers relief for seasonal allergy sufferers. Just be sure that your honey is pure and not loaded with additives. Pure honey is thick and slow moving with a slightly floral aroma.  
Ready to enjoy this true gift from nature…in moderation?
-The UpWellness Team