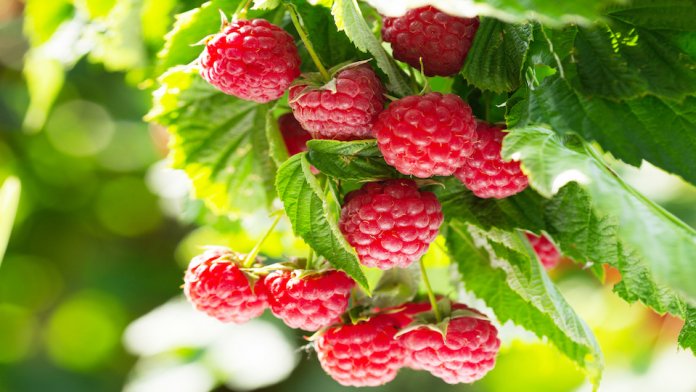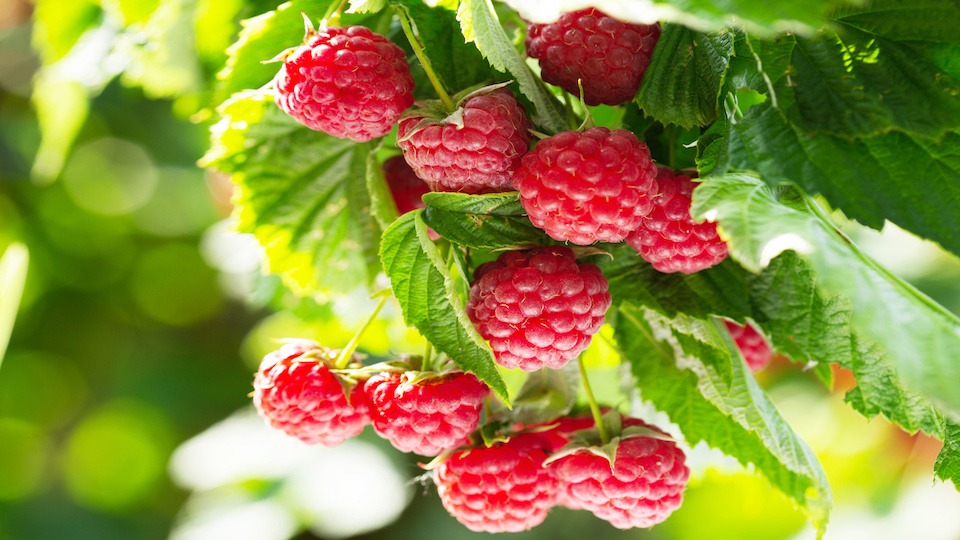 Just this morning on my daily hike, I spotted a flash of red on the side of the trail. A closer look and a cautious approach though the thorns and I pulled out a perfectly ripe red raspberry. Finding wild berries are one of life's great pleasures, and for me, raspberries are at the top of the list. As much as I love raspberries as a tasty summer treat, Rubus idaeus is also a useful medicinal plant. Whether you pick them in the wild, in your garden, at local u-pick farm, or pick them up at a farmers market or grocery store…this article by my team at UpWellness will give you a craving for raspberries that you can feel good about. 
Enjoy, 
-JL
Raspberries are not only delicious, but they are also incredibly healthy too. Like many other fruits and veggies, the nutritional profile of raspberries is astonishing and shows just how important it is to fill your diet with real, whole foods. Other than their outstanding flavor, here are a few reasons to eat more raspberries today, and how to incorporate them into your diet. 
Improve brain power
Raspberries are rich in antioxidants that protect the brain and encourage powerful cognitive function. In fact, studies have shown that berries can help prevent age-related neurological deterioration and mental decline. 
High in Fiber
Fiber is an essential element of any meal. However, many processed diets lack this key element due to the exclusion of fiber-rich whole foods. Enjoy a fiber boost with every berry you eat! Raspberries can help improve digestive function and aid in gut health. 
Protects eyes
Raspberries are high in vitamin C and can aid in protecting your eyes against dangerous UV rays, macular degeneration, and damaging blue light. One specific antioxidant in raspberries called zeaxanthin may be particularly beneficial in improving eye health. Remember, always wear sunglasses on bright days and avoid looking directly into the sun. 
Improve blood sugar levels
Since they are so low in sugar (only 5 grams per cup compared to a medium apple that has 20) and high in fiber, raspberries are a helpful tool for those seeking to manage their blood sugar. Studies have shown that these nutrient-packed gems can improve insulin resistance and aid in weight loss as well. If you have diabetes, it is a good idea to add raspberries to your diet. 
Anti-aging capabilities
Once again, due to the unrivaled power of antioxidants and vitamin C, raspberries can help fight off wrinkles and sagging skin. They can boost collagen production, reduce inflammation, and protect the skin from premature aging. 
How to eat more raspberries
It is an excellent idea to incorporate at least three servings of fresh berries each week for optimal results. Though eating plain raspberries is a great way to get your fix, try these ideas to use raspberries in the kitchen in new and exciting ways. 
Stick them in a smoothie
There is nothing like a cold, raspberry smoothie on a warm summer day. Toss ½ a cup of fresh or frozen berries into your blender along with almond or coconut milk, ½ cup of blueberries, and a handful of kale for the ultimate way to start your morning. 
Make your own jam 
Raspberry jam is absolutely delicious and is a great toast topper or a sweet addition to savory recipes. Most store-bought brands are full of nasty chemicals and processed sugar. This easy recipe utilizes the natural sweetness of strawberries and helps you make your own jam in just a few simple steps. 
Ingredients:
2 cups raspberries

2 Tbsp raw honey

1/2 tsp vanilla extract

1 Tbsp lemon juice

1 Tbsp chia seeds
Instructions:
Add raspberries, vanilla, and honey to a small saucepan over medium heat. 

Stir roughly to mash up the strawberries.

Bring to a boil and turn heat to low. Let simmer for 5 minutes.

Mix in lemon juice and chia seeds and allow the mixture to simmer for another 5 minutes.

Remove froth from the top with a wooden spoon and remove from heat. 

Cover and let cool on the countertop.

Transfer to a small glass jar and use within one week. 

Enjoy!
Yogurt topper
Make an eye-catching and delicious yogurt parfait for dessert or breakfast by adding berries and a drizzle of yogurt to a bowl of greek yogurt. For an even heartier treat, mix in homemade granola and enjoy the crunch.
Sweet and savory salad
Whip up a delicious salad that incorporates multiple flavors to excite your taste buds and enhance your palette. Mix fresh spring greens with grilled chicken, crumbled goat cheese, raspberries, pecans, and an olive oil and vinegar dressing. 
Remember, always eat fresh, or frozen organic raspberries and wash before using. Look for local raspberries in your city or grow your own to save money and have a plentiful supply of homegrown berries all summer. 
What do you love about raspberries, and how do you include them in your diet? Let us know in the comments below!
-The UpWellness Team