How to Go From Recliner to Running 3 Miles and Do It Right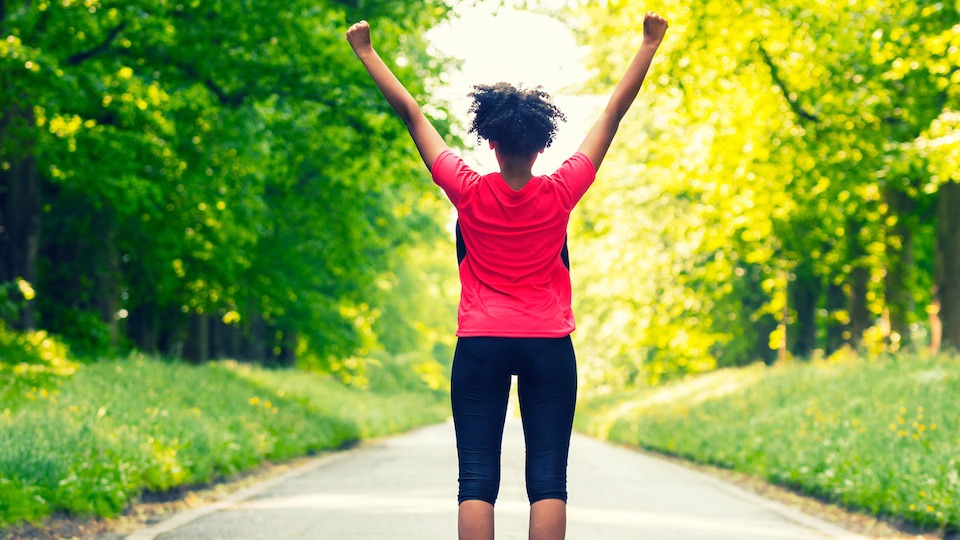 Running. It seems like it should be so simple and inexpensive, right? Well, the market for gear related to running (shoes, apparel,  fitness trackers, etc.) is in the neighborhood of $20 billion dollars annually in the US and growing every year. Maybe it's time that you consider breaking into it…I know it can seem daunting, especially for those who spend more time on the recliner than they should. But this educational and inspirational article by my team at UpWellness will help lift your spirits (and your rear end) off the recliner and get you out on the road. 
Be Well, 
-JL  
Running is great for your body, it helps strengthen and expand your lungs, aids in weight loss, can help you feel more confident, and can even boost your mood. However, if you've never been running before, it can be incredibly intimidating and hard to find the motivation to get going. The trick is to start small and take it one day at a time. 
Remember, running is different from strength exercises and more low-impact cardio such as brisk walking, hiking, or swimming. It requires a little bit of planning and training. However, with determination and commitment, you'll soon be running three miles with ease. Before you strap on those running shoes and take off, here are a few things you should consider. 
Invest in shoes
Speaking of shoes…those flimsy tennis shoes you've had for three years aren't going to cut it if you decide to start running. Investing in quality shoes at the beginning will save you so much pain and prevent injuries as you extend your running time and distance. Visit a local running store, and they will help equip you with the right size and fit for your feet. Plus, they will often ask you to run for a few minutes on a treadmill so they can assess how your food lands and determine which shoes are needed to correct your stride. 
Create a bomb playlist
When you start on your journey to run three miles, you do have to focus on building up your lung capacity and strengthening your muscles. However, the primary hurdle you will have to overcome is wavering motivation. Create an upbeat playlist full of your favorite songs or download an episode of an engaging podcast that will keep you distracted. Remember, if you are running near a road or in an isolated area, always keep the volume low enough so that you are aware of your surroundings. 
Find a great path
Before you embark on your first run, you'll want to make sure that you know where you're going. Since constant pounding on concrete can be hard on your joints over time, try to find a wooded trail with softer ground or run along a beach or lake in the packed sand. Check out the free Map My Run app for great route ideas from other runners in your local area. 
Start in increments
The wildly popular C25K app teaches you how to go from no running experience to running a 5k in just eight weeks. It starts with only 30 seconds of running at a time with brisk walking in between and slowly builds up through the weeks until you are running for 30 minutes straight. There are many other training programs and apps available, and if you want to create a personalized plan, you can simply use the timer on your phone. Remember, don't try to run the whole distance right away. You could get discouraged and may even hurt yourself. 
Keep advancing 
Whether you use an app to track your progress or create your own running plan, you must keep improving. Each week, increase the time you spend running. Even if it's just from 30 seconds to one minute, you have to keep moving forward, or else you will start to go backward.
Focus on time, not distance
Experienced runners track their pace average, time per mile, and miles they can run. In the beginning, you simply want to pay attention to how long you can run, not how far. If you can make it 2 miles in 30 minutes, great, if you can go the full 3 miles, that's great too. It is all about your own accomplishments and seeing how far you've come since you started your fitness journey. 
Don't forget about strength training
Though it may seem crazy now, you will probably come to love running. It is a great release of endorphins and a wonderful way to get out of your head and focus on the movement. With that said, be careful not to over run. Take at least two days each week and focus on a strength training activity that can work different muscle groups and help increase your flexibility. Try yoga, another fitness class, or a simple at-home workout. 
Remember, don't compare yourself to other runners. Be patient and give your body time to grow with you. You'll be amazed at what you can accomplish. Also, keep in mind that although running is a great exercise, when done right, it is not for everyone. A brisk walk or hike may be more your thing, and that is great. The idea is to get out and move!
-The UpWellness Team