Flower Power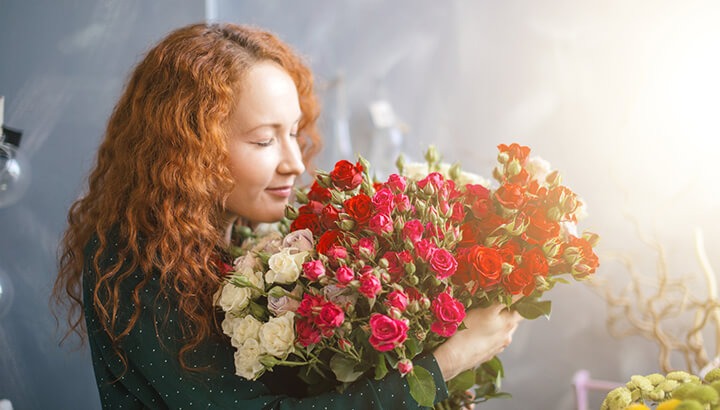 It's snowing outside as I write these words, but the variety of household plants and flower arrangements throughout my home is just the thing to warm my spirit and brighten my days during this wintery weather. It's a noticeable effect… and I'm not the only one who has noticed.  
Could a bouquet a day help keep the doctor away? The notion that "flower power" can help people flourish is a simple and traditional idea, but it's one many people leading tech-driven and increasingly hectic lives may overlook.
I grew up around flowers, which may help explain why I have such an affinity for them. My father was (and still is) an avid flower gardener and regular customer at the local florist. I remember that every week, he picked up bouquets to cheer up his office and our home.
Flowers Impact Our Emotional and Physical Well Being For the Better
There's a lot of very compelling evidence that my dad was onto something. A number of studies have found that flowers can have an immediate and profound impact on emotional health.
Take research by Nancy L. Etcoff, a psychologist at Harvard Medical School, which suggests that exposure to flowers reduces stress, boosts positive emotional states (like compassion), and lifts overall energy.
Dr. Etcoff sums up the results of her psychological experiments when she writes: "What we found is that living with flowers for a few days affected a wide variety of positive and negative emotions." As you might expect, they enhanced feelings of pleasure and diminished distress.
Dr. Jeannette Haviland-Jones, a Professor of Psychology at Rutgers University, has reached similar conclusions. Her extensive body of research indicates that exposing people to flowers leads to:
An immediate effect on emotional states (including enhanced feelings of happiness and well-being).

A long-term positive impact on mood (such as reducing depression).

Leads to "true smiles." (Surprising people with flowers leads to the so-called "

Duchenne smile

" (named after the French neurologist,

Guillaume Duchenne, who was the first to identify and categorize the spontaneous smile that involves the zygomatic muscles). This "smiling with the eyes" is considered the deepest and most sincere type of smile.
Summing up her research, Dr. Haviland-Jones explains: "Common sense tells us that flowers make us happy. Now, science shows that not only do flowers make us happier than we know, they have strong positive effects on our emotional well being."
The Science of Beauty
Exactly why flowers have a beneficial effect on our emotional state isn't exactly clear. Is there something about their innate beauty that helps align the body in a more balanced and harmonious direction? Does the pleasing symmetry and the intricate design of the petals nourish the senses (and the mind) the same way that good food sustains the body? Can the radiant colors trigger biological processes promote healing?
I'm sure that I'm engaging in a lot of speculation here, but for centuries, Chinese healers have believed that every color creates a unique pattern of lightwaves that impact physiology in different ways. We know that vision is a complex process by which different frequencies (colors) of light pass through the lens of the eye, which focuses the image onto the retina at the back of the eye, and then converts those signals into electrical impulses that are transmitted through the optic nerve to the brain. The brain can then interpret those signals as a visual image.
But those images that the brains perceive do not exist in isolation. They always come with a context, a story, or an emotional connection. As such, visual images can set off a cascade of neuronal activity based on what those images mean to us. This chain reaction includes the release of neurotransmitters that lead to the production of hormones that have calming, stimulating, or mood-altering effects (depending on what colors are present).
According to Chinese folklore:
Red roses boost energy and stir excitement.  

Indigo-colored flowers have a calming, relaxing effect.

Yellow sunflowers stimulate cognitive functions that make you more clear-headed and alert.

Blue orchids can help promote restful sleep.

Green chrysanthemums help counteract the stress response

Orange zinnias are said to boost immunity.

Violets are thought to improve metabolism and help suppress hunger.
To be clear, some of those assertions are a little "out there," but there is some impressive modern scientific research that substantiates the idea that different colors can have impressive physiologic and emotional effects. Adam Alters' book, Drunk Tank Pink, explores some of that science in a fun and accessible way.    
Takeaway
The numbers of people that take mood-altering pharmaceuticals like anti-anxiety and antidepressant medications are staggering. Although these types of medications may be necessary and useful… they are rarely a deep root cause solution to a mood disorder. We are living in a world that is out of sync with the natural world and all of the beauty within it.  And when we can connect a little bit closer to that beauty… it should come as no surprise that we feel better.
I'd like to close this piece with a different kind of prescription. Visit a florist and pick out some flowers that delight you. You'll spend less than you would on a copay at the pharmacy, and (unless you're allergic) there will be no side effects… I promise. Adding a little beauty to your life on a daily basis is the kind of medicine you can't get too much of.
Enjoy in good health,
Dr. Josh