Why Family Mealtime is So Important (and you should do it more)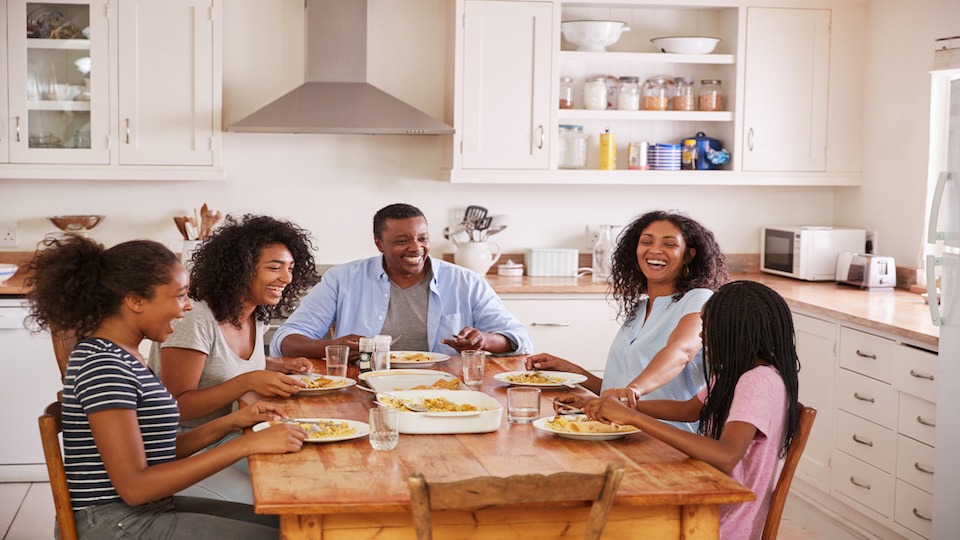 Back in the day, families would come together each evening around the dinner table. Here stories would be shared, and time would be spent bonding and recapping on the day. Meals brought families together, and some would say, kept families together.
Today, we live in a very hurried culture. Everyone is always going, going, going. Family mealtimes have taken the second seat to recreational and social activities and even work. According to research, thirty to forty percent of families say that they don't eat together on most nights. Surprisingly, most teenagers said that they would welcome more time with their families around the table.
Here are some reasons why family mealtime should be a priority in your home.
Mealtimes foster a sense of belonging – We all need to feel like we belong, especially children. Eating meals together creates that sense of belonging that is so important.
Eating together as a family allows adults to be role models – Great modeling time happens around the table. Parents can set an example for their children, develop healthy manners and impress upon their children important habits.
Mealtimes allow for intellectual discussion and improve mental health – Chatting around a meal allows for moral and intellectual development where family values are shared. The togetherness around the table also improves mental health.
Mealtimes foster a sense of security and stability – Families that are always on the go have little time to develop a sense of security and stability. This is especially important for young children who need this foundation for healthy development.
Better physical health –  When families eat together they make better food choices. Research from the American Society for Nutrition found that kids who ate with their families had a lower body-mass index when compared to children who did not eat with their families.
Better academic performance –  Research from The National Center on Addiction and Substance Abuse at Columbia University (CASA) found that found that kids who ate less than 3 times a week with their family were almost twice as likely to receive C's or worse in school. Kids who ate a family meal 5 to 7 time a week received mostly As and Bs.
Eating together costs less – How much do you spend on eating out? When you make big family batches, food goes farther. Planning meals can save quite a bit compared to running through the drive-through or going out to eat. Just try it for one week to see how much you will keep in your pocket.
Eating together as a family is fun – Kids and parents alike look forward to spending quality time around the dinner table. It is a great place to let down and unwind after a busy day. For many families, it is also one of the only times when all members of the family are together and this can bring great joy.
Some more great tips for family dinners
To enhance the family dining experience try the following:
Make dinner time an electronic-free time.

With no cellphones at the table, the conversation can really flourish as everyone connects.

Use discussion starters –

Some families eat together so rarely that they don't even know where to begin the conversation. To make things easier, put together a list of discussion topics and put them in a box. Allow family members to take turns drawing from the box and starting conversations around the chosen topic.

Take turns cooking –

This is really fun with older children and is a great way to develop responsibility and meal planning and preparation skills.

Try theme nights –

Get the whole family into theme night dinners. You can dress the part too. Try themes like dinner in your pj's, Mexican Night, backwards night, dessert first night, etc.
One final thought on family dinners, start young. If you have small kids, make it a priority to eat together and to really protect that time as a family. As your kids grow – hold fast to your family time around the table. When the value of this time is instilled from a young age, it makes it that much easier to continue when life gets hectic!
-The UpWellness Team