Eat The Oldest Cultivated Vegetable for Great Health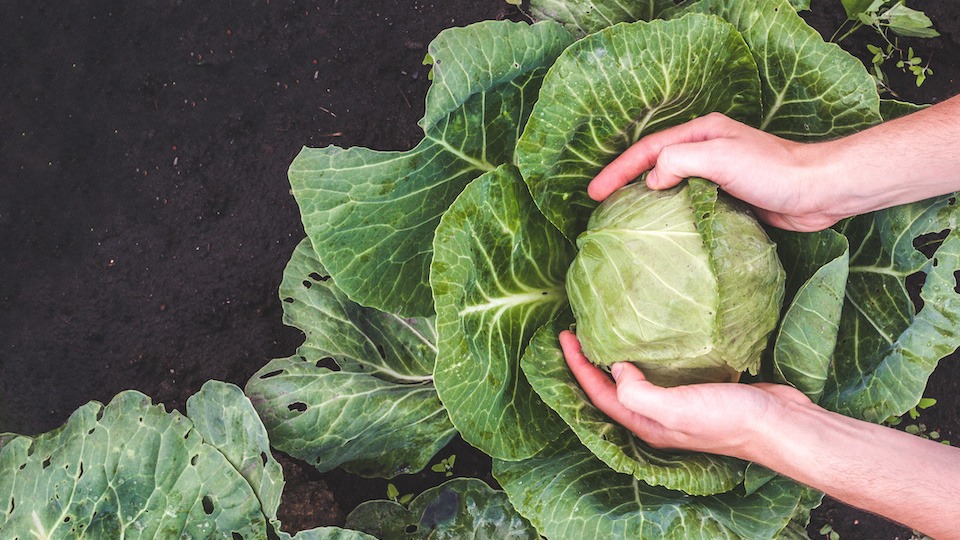 Cabbage is one of the oldest cultivated vegetables in existence, with records of its use going back to ancient Greek, Roman, and Celtic civilizations. Still considered a staple food in many households, it is no fluke that cabbage has withstood the test of time – it is oozing with nutrition that benefits every system of the body.
This cruciferous vegetable is characterized by layers of leaves surrounding a round core. The most common varieties are green, red, and Savoy cabbage. Green cabbage can be either pale or dark green, red cabbage has red or purple leaves with white veins, and Savoy cabbage is a yellow-green color that sports ruffled leaves.
There is an endless variety of methods to cook cabbage and incorporate it into meals; however, you will get the most nutrition from it if you serve it raw, quickly steamed, or sauteed. The longer you cook it, the more nutrients will disappear.
Cabbage is power-packed with nutrients
Every serving of cabbage you eat will provide your body with:
Calcium 

Choline Copper 

Fiber

Folate 

Iron

Magnesium

Manganese

Pantothenic acid

 Phosphorus

Potassium

Protein

Selenium

Vitamins B1, B2, B3 and B6 6 

Vitamin C

Vitamin K
Health benefits of cabbage
Immune booster: Cabbage is rich in vitamin C, which is crucial to a healthy immune system. The vitamin C content is one reason that cabbage is considered an anti-inflammatory food. It also contains vitamin K, which is necessary for bone metabolism and preventing osteoporosis and may protect against some of the damage caused by Alzheimer's disease.
Free radical protection: This veggie is teeming with antioxidants, which protect the body from free radicals. Free radicals have been named as culprits behind a wide range of chronic, degenerative diseases. Cabbage also has the crucial benefit of being rich in glucosinolates, compounds that have been linked to protection from cancer.
Anti-carcinogenic: As different types of cabbage contain different glucosinolate patterns, eating a wide variety can be widely beneficial. For example, Savoy cabbage has particularly high levels of sinigrin, a glucosinolate that has been singled out by researchers for its anti-carcinogenic properties.
Healthy digestion: Cabbage also promotes healthy digestion, may help ease peptic ulcers, and encourages healthy gut bacteria, which is important for the health of the entire body. The nutrients found in cabbage also support kidney health, and steamed cabbage is often recommended to people who are undergoing dialysis.
While all types of cabbage have potent health benefits, red cabbage has one significant addition: polyphenol antioxidants known as anthocyanins. The ARS Beltsville Human Nutritional Research Center found that red cabbage contains 36 different anthocyanins. These phytonutrient compounds are associated with an improved heart and cardiovascular system health, lowered blood pressure, and increased protection from diabetes and cancer.
Whether you add it to your homemade juices, whip up a salad for supper or steam and saute it alongside your other favorite foods, cabbage is one veggie that should definitely become a staple in your home – if it hasn't already.
Delicious Ways to Enjoy More Cabbage
Who would have thought that you could drink cabbage? Enjoy these delicious and nutritious recipes and all of the amazing benefits of more cabbage in your diet.
Orange Cabbage Smoothie
Ingredients:
1/2 cup orange juice 

1 cup frozen berries 

1/2 cup cabbage

Pinch of cinnamon 

6 almonds

1/2 cup ice 
Instructions:
Place all ingredients in the blender and blend until desired consistency is reached. Serve immediately.
Savoury Sauteed Cabbage
Ingredients:
1 head cabbage, shredded 

2 tbsp coconut oil

Salt and pepper to taste
Instructions:
Melt the coconut oil in a skillet over medium heat. Add salt, pepper, and cabbage. Saute for 15 minutes.
Picnic Cabbage Salad
What's in it
1 clove garlic

2 tbsp lemon juice

2 tbsp extra virgin olive oil

Head green cabbage, shredded 

Sea salt to taste
Instructions:
Puree the garlic and mix with lemon juice and olive oil. Toss the cabbage with lemon garlic mix, season with salt, and serve.
Cabbage tips
Cabbage heads should be large, compact, and heavy for their size. They should have tender green leaves that show no evidence of insect damage. Fresh cabbage will have a generous amount of outer leaves.

Cabbage from the store will keep for up to a week in a plastic bag. If you store fresh cabbage from your garden, it will keep for two weeks in the same fashion.

Once you cut into a head, cabbage will lose its freshness quickly. If you only need half a head, sprinkle some water on the cut side and put it back in a plastic bag to store.

To freeze cabbage, cut it into shreds and blanch for 2 minutes in boiling water. Drain the water and pack the cabbage into airtight containers. Store for up to a year. Frozen cabbage will work well in cooked dishes.

Cooked cabbage can be refrigerated in a sealed container for up to four days. 
-The UpWellness Team