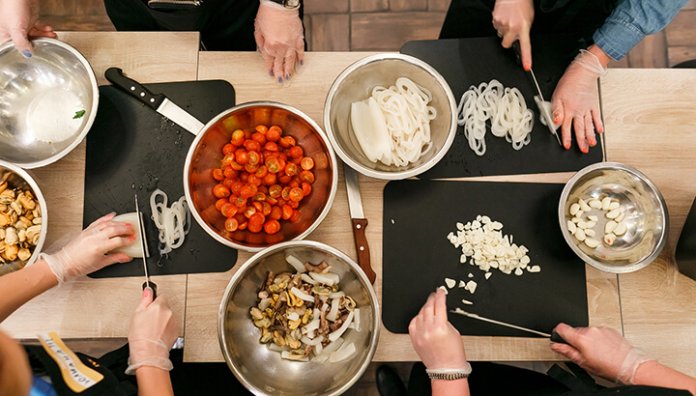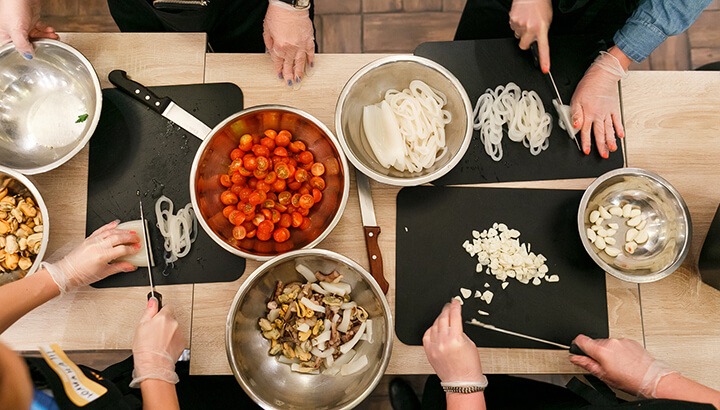 It's really hard to teach a patient how to roast sweet potatoes in my office. There's just something missing…like the sweet potatoes, and the oven. But oh, do I try. Shopping lists, recipes, and cooking instructions are almost always a part of my treatment plans but in the same way that a kitchen wouldn't be the ideal place for a medical exam, the doctor's office just doesn't feel like the ideal place for cooking class.
I come from a family of physicians, but I've long known that health is far more than medicine, periodic doctor's visits, and other clinical interventions. Wellness, in fact, depends on a multiplicity of factors including good nutrition, regular activity, and lifestyle choices that harness nature's wisdom.
That's why I was extremely excited when I first learned about a pilot program called crEATe, which is bringing culinary teaching kitchens into doctors offices and hospitals. Put simply, when care providers and patients can learn the art of healthy cooking…health outcomes improve.
What is the idea behind the program and how does it work? David Eisenberg, MD, an early pioneer and leading proponent of medical teaching kitchens, believes the future health practitioners will focus a lot more on stove top decisions than office exams.
As you might expect, some traditional physicians and medical organizations are likely to remain skeptical. They're the ones that think surgery and drugs are what really work for patients. However, I'm a great believer in what's called naturopathic physicians call the "Therapeutic Order" which is the notion that you try the least invasive approaches first. Cooking your own food is the most minimally invasive treatment I know.
Improving dietary choices is often the most effective means of preventing and managing lifestyle diseases, including diabetes, hypertension, cardiovascular disease, and many cancers. Both common sense and scientific studies agree–diet, exercise, and social connectedness have a huge bearing on longevity and health. In addition, according to the CDC, nearly half of the deaths from chronic diseases in America each year could be prevented with simple lifestyle changes.
The link between processed foods and metabolic conditions such as obesity, diabetes, and cardiovascular disease are becoming much clearer. As the connection becomes more evident, health practitioners are increasingly recognizing the important role that nutrition plays in promoting wellness.
No wonder, then, that more physicians (and clinics) are signing up for the teaching kitchen program. As Dr. Eisenberg explained in a recent PBS interview, "There are now hundreds of teaching kitchens. And I think the idea has found receptivity across the country. We have now got Cleveland Clinic. We have got Kaiser Permanente. We have got Harvard, and Princeton, and the University of Texas, and 20 other university systems making this available to their patients or their trainees."
So, what does the program look like? For participants, the experience includes individualized lessons, classes, and coaching by a team that includes physicians, registered dieticians, and chef educators.
The program does not include a strictly regimented (or one-size-fits-all) dietary approach. Rather, its goal is to give participants a broad sense of how nutritional choices can impact their health and why some foods should be encouraged and other discouraged. Above all, the initiative aims to give participants both the hands-on know to prepare healthy meals as well as a scientific and nutritional appreciation of why some choices are better than others.
The Healthy Kitchens, Healthy Lives approach represents a welcome and necessary shift. It calls on doctors fulfill more than just the traditional role of being healers–we must become coaches, role models, and educators as well. Although I'm not quite ready to put a stove top in my exam room, there will be more news about naturally healthy cooking coming your way soon.  Stay tuned…
Take good care,
Dr. Joshua Levitt