What Your Conventional Cleaners are Doing to Your Health (Hint: It's not good)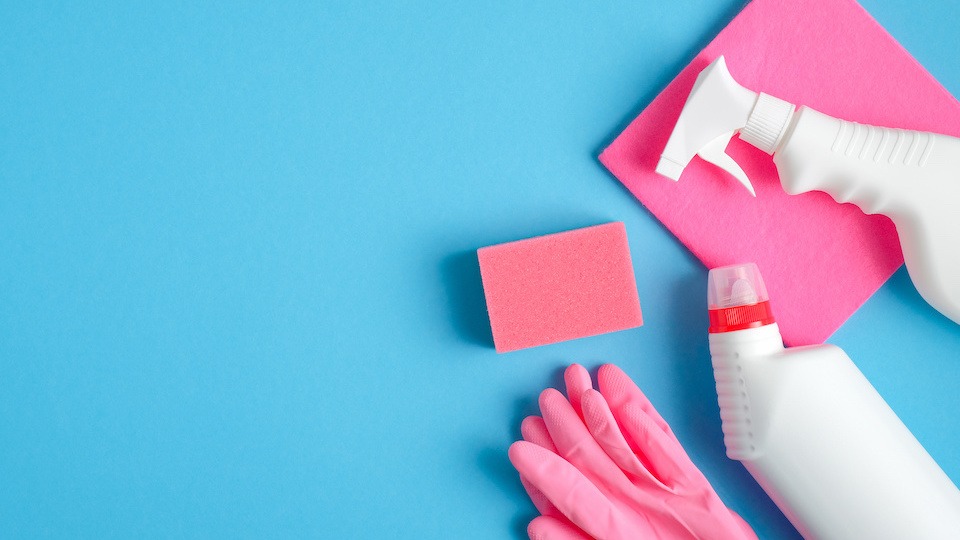 Now that many of us have a little extra time on our hands, it is a good idea to tackle that spring cleaning. However, before you pull out your arsenal of cleaners from under your sink, it is prudent to consider switching to all-natural cleansers that you can easily make at home. At this time, when preserving health has never been more critical, using conventional cleansers that are loaded with dangerous chemicals is, quite frankly, counterintuitive. Let's take a closer look.
Here is a shortlist of some of the most harmful chemicals found in your every day conventional cleaners.
Phthalates
Known as endocrine disruptors, phthalates are found in many household products such as air fresheners, dish soap, and even toilet paper. If you see the word "fragrance" on a label, there is a very good chance that the product contains phthalates. From a health perspective, it has been found that men with higher phthalate compounds in their blood had reduced sperm counts. Most exposure occurs through inhalation but can also occur through skin contact. This can be highly dangerous as the skin does not have any safeguards against toxins; they go straight to the organs when absorbed.
Better options: Choose fragrance-free or natural organic products. Bypass aerosol or plug-in fresheners and use essential oil diffusers instead. Also, add more houseplants to your home as they are natural detoxifiers.
Perchloroethylene (PERC)
This dangerous chemical is found in spot remover products, carpet and upholstery cleaners, and dry-cleaning solutions. PERC is a known neurotoxin, and the Environmental Protection Act classifies it as a "possible carcinogen." Persons who live above or attached to a dry cleaner have reported symptoms such as loss of coordination and dizziness. The EPA has ordered this chemical to be phased out of dry cleaning machines by 2020, and California is aiming to eliminate the use of PERC by 2023. Exposure often comes through inhalation.
Better options: Be sure to check with your dry cleaner as to what method they use to clean fabric. Use nontoxic spot removers or rub undiluted castile soap on stains before washing.
Triclosan
Triclosan is an antibacterial agent that is found in most liquid dishwashing detergents and hand soaps that are labeled "antibacterial." This agent, unfortunately, can promote the growth of drug-resistant bacteria.  According to Rebecca Sutton, Ph.D., a senior scientist at the Environmental Working Group (EWG),
"The American Medical Association has found no evidence that these antimicrobials make us healthier or safer, and they're particularly concerned because they don't want us overusing antibacterial chemicals — that's how microbes develop resistance, and not just to these [household antibacterials], but also to real antibiotics that we need.
Research has also found that many of our rivers and streams are full of dangerous levels of triclosan, which is toxic to algae. This chemical can also disrupt hormone function and is potentially carcinogenic.
Better options: Avoid using any antibacterial products that contain triclosan. For hand sanitizers, use only alcohol-based products without triclosan.
Butoxyethanol
2-butoxyethanol (in the category of "glycol ether") is found in several household products, including window cleaners. This chemical is what gives cleaners their familiar sweet aroma. The law does require that 2- butoxyethanol is listed on product labels. The EPA's website notes that 2-butoxyethanol can cause a sore throat when inhaled. High levels of glycol ethers can also exacerbate narcosis, pulmonary edema, and severe liver and kidney damage. 
Better options: Use newspapers and a diluted vinegar spray to clean windows. Make your own cleaning formulas using baking soda, vinegar, and essential oils.
Ammonia
Also found in window cleaner, ammonia is popular because when it evaporates, it does not leave streaks. It can also be found in polishing agents for bathroom sinks and fixtures as well as jewelry. The strong odor gives away the potency of this chemical. According to Donna Kasuska, a chemical engineer and president of ChemConscious, Inc., a risk management consulting company,  
"It's going to affect you right away. The people who will be really affected are those who have asthma, and elderly people with lung issues and breathing problems. It's almost always inhaled. People who get a lot of ammonia exposure, like housekeepers, will often develop chronic bronchitis and asthma."
When mixed with bleach, ammonia becomes a poisonous gas.
Better options: Use vodka; it brings out the shine on any metal or mirrored surface. Also, toothpaste is a much safer, equally effective silver polisher.
Chlorine
Chlorine is another chemical that gives itself away by its aroma. It is commonly found in toilet bowl cleaners, mildew removers, scouring powders, and products used to whiten laundry. It is really easy to be exposed to chlorine. It can come from fumes, through your skin, and it can also be in city water where it is used to get rid of bacteria. This means that you are exposed to it when you take a shower or bath. If the water is warm, our pores open up, which makes absorption through the skin even easier. Chlorine can cause both acute and chronic problems. At the acute level, it can irritate the respiratory tract. It can also disrupt thyroid function on a chronic level.
Better options: Clean toilet bowls with vinegar and use vinegar or borax to whiten clothes. Install filters on your taps and shower/bath heads to reduce exposure to this potentially dangerous chemical.
The good news is, there are many healthy and safe options for cleaning your home!
-The UpWellness Team