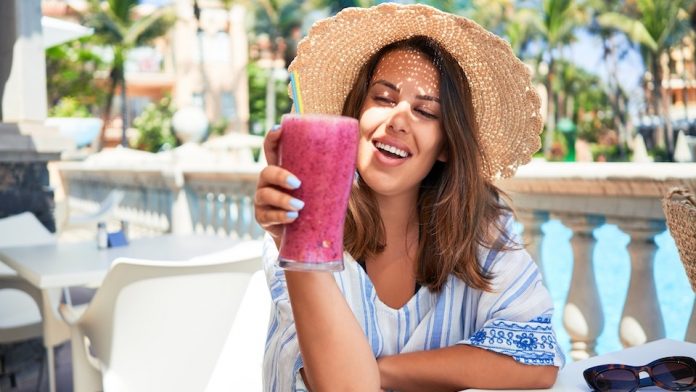 While you might be looking forward to enjoying some sunshine this summer, keep this in mind…if you are over 40, your body's collagen production has likely already slowed by 30 percent. Unfortunately, reduced collagen levels can leave us more susceptible to sunburn. The inflammation caused by sunburn signals the body to release metalloproteinases – enzymes that destroy the body's collagen supply. This creates a cycle that makes us vulnerable to increased signs of aging, such as wrinkles, and ultimately skin cancer.
Sun protection is vital at any age, and when sunscreens are not a great option due to toxic chemicals, we can support the skin from the inside out with ingredients like collagen. Collagen is the "glue" that holds your body together. It's found in your organs, muscles, skin, hair, nails, teeth, bones, blood vessels, tendons, joints, cartilage, and digestive system. In addition to repairing a leaky gut and supporting healthy hair, skin, and nails, this essential protein assists in forming muscles, balancing blood pressure, supporting bone growth and repair, and improving detoxification and liver function.
Consuming more collagen in your diet can have a variety of health benefits, from relieving joint pain to improving skin health. Several studies have shown that taking collagen peptides may help slow the aging of your skin by reducing wrinkles and dryness. Additionally, taking collagen supplements may promote the production of other proteins that help structure your skin, including elastin and fibrillin.
When hot weather hits and you need something cooling and refreshing, it could not be easier to satisfy these cravings and continue to optimize your health with the help of some creative recipes using collagen protein. Keep your skin and body healthy this summer with these tasty and nutritious collagen drink recipes.
Collagen Breakfast Smoothie
Try this smoothie for a light and energizing summer breakfast that is rich in fiber. Plus, it has a boost of collagen to boot.
Ingredients:
1 serving collagen powder

1 Tbsp ground flaxseed

1 Tbsp chia seeds

1 Tbsp almond butter

1 1/2 cups unsweetened almond milk

Handful of fresh spinach

Small handful of blueberries (fresh or frozen)

1 frozen banana (omit to reduce carbs)

1 Tbsp Acai powder (optional)

Small handful of ice
Instructions
Place all ingredients together in a blender.

Blend well until creamy and enjoy.
Cantaloupe Thirst Quencher
Instead of a sugar-laden soda, try this refreshing and naturally sweetened sparkling summer drink. It's a great way to quench your thirst and provides a boost of essential nutrients with the help of collagen peptides.
Ingredients:
1 1/2 cups fresh chopped cantaloupe

3/4 cup sparkling water

1 serving collagen powder
Instructions:
Puree melon in blender or food processor. If you want to strain out the pulp, use a fine sieve and strain juice – or simply use as-is with the pulp.

In your favorite summer-time pitcher, mix melon puree, sparkling water, and lemon.

Pour into glasses and garnish with mint leaves, if desired.
Iced Coconut Turmeric Latte
This smoothie is extra skin-protective thanks to curcumin, the active ingredient in turmeric, which helps support your body's inflammatory response. The coconut milk and vanilla give the drink a sweet, rich taste that's perfect for sipping in the sunshine.
Ingredients:
4 oz refrigerated, unsweetened coconut milk

4 oz unsweetened oat milk

1/2 tsp vanilla extract

1/4 tsp maple syrup

1 serving collagen powder

1/2 tsp ground turmeric

1/4 tsp ground cinnamon

1/8 tsp ground cardamom
Instructions:
Heat the coconut and oat milk over medium heat and whisk in the remaining ingredients.

Increase heat and bring to a boil. Reduce heat to low and simmer for 3 minutes.

If desired, strain out spices through a fine-mesh sieve.

Pour the latte into an ice-filled glass, sprinkle a little extra cinnamon on top, and enjoy.
Fruity Faux Sangria
This ruby-red mocktail is fruity and refreshing. We love the peach and blackberry combo, but any seasonal fruit will work perfectly here. Prepare this recipe in advance for an extra-special healthy summer treat.
Ingredients:
5 cups water

4 servings collagen powder

1 cup pomegranate juice

1 pint blackberries

2 peaches, pitted and sliced

1 lime, thinly sliced

5 sprigs fresh mint leaves

3 Tbsp pomegranate seeds (optional)

Sparkling water
Instructions:
Add 2 cups water and collagen powder to a lidded mason jar; secure lid and shake vigorously.

Pour into a pitcher and add the remaining 3 cups water and pomegranate juice; stir.

Add blackberries, peaches, lime, mint, and pomegranate seeds (if using); gently stir.

Refrigerate for 2 hours, or up to overnight, before serving.

To serve, fill a glass halfway with pomegranate mixture. Add some fruit from the pitcher, then top with sparkling water.
Chocoholic Collagen Smoothie
This chocolate collagen smoothie satisfies all your chocolate cravings and gives you a health boost with collagen peptides. With just 5 simple ingredients, you're sure to make this healthy smoothie again and again.
Ingredients:
2 cups coconut milk, or other milk

1 frozen banana

2 Tbsp almond butter

1/4 cup raw cacao powder

2 servings collagen powder
Instructions:
Place all ingredients together in a blender.

Blend well until creamy and enjoy.
Take good care of your skin this summer with these refreshing collagen-infused drink recipes. With a little nourishing care, you'll skip the UV damage and aging effects, and enjoy a healthy, sun-kissed glow.
-The UpWellness Team