Black Cumin Seeds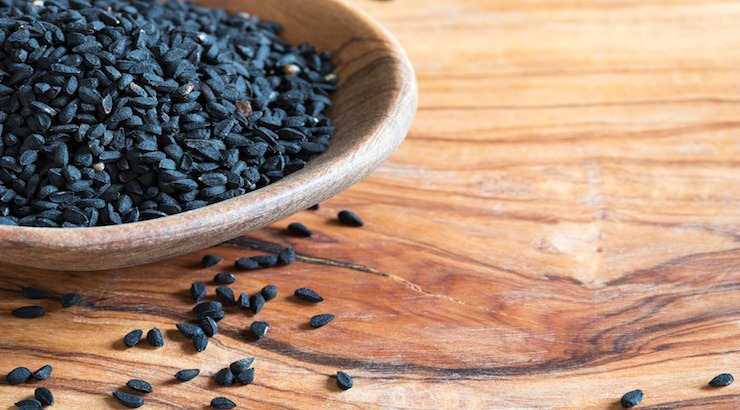 Where there is ragweed, there is misery. And right now, there is ragweed (and upper respiratory distress) all over the place. Allergic disorders that affect the respiratory tract can vary from mild nasal stuffiness to life-threatening asthma, with lots of itching, sneezing and coughing in between. These conditions and many of the conventional treatments for them are a drain on your vitality, health, and quality of life. In this article, I'll give you some new information on black cumin seed and why it can really be a breath of fresh air.
The Downside of Allergy Medications
Conventional remedies (such as over-the-counter antihistamines) can temporarily alleviate some allergic symptoms, but they do not get to the root causes of your condition. Worse yet, these medications come with considerable side effects, which can take a long-term toll on your health. Here are just a few of the evidence-based reasons you should avoid using these pharmaceuticals for any prolonged period:
Popular antihistamines (including Benadryl, Chlor-Trimeton, and Tavist) have a pronounced sedative effect. The severe drowsiness these products cause can impair your ability to drive a car, operate machinery, or function normally.
Evidence suggests that over the counter and prescription antihistamines can aggravate anxiety and depression and undermine concentration. I have observed this effect in many allergic patients.
One observational study found that taking antihistamines for more than three years straight increased a person's risk for getting dementia by 54 percent.
Now, taking an occasional Benadryl for an allergic reaction isn't going to kill you. But you should not assume that a medication is safe for regular long-term use just because it is sold over-the-counter. You don't want to become a statistic like the masses of people who took non-steroidal anti-inflammatory drugs (NSAIDs) thinking they were perfectly safe only to find out later that the FDA has now admitted that these medications substantially increase the risk of having a heart attack or stroke.
Allergy Relief…Naturally
Seasonal allergies and asthma can respond very well to a naturopathic treatment strategy. The place to start is with an anti-inflammatory diet which can reduce overall allergic reactivity. I also frequently recommend using a Neti Pot to keep nasal passages irrigated, limiting exposure to known allergens, and using medicinal herbs and supplements that improve immunity and decrease allergic symptoms and reactivity.
Here's a quick list of anti-allergy food, supplements, and herbs you should consider:
Anti-Allergy Foods:
Quercetin-rich foods like onions and leafy green vegetables.
Cruciferous vegetables (cabbage, broccoli, kale, brussels sprouts, etc.)
Garlic and ginger
Citrus fruits and berries
Local honey
Anti-Allergy Herbs and Supplements:
N-Acetyl Cysteine (NAC): Typical dose is 900 mg twice daily
Bromelain: 300-500 mg twice daily
Fish Oil: 3-5 grams (3000-5000 mg) per day.
Stinging nettle leaf (Urtica dioca) 800 mg twice daily
Butterbur (Petasites hybridus) 100 mg twice daily
Quercetin: 400 mg twice daily
And now…there's a new kid on the block that deserves its place on the list above. Black cumin (Nigella sativa) seeds have long been used as an allergy medicine overseas, but have only recently found their way into the Western herbal pharmacopeia.
Black cumin seeds have a long history of use as a folkloric remedy. They can be eaten raw, but they are often toasted or crushed (after which they can be mixed with honey, water, or milk).
The seeds are loaded with essential fatty acids including a compound called thymoquinone (TQ), which has potent antioxidant and anti-inflammatory properties. Of particular interest, researchers say, is the fact that TQ has been shown to inhibit the production of pro-inflammatory cytokines and enzymes which play a central role in the histamine reactions that cause allergy and asthma.
Black cumin seeds contain a wide range of anti-inflammatory and immune-boosting compounds and there's an emerging body of evidence suggesting that consuming them regularly (or using them as an herbal supplement) can reduce the oxidative stress and the inflammation that underlies allergies and asthma as well as other chronic diseases like diabetes, hypertension, and cancer.
Researchers have put Nigella sativa oil (NSO) to the test in several controlled studies which have demonstrated significant improvements in markers of allergic disease as well as improvements in asthma control. The results of these studies on both the safety and effectiveness of Nigella sativa have earned it a place on my list of top herbs for allergies and asthma.
Final Thoughts
People with seasonal allergies and asthma can benefit significantly by using a comprehensive natural medicine treatment plan. Eating an anti-inflammatory diet with added supplement and herbal medicines including black cumin seeds can often help to improve symptoms enough that patients can decrease or even discontinue their prescription or OTC allergy medications. I have seen this happen time and time again…and that's a breath of fresh air.
Take good care,
Dr. Josh.