The 8 Best Natural Sanitizers You Already Have In Your Home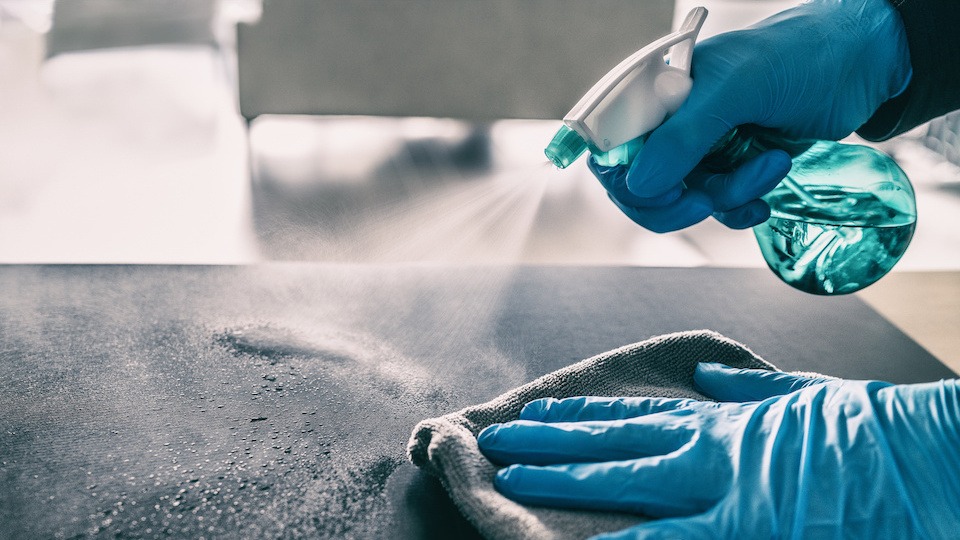 If you're like many of our readers, you probably prefer to use natural cleaners over conventional ones. You may have heard how chemical-based cleaners can cause health issues such as headaches and lung irritation, not to mention unnecessary pollution to the environment. Natural cleaners are not only better for your health but are safer for children, animals, and the planet.
The efficacy of homemade natural cleaners is another story altogether. There are many articles online about natural products that are supposedly effective for sanitizing your home — but do any of these ingredients actually work?
We looked into the science to reveal whether your home is actually disinfected when you use homemade cleaners, or whether you could be leaving behind dangerous germs.
Vinegar 
Made from acetic acid and water, white vinegar is a power cleaner. It cuts through grease, removes mildew, odors, stains, and wax buildup with ease. Thanks to its high acidity, white vinegar can be used as an alternative for many cleaning products such as multi-purpose sprays and glass cleaner. But how does it stack against common bacteria?
A 2009 study that compared the disinfecting power of common household compounds found that vinegar was able to kill Salmonella, but not E. coli or Listeria. Staphylococcus aureus, the bacteria that causes pneumonia, can also be reduced by vinegar, but less effectively than by commercial cleaners such as Clorox or Lysol. 
Therefore, white vinegar is a helpful cleaner for those who value a safe cleaning method and want to rid their homes of harmful chemicals, but it won't leave surfaces completely bacteria-free. Viruses such as the flu, on the other hand, have been shown to be effectively inactivated by vinegar. 
Apple cider vinegar has been found to have no antiviral activity; however, it is able to inhibit the growth of bacteria. Keep in mind, a high concentration of at least 50 percent ACV is required for the best antibacterial activity against dangerous pathogens such as Staph.
Lemon Juice
The citric acid in lemons works wonderfully on alkaline stains like soap scum that is found in bathrooms and kitchens. Plus, it can be used to shine your stainless steel sink. Add lemon juice to homemade cleaning sprays to clean non-porous surfaces and provide a fresh citrus scent.
Researchers have found that lemon does reduce bacteria on hard surfaces, but is less effective than both vinegar and commercial cleaners. Listeria and E. coli were reduced after 10 minutes of exposure to lemon juice, while salmonella was decreased after 1 minute. However, none of the bacteria types were completely inactivated. Lemon juice may have inhibitory action against viruses, as one study demonstrated. Overall, although lemon is less effective than vinegar, it certainly wins in the scent department.
Essential Oils
Essential oils have a wide range of medicinal and healing properties. It comes as no surprise that they are also quite powerful agents against bacteria and fungus. When added to vodka or a solution of soap and water, some essential oils can enhance cleaning properties, helping rid your home of mold, mildew, and musty smells. 
Several essential oils show antibacterial activity, particularly tea tree, citronella, geranium, lemongrass, orange, and patchouli. Thymol, a constituent of thyme essential oil, is used as a disinfecting ingredient in Seventh Generation brand eco-friendly wipes and cleaners. In addition, oregano essential oil has been studied for antimicrobial properties, and rosemary and grapefruit essential oils were found to be effective against Hepatitis A virus. Some studies are investigating the possibility of using essential oils against antibiotic-resistant bacteria. 
While essential oils are not a guaranteed strategy for disinfecting, it certainly wouldn't hurt to add some to homemade cleaners.
Vodka and Alcohol
Alcohol has long been used as an antiseptic. Ethyl alcohol, used in alcohol-based hand sanitizers, is effective against a wide range of bacteria, and also some viruses, namely those known as "enveloped viruses." These viruses, including influenza and coronaviruses, are enveloped in a lipid membrane that can be disrupted by alcohol and other disinfectants, thus inactivating the virus. Alcohol may not be helpful, however, against viruses that lack this envelope, such as norovirus, or other pathogens such as Cryptosporidium and C. difficile.
Like vinegar, vodka can be used in the home to degrease surfaces, remove stains, shine fixtures and glass, and refresh fabric. However, household vodka may not be strong enough for removing disease-causing agents, as it usually contains 40 percent alcohol. For disinfecting surfaces, the CDC advises using an alcohol solution with at least 70 percent alcohol. For hand sanitizers, it suggests using one with at least 60 percent alcohol, although it notes washing your hands with soap and water is preferable. Applying alcohol or rubbing alcohol to hands directly, is not an effective alternative to hand sanitizer, as it may cause dryness, inflammation, and irritation.
For those attempting to make their own hand sanitizer, it is a risky endeavor without being able to ensure the proportions are correct. If it is too weak, it will be ineffective against pathogens, and if it's too strong, it will be harsh on the skin. You must measure the concentration of alcohol in the final product using an alcohol meter to ensure it is effective at killing germs and safe to use. While the FDA has issued temporary guidelines for pharmacists to be able to make sanitizer, they have access to pharmacy-grade ingredients and advanced equipment, so it is best not to try this at home.
Hydrogen Peroxide
If you ever got a cut on the playground as a kid, you may already know the familiar sting of hydrogen peroxide in action. Since the 1920s, hydrogen peroxide has been used as a household antiseptic because of its ability to kill bacteria by breaking down cell walls. It can also be used to kill mold and remove stains on white clothing. Caution should be taken when cleaning with hydrogen peroxide, as it will bleach colorful fibers and etch the surface of stone over time.  
If cleaning surfaces with hydrogen peroxide, use a 3 percent hydrogen peroxide solution and let it sit for at least 10 minutes before wiping clean.
Steam
The simple combination of water and heat makes for the ultimate economical and chemical-free disinfectant. When heated to at least 200 degrees Fahrenheit, steam not only eliminates tough stuck-on stains and grease, but can also sanitize foods and surfaces. Steam cleaning is an easy way to disinfect items that can withstand moisture and heat, such as dishes, tools, and toys.
Castile Soap And Regular Soap
Quick to lather, a drop of Castile soap is all that's needed to get dishes, bathtubs, or just about any surface squeaky clean. Soap is at the center of the CDC's recommendations for cleaning hands and surfaces to control the transmission of pathogens. You can enhance plain soap by adding tea tree essential oil to make your own naturally bacteria-fighting cleanser.
Store shelves are also filled with products that boast antimicrobial properties, including antibacterial soap. There is a common misconception, however, that antibacterial soap is effective in eradicating all germs. Although antibacterial soap may kill some bacteria, there is little evidence that it's more effective than regular soap, and it offers no additional protection from viruses. Regular household soap, on the other hand, has been shown to inactivate viruses such as the flu.
Coconut Oil 
Coconut oil contains potent medium chain triglycerides such as lauric acid and caprylic acid. Research has shown that these compounds can inactivate several types of bacteria, fungi, yeast, and viruses. As such, coconut oil could be used as a protective moisturizer after hand-washing to supplement the action of good old soap and water. Optionally, add a drop or two of essential oils.
Not An Effective Sanitizer: Baking Soda
Although baking soda is often included in DIY cleaning recipes and can be useful for scrubbing and dissolving many household messes, studies show it does not kill common household bacteria such as Salmonella and E. coli, even after 10 minutes of exposure. Therefore baking soda should not be used when sanitizing is the goal.
The Final Word on Homemade Sanitizers
While household ingredients can be effective for cleaning surfaces, the way you use them is important. Some natural compounds can take as long as 10 minutes to fully disinfect an area. This may require multiple applications or sprays to keep the surface wet throughout the required time period. It is always helpful to properly clean a surface with regular soap and water before applying any sanitizing or disinfecting formulas.
Overall, some homemade sanitizers may be useful for everyday cleaning, but for total sanitization of surfaces, chlorine bleach (appropriately diluted) is the only common household ingredient that is shown to be completely effective against pathogens. To ensure complete disinfection, be sure to use diluted bleach, or commercial disinfectant cleaners, which have been demonstrated as most effective against harmful germs. However, these chemical compounds should be used as sparingly as possible to prevent adverse health and environmental effects.
While cleaners such as vinegar, alcohol, hydrogen peroxide, or bleach may be used with varying degrees of efficacy on appropriate surfaces, they should never be used to sanitize hands. The best way to safely and naturally disinfect hands with ingredients found in your home is to perform proper handwashing with warm water and soap, followed by an application of coconut oil containing diluted tea tree oil or thyme essential oil.
-The UpWellness Team