Are You a Walking Barometer?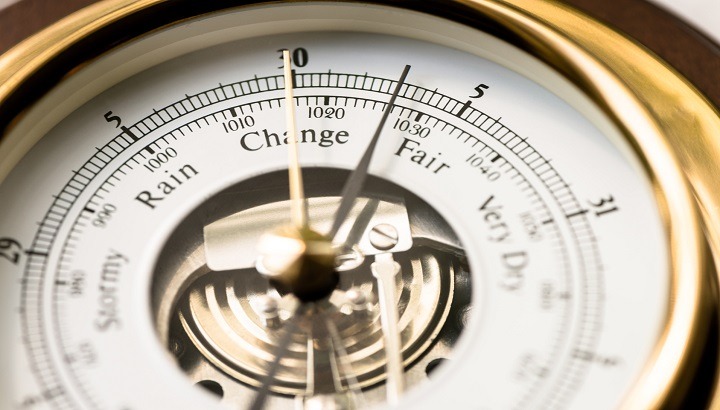 My grandparents always said that they could feel the weather in their joints. I never really questioned the idea, although I did sometimes wonder why I never heard them say that the weather made their joints feel good. Whenever the weather was to blame… it always made them achy. Hmmm. Millions of people feel much the same way and claim to be able to feel the effect of weather on their joints and muscles. Many of them are convinced that they can feel a storm coming. Is it true?
So far, science on this subject is not entirely conclusive. However, surveys have shown a connection, and the anecdotal evidence is significant. Intellicast, a national weather forecasting agency, has even created an online Aches and Pains Index Map. When you open the map, you are able to click on your region, and it will tell you, on a graded scale, how likely you are to be feeling aches and pains that day. Intellicast uses barometric pressure in the area to determine the risk of aches and pains.
On the relationship between barometric pressure and pain, the folks at Intellicast write:
"There has long been said to be a link between 'rheumatic' pain and the weather. There appears to be no firm evidence in favour or against, but a 1995 questionnaire given to 557 people by A. Naser and others at the Brigham and Women's Hospital's Pain Management Center concludes that 'changes in barometric pressure are the main link between weather and pain. Low pressure is generally associated with cold, wet weather and an increase in pain. Clear, dry conditions signal high pressure and a decrease in pain.'"
The theory makes some sense, because when atmospheric pressure is high, there is more force compressing your joints which could improve comfort, much the same way that a compression sleeve or ace bandage works. When pressure is low, the tissue within the joint may expand slightly, which might compress adjacent structures and cause discomfort. A real-world example of this occurs inside an airplane cabin at high altitude where the atmospheric pressure is low. Lots of people feel achy and swollen on airplanes because their bodies are expanding slightly due to the lack of atmospheric pressure. Days with higher atmospheric pressure are also usually nicer days — warm, dry, with light winds— and days with lower atmospheric pressure tend to be cold, wet, and for many people, miserable.
Although the theory does make some sense, I would be remiss if I didn't shine a light on some new, controversial research that suggests that there is no correlation between weather and joint pain. Australian researchers did a data analysis on over 100 people with low back pain and over 300 people with osteoarthritis of the knee and they found that the weather had no impact on pain levels whatsoever. They went so far as to say, "People who suffer from either of these conditions should not focus on the weather as it does not have an important influence on your symptoms and it is outside your control."
Of course, there isn't much we can do about the weather: it certainly has its own agenda. However, there is a lot we can do to ensure that our joints (and our bodies in general) feel their best on any given day, no matter what the weather. For a few examples:
– Eat a wholesome diet which includes a rainbow of fresh fruits and vegetables, healthy proteins and fats, and plenty of herbs and spices. Ditch the processed food entirely.
– Pay special attention to make sure you are getting enough omega-3 fatty acids in your diet. A few great sources include wild-caught salmon and sardines, ground flax seeds, chia seeds, hemp seeds, and walnuts. Omega-3s are imperative for combatting inflammation throughout your body.
– Make sure you are moving as much as possible. Movement is medicine, and an important one, at that. Make it a point to walk for at least 30 minutes each and every day. Even if the weather outside is cold and wet, bundle up and get your daily walk in: your joints, and your entire body, will thank you.
Taking these important steps will ensure that you look and feel your best, no matter what the barometer says.
– Dr. Joshua Levitt