80% of Americans are Deficient in The Most Important Mineral in the Body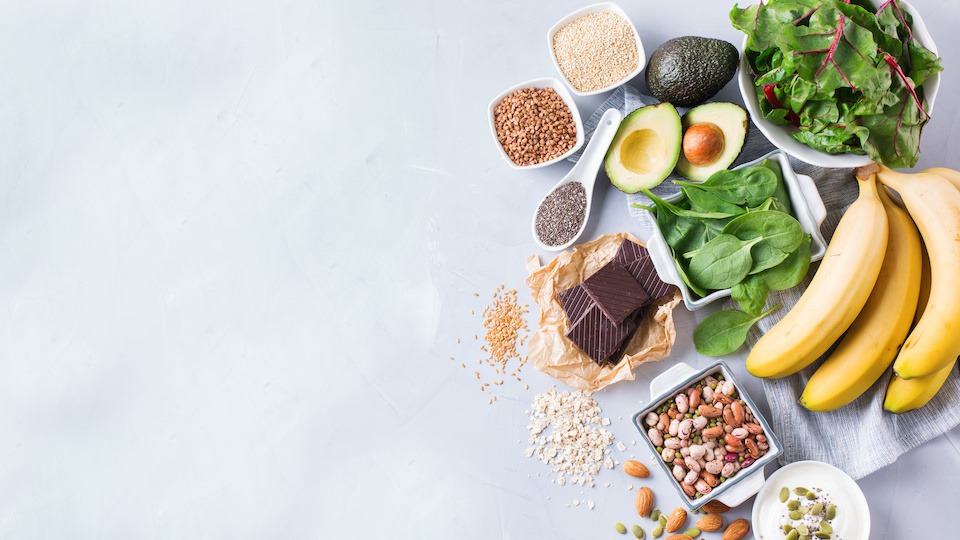 About 80% of the world's supply of spinach is grown in China. Now, I want you to imagine for a moment driving through miles and miles of spinach fields in China and think about what that might look like. Spinach as far as the eye can see in every direction. And it has been growing in those fields season after season for decades. Got the picture?  
Now, you may not know it, but spinach is the number one source of magnesium in the human diet. And magnesium is a mineral that is present in the soil. So, think for a moment about what might happen to the soil levels of magnesium when spinach is grown in the same field over and over and over again like it is in huge commercial farms in China, California, and Arizona, where the spinach in your salad was almost certainly grown. If you guessed that the magnesium levels in the soil would decrease over time, you're right. And for those people who consume the spinach from those fields…they are getting less magnesium than they should. And for those who don't eat spinach (or other magnesium-containing vegetables) at all…it's even worse.
This article by my team at UpWellness is all about magnesium- why so many of us are deficient in it, signs and symptoms to look out for…and how to fix it. 
Be Well, 
-JL
Your blood test won't reveal the truth because only 1% of magnesium is stored in the blood. Even though most studies show that the majority of Americans are deficient in magnesium, physicians don't even know when their patients are deficient. This is a critical oversight since this is an essential mineral in the body that you don't want to be lacking. Millions of Americans suffer needlessly because magnesium deficiency is overlooked. Are you deficient? The short answer, probably.
Dr. Norman Shealy, M.D., Ph.D., D. Sc., FACS, DABNS and President of Shealy-Sorin Wellness and Holos Energy Medicine Education, has this to say about magnesium,
 "Every known illness is associated with a magnesium deficiency, and magnesium is the most critical mineral required for electrical stability of every cell in the body. A magnesium deficiency may be responsible for more diseases than any other nutrient." 
According to Shealy, a lack of attention to magnesium deficiency shows a massive hole in modern medicine. Many common conditions are being treated with expensive drugs that have side effects, instead of magnesium supplementation, which is what is needed.
Magnesium is the most important mineral in our bodies
As mentioned above, few people are aware of the tremendous role that magnesium plays in the human body. After oxygen, water and food, magnesium is the most important element for overall health and wellbeing. It is more important than calcium, potassium, or sodium and, in fact, regulates all three of these.
Every cell in the body, including those in the brain, need magnesium. Hundreds of enzyme systems and actions related to cell metabolism depend on the presence of magnesium, as does the energy production required for cellular detoxification. Magnesium is also necessary for the synthesis of proteins and for the use of fats and carbohydrates for energy.
Symptoms of magnesium deficiency
Here are some telltale signs that you may have a magnesium deficiency.
Muscle cramps or twitches –

Twitches, tremors, and cramps are a signal that you may be

deficient in magnesium

. In severe cases, this can even cause seizures or convulsions. Researchers believe that this is caused when there is a heavy flow of calcium into nerve cells. Cells become overexcited, and muscle nerves are

hyperstimulated.

It is important to note that muscle twitches can result from other conditions such as excessive stress or too much caffeine. Certain medications or some neurological diseases may also trigger similar symptoms as magnesium deficiency. 
Mental conditions – 

Magnesium deficiency can cause several mental conditions, including apathy, lack of emotion, and possibly increased risk of

depression.

A

severe deficiency

can even lead to delirium or coma. There is also some evidence that a

lack of magnesium

may promote anxiety, but more research needs to be conducted.
Fatigue and muscle weakness –

Physical and mental exhaustion is another indicator that your magnesium reserves may be running low. Although we can all become fatigued, especially if we are leading hectic lives, if you are constantly fatigued even after getting enough rest, it may be a sign of a health condition such as magnesium deficiency.

Muscle weakness,

also known as

myasthenia, can also happen if you don't have enough magnesium. It is thought that the weakness is due to a

lack of potassium

in muscle cells, which occurs when

magnesium is low.
Asthma –

There is a proven relationship between

low levels of magnesium

and asthma. It is thought that a lack of magnesium may cause

calcium to build up

in the muscles that line the airways of the lungs. This causes the airways to constrict and make breathing difficult. Asthmatics are sometimes given an

inhaler

with magnesium sulfate in it to relax the airways making breathing less stressful.
Osteoporosis – 

Magnesium deficiency may play a role in the development of osteoporosis. This condition is characterized by weak bones and a heightened risk of bone fractures. Other risk factors for developing this condition include age, lack of exercise, and low levels of vitamins D and K. It is thought that low levels of

magnesium

might weaken bones and also lower the levels of calcium in bones.
Irregular heartbeat –

 An irregular heartbeat, also known as

arrhythmia,

is one of the most serious symptoms of a lack of magnesium. Most people have mild symptoms, but some can have heart palpitations, lightheadedness, shortness of breath, and chest pain. An increased risk of stroke or heart failure may result in the most severe cases.

Researchers

feel that magnesium deficiency leading to an imbalance of potassium levels inside and outside of the muscles of the heart cells can lead to an irregular heartbeat. Patients with congestive heart failure and arrhythmia often present with lower levels of magnesium when compared to healthy people. When given

magnesium injections

, heart function improves. Some people with an irregular heartbeat have also benefited from

magnesium supplementation.
Magnesium deficiency and diabetes
Signs of severe magnesium deficiency look a lot like symptoms of diabetes and include:
Extreme thirst and hunger

Excessive urination

Sores and bruises that take a long time to heal

Dry and itchy skin

Blurry vision

Tiredness

Tingling and numbness in hands and feet

Unexplained weight loss

Frequent yeast infections
Magnesium deficiency is a strong predictor of diabetes and heart disease. Those that are diabetic need more magnesium and lose more magnesium than healthy people. Two studies found that men and women who ate a magnesium-rich diet were less likely to develop type 2 diabetes. According to Dr. Simin Lu of the Harvard Medical School and School of Public Health in Boston,
"Our studies provided some direct evidence that greater intake of dietary magnesium may have a long-term protective effect on lowering risk."
More ways magnesium is beneficial
Here are just a few other ways that magnesium helps with wellbeing 
Magnesium may prevent gallstones

Magnesium supports a healthy immune system

Magnesium may improve

symptoms of autism

Magnesium can help

improve hearing

Magnesium can keep your memory strong

Magnesium can reduce premenstrual symptoms

Magnesium can improve digestion

Magnesium can help reduce

migraines

Magnesium may improve markers of

metabolic syndrome
Foods rich in magnesium
Women ages 31-50 should be getting 320 mg of magnesium a day and men 420 mg. While most people are not meeting these goals, there are several magnesium-rich foods to consider adding to your diet, including:
Nuts

Beans

Leafy greens

Green vegetables

Dark chocolate

Popcorn

Flaxseeds

Sunflower seeds

Chia seeds

Coffee

Oats

Cocoa
Takeaway
Magnesium deficiency is a widespread problem that impacts millions of Americans. If you believe that you have a magnesium deficiency, speak with your physician about it and consume a diet rich in magnesium. You can also take a high-quality magnesium supplement.
-The UpWellness Team