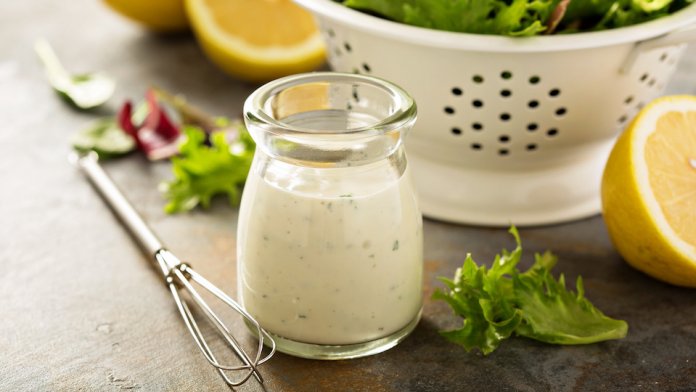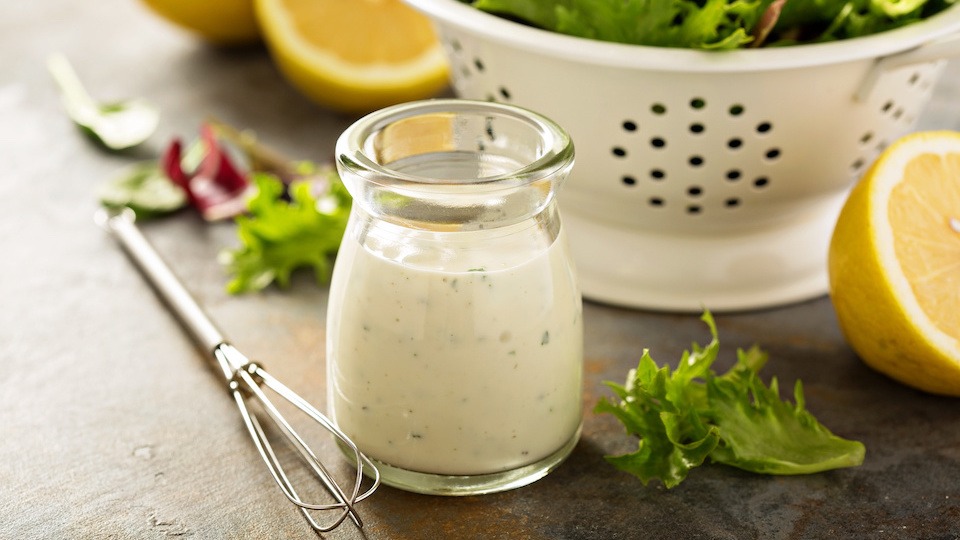 One of my all-time patient stories came from a 400 pound man who told me that every day, he ate a big salad for lunch and dinner every day. At 400 pounds, I had to assume that his "salads" probably looked quite a bit different than mine. So I asked… and I was right. In addition to a bit of iceberg lettuce, his salads included ham, egss, crumbled bacon, cheese, and copious amounts of ranch dressing. It turns out that not all salads are created equal. These nine nutritious and delicious salad dressing recipes by my team at UpWellness will help you up your salad game…enjoy!  
-JL
Anyone who values clean eating and lives a healthy lifestyle will likely have a large variety of lettuce and other yummy salad ingredients in their fridge at any given time. However, many people fail to realize that they are ruining their salad with sugar and other highly processed ingredients in the form of salad dressing. Skip the store-bought dressings and save your health (and some money) with these easy, homemade recipes. 
Health benefits of salad
Loads of fiber
Salad is one of the easiest ways to get your daily dose of veggies and is also a wonderful source of fiber. Leafy greens, carrots, cabbage, and other common salad ingredients are loaded with fiber to help decrease constipation and improve your digestive health. 
Vitamins and minerals
Unfortunately, the modern American diet doesn't always include hearty vegetables, and many people have a serious nutrient deficit because of this. Vegetables are packed with powerful antioxidants to help eliminate cancer-causing free radicals in the body along with vitamins C and E, folic acid, lycopene, and alpha- and beta-carotene, iron, and many other beneficial nutrients.
Remember, just because ingredients are combined with lettuce, doesn't make them healthy. Be smart about what you are putting on your salad and only include real, whole foods such as fruits, vegetables, nuts, seeds, and healthy protein such as chicken or beans and legumes. Hint: you may want to think twice about that handful of pre-cooked bacon bits. 
Healthy Ranch Dressing
1/2 cup plain full-fat greek yogurt
1/4 cup unsweetened almond milk
1 Tbsp apple cider vinegar
Sesame Ginger Dressing
2 Tbsp toasted sesame oil
1/4 cup seasoned rice vinegar
1 clove garlic, finely minced
2 Tbsp peeled and grated fresh ginger
Classic Balsamic Vinaigrette
1/2 cup extra virgin olive oil
1 clove garlic, finely minced
Lemon Zing Dressing
1/2 cup extra virgin olive oil
Zest and juice of 1 lemon
1 clove garlic, finely minced
1 Tbsp fresh minced oregano or 2 tsp dried oregano
Healthy Italian Dressing
3 Tbsp finely grated parmesan
1 Tbsp fresh minced parsley or 2 tsp dried parsley
1/4 medium onion, diced, about 2 Tbsp
1 clove garlic, finely minced
Yummy Honey Mustard
1/4 cup apple cider vinegar
1/4 cup extra virgin olive oil
Spicy and Sweet Chili Lime Dressing
Zest and juice of 2 limes
1/3 cup extra virgin olive oil
1 clove garlic, finely minced
1/2 tsp red pepper flakes
Thai Ginger Dressing
Note: Blend this dressing in the blender to help combine the almond butter. 
2 Tbsp low sodium soy sauce
2 cloves garlic, finely minced
2 Tbsp fresh ginger, peeled
Creamy Avocado Dressing
Note: Combine in the blender on high speed. 
1 avocado, pitted and peeled
1/2 cup plain greek yogurt
1 cilantro bunch, leaves only
How to make salad dressing: 
Once you've picked out your favorite recipe, simply add all the ingredients to a wide-mouthed mason jar with a lid and shake away. Store dairy-based dressings in the fridge for up to one week, and vinaigrettes for two. Follow instructions if blending is indicated. Before using your salad dressing, give it a good shake and taste test before using. Adjust any flavors as needed. 
-The UpWellness Team