6 Reasons To Eat Cruciferous Vegetables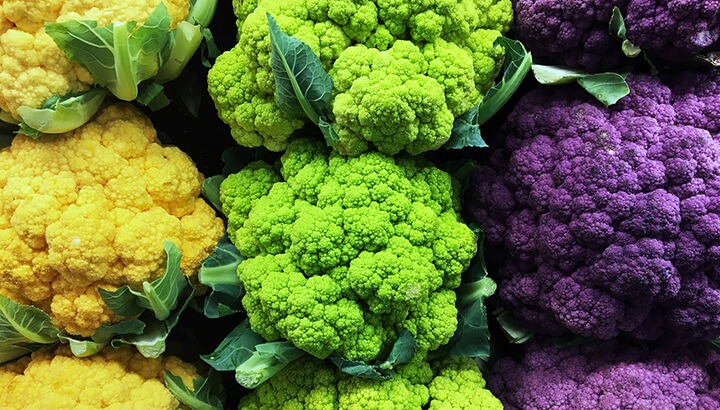 Cruciferous vegetables can sound like a mouthful. The term Brassicaceae (which encompasses the family of cruciferous vegetables) can be a lot to swallow too. But I can promise you that the superfoods that fall into this plant group are ones that you'll want to add to your diet. That's because these nutrient-rich veggies are among the best nature has to offer when it comes to health benefits and disease prevention. Let's look a little closer at this remarkable food group and how it can improve your wellbeing.
Natural Superfoods Loaded With Disease-Busting Nutrients
First, despite the intimidating Latin name Cruciferae (I'll explain the origins in a moment) the vegetables that make up this family are familiar to most everyone. They are the plants in the "cabbage family" which include:
Broccoli

Cauliflower

Kale

Collard greens

Brussel sprouts

Cabbage
Think for a moment about the difference between a Great Dane and Chihuahua. They share a common ancestor and the differences between them are the result of selective breeding done by humans. In the same way that all dogs are called Canis lupus, all of the plants listed above have the same Latin name: Brassica oleracea. Just like humans have created Great Danes and Chihuahuas, we have also created broccoli and Brussels sprouts using selective breeding over many generations.  
No matter the variety, Cruciferous veggies are unique in that they are packed with nutrition, which no other food group can duplicate (in terms of both amounts and diversity). As you might expect, these plants are loaded with phytonutrients, fiber, and antioxidants. When it comes to vegetable groups, no family comes close when it comes to vitamins A and C, folic acid, and fiber. Also, this family is especially rich in vitamin K and sulforaphane, which both have anti-inflammatory and anticancer properties. I'll discuss some details and studies shortly, but here's a quick list of the well-established benefits of cruciferous vegetables:
Cancer prevention

Low calorie/high nutrient ratio

Detoxification

Estrogen balance

Cardiovascular health

Reduces hypertension
Cancer Preventing Veggies
Interest in the antitumor properties of cruciferous vegetables really took off in 1996 with the publication of a landmark meta-study (involving 94 separate research trials), which was published in the journal Cancer, Epidemiology, Biomarkers & Prevention. The scientists summarized their findings by noting that, "a high consumption of cruciferous vegetables is associated with a decreased risk of cancer."
Study after study has confirmed these results. The following are just a few links where you can learn more about the cancer-fighting properties scientists have found in cruciferous vegetables.
The American Institute of Cancer Research has suggested that if people ate more cruciferous veggies, then rates of the disease could be cut significantly.  I believe this assessment is spot on.
Subsequent studies have found that cruciferous vegetables provide a wide range of other benefits, too, including helping people to manage blood glucose levels, boosting immunity, reducing inflammation, and maintaining hormonal balance.
Takeaway
Cruciferous vegetables, as I alluded to earlier, derive get their name the Latin "Cruciferae," which refers to the "cross-bearing" pattern that can be found in the flowers of these plants. But you don't have to be an expert in entomology or taxonomy to enjoy the amazing benefits of these superfoods.
In our family, Brassica oleracea plants make it onto our plates every single day. Usually we simply roast them on a baking tray with a little olive oil and a touch of sea salt sprinkled on top, which works especially well for broccoli, cauliflower, and Brussels sprouts.
Be well…and Enjoy!
Dr. Joshua Levitt