3 Bedtime Stretches that Will Make You Sleep Like a Baby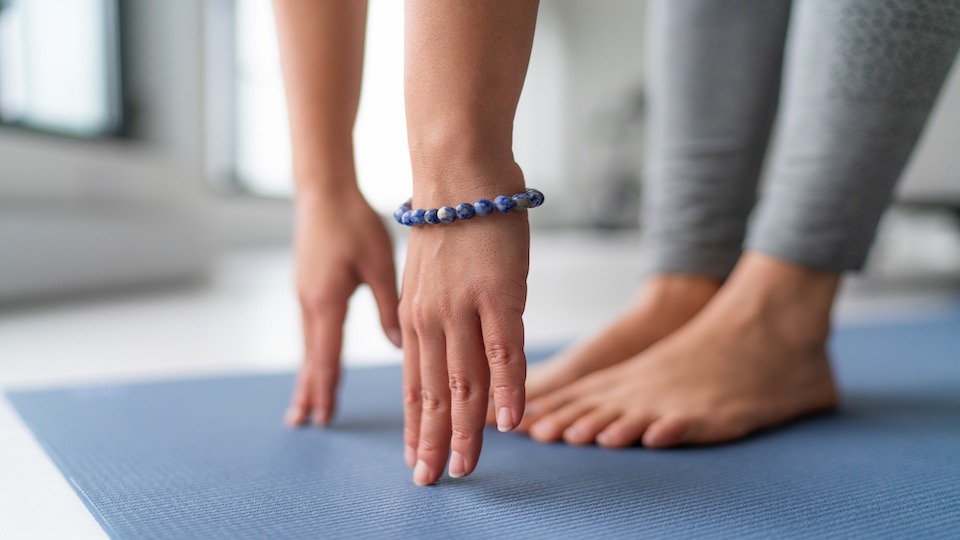 Here at UpWellness, we believe strongly that "medicine" does not always mean pills. Food is medicine. Movement is medicine. Laughter is medicine. Strong social connection is medicine.  And perhaps the most critical and overlooked non-pharmaceutical medicine is…sleep. Today's article from my team gives you three movements that you can do right before bed that can improve your sleep. That's the kind of "medication interaction" that we can all support! 
-JL 

Throughout the day, we ask a lot of our bodies and don't often give back to our hard-working, overwrought muscles and joints. We spend the day in a constant state of "go, go, go" and come to a sudden stop when we finally get to collapse into bed. Often, we don't take the time to adequately prepare for quality rest and spend the night tossing and turning, trying to shut down. The U.S. Centers for Disease Control and Prevention (CDC) estimates that nearly ⅓ of the American population is sleep deprived.
This chronic lack of sleep could contribute to several serious issues such as obesity, diabetes, heart disease, lack of productivity, brain fog, and traffic accidents. If you are continually looking for ways to get better rest and prevent insomnia, you may want to consider stretching. Here are a few important reasons to stretch before bed and some simple moves to get you started. 
Why you should stretch before bed
One review of studies showed a significant link between meditative stretching and mindful movement and improved sleep quality. Spending time in relaxing poses before bed will help you get in touch with your body and will allow you to become more aware of what it needs. It will also help you focus on how you feel physically and will keep you from being distracted by your to-do list or the events of the day. 
Not only does stretching quiet your mind, but it also releases the tension from your muscles and can help correct poor posture from sitting hunched over at a desk all day. Remember, gentle, restorative stretching is wonderful, but a full, cardio-heavy workout right before bed could actually increase your energy levels and leave you more awake then you were before. 
Try these simple stretches to relax your mind and body and help you sleep soundly. 
Bear hug
This move isn't difficult, and it is a great way to start your nightly routine to help loosen up stiff muscles and prepare for bed. If you sit a lot, it can stretch out the rhomboids and trapezius muscles of the upper back and can work knots from a tense shoulder.
Place your feet about shoulder-width apart and stand up straight. 

Inhale and spread your arms out to the sides. 

Exhale and bring your arms back in to wrap around yourself like you are giving yourself a hug.

Your hands should be touching the opposite shoulder blades. 

Focus on your breathing and bring your shoulders forward to deepen the stretch. 

Hold for 30 seconds and release. 

Exhale and repeat with a different arm on top. 
Swan stretch
Also known as sleeping swan, this move will realign your hips and shoulders and give you a full-body stretch. Just make sure not to fall asleep while you're stretching! 
Place a pillow on the floor in front of you to cushion your head.

Sit on your knees with your heels against your butt. 

Stretch one leg out behind you, keeping the other bent with the sole against the inside of the opposite thigh and hinge at the waist, placing your forehead on the pillow. 

Your chest should be pressed against the ground and one of your legs, with the opposite leg stretched behind.

Reach your arms forward until you feel a light pull and hold the stretch for 30 seconds. 

Repeat with the other leg bent. 
Touch your toes
Try this standing forward fold to loosen tight hamstrings, increase flexibility, and prevent injury during movement. It also relaxes the back and neck muscles and is a great, overall stretch to make you feel relaxed and sleepy. 
Stand with legs straight about shoulder-width apart. 

Bend at the hips and reach towards the ground with your hands. 

Keep your knees straight but not locked. 

If you can't touch the ground, simply dangle your arms towards the floor and reach down as you exhale. 

Hold for 15 seconds and repeat. 
Tips for better stretching:
You should be able to feel the stretch but never push to pain.

Place a yoga mat or rug in a convenient place to help remind yourself to stretch.

Listen to soothing music as you go through your routine. 

Breathe in and out through your nose to increase oxygen flow and calm your nervous system.

Place a calming essential oil such as lavender in a diffuser and let it permeate your bedroom as you prepare your mind and body for sleep. 
-The UpWellness Team