Why This is the #1 Tea to Be Drinking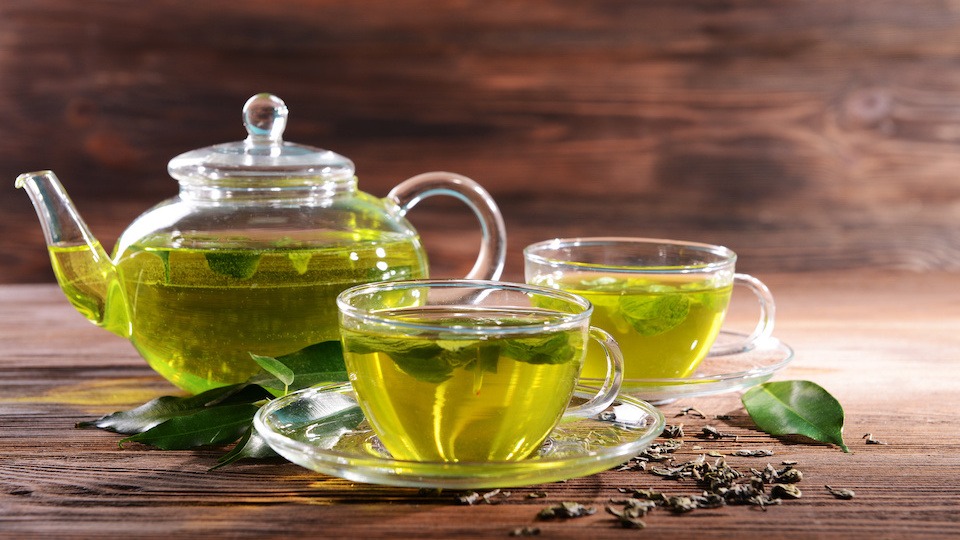 When the world is at odds and the mind is a sea
Then cease the useless tedium and brew a cup of tea. 
There is magic in its fragrance and there is solace in its taste 
And the laden moments vanish, somehow into space. 
The world becomes a lovely thing- there's beauty as you'll see: 
All because you briefly stopped to brew a cup of tea. 
~Author unknown
There are not too many beverages that inspire poets and philosophers, scientists, and physicians. Green tea carries that distinction…and for good reason. The benefits of regular consumption of green tea are broad and far-reaching on both the body and the mind. This article by my team at UpWellness will educate you and inspire you to brew yourself a cup today.  
Enjoy, 
Dr. Josh 
Are you a tea drinker? If not, you should be, especially if you choose green tea. Known as the healthiest tea on the planet, green tea is bursting with antioxidants and nutrients that positively impact health. These include improved brain function, reduced cancer risk, fat loss, and more. 
Here are just some of the reasons why you need to have green tea in your cup.
Green tea contains powerful plant compounds
Don't let the simplicity of green tea fool you; it is loaded with polyphenols that can help do everything from reducing inflammation to lowering your risk of cancer (see below). By weight, green tea contains 30 percent polyphenols that include a high amount of a catechin known as EGCG. Catechins are natural antioxidants that protect cells from damage while providing other health benefits. EGCG is a supremely powerful compound that has been extensively studied for its ability to remedy a number of diseases and is what gives green tea its powerful medicinal capabilities. In addition, green tea also contains minerals that help boost health and wellbeing. 
Drinking green tea can make you smarter and happier
Who doesn't want to be smarter or happier? What if you could enjoy a delicious cup of green tea daily and experience improved brain function? Green tea contains caffeine, which helps you stay alert, but it also does much more than this. Caffeine blocks an inhibitory neurotransmitter in the brain known as Adenosine. When this happens, the neurons in the brain fire more, and the number of beneficial neurotransmitters like dopamine and norepinephrine increase. Research reveals that consumption of caffeine can lead to improvements in various brain functions, including mood, reaction time, memory, and vigilance.
In addition to caffeine, green tea contains the amino acid L-theanine, which can cross the blood-brain barrier. In doing so, it increases the GABA, an inhibitory neurotransmitter that can help reduce anxiety. In addition, it elevates dopamine and increases the production of alpha waves in the brain. Research shows that caffeine plus L-theanine help to improve brain function together.
The good news is, green tea contains less caffeine than coffee but still supplies a nice energy boost along with the L-theanine. In fact, many green tea drinkers report that they have stable energy levels and are more productive then they are when they drink coffee.
Green tea may help you drop pounds
Green tea is a popular ingredient in several commercial fat burning supplements. There is a good reason for this since green tea has demonstrated the capability to boost the metabolic rate in humans, which increases fat burning potential. In one study, green tea increased energy expenditure by 4% in 10 healthy men. In another study, fat oxidation increased by 17%, showing that green tea may selectively increase the burning of fat. 
Research has also demonstrated that caffeine can improve physical performance as it mobilizes fatty acids from fat tissues and provides energy. Two studies found that caffeine increased physical performance by 11%-12% on average.
Green tea offers protection from infection and can improve oral health
The catechins in green tea mentioned above have the ability to kill bacteria and protect against viruses such as influenza. Studies also show that green tea can inhibit the growth of the harmful bacteria Streptococcus mutans that can cause plaque formation leading to cavities and tooth decay. Consuming green tea is associated with improved oral health and a lower risk of cavities. Additional studies indicate that it can also reduce bad breath.
Green tea may reduce the risk of diabetes
With type 2 diabetes now reaching epidemic proportions over the last several decades, impacting 400 million people worldwide, it is good to know that there is a natural and tasty drink that can help with this disease. Studies demonstrate that green tea can not only improve blood sugar levels but also improve insulin sensitivity. In one study it was found that participants who drank the most green tea had a whopping 42% lower risk of developing type 2 diabetes
Green tea may reduce your risk of cancer
Cancer is the result of cell growth and is one of the leading causes of death in the entire world. One of the known things that contributes to the development of cancer is oxidative damage. Antioxidants can provide protection from this damage. Green tea is loaded with potent antioxidants. Research shows promise that those who drink green tea may have a reduced risk of developing certain cancers. One study found that women who drank the most green tea had a 20-30% lower risk of developing breast cancer. Another study found that men drinking green tea lowered their risk of developing prostate cancer by as much as 48%. A review of 29 studies found that people drinking green tea had a reduced risk of developing colorectal cancer by up to 42%.
Source high-quality green tea and no milk
These are just a few of the many healthy reasons to drink more green tea. Be sure that you source high quality organic green tea, as lower quality tea can be loaded with fluoride. Also, drink your tea without milk or cream as this can diminish the antioxidant power.
Happy tea drinking!
-The UpWellness Team