The #1 Reason to Use More Black Pepper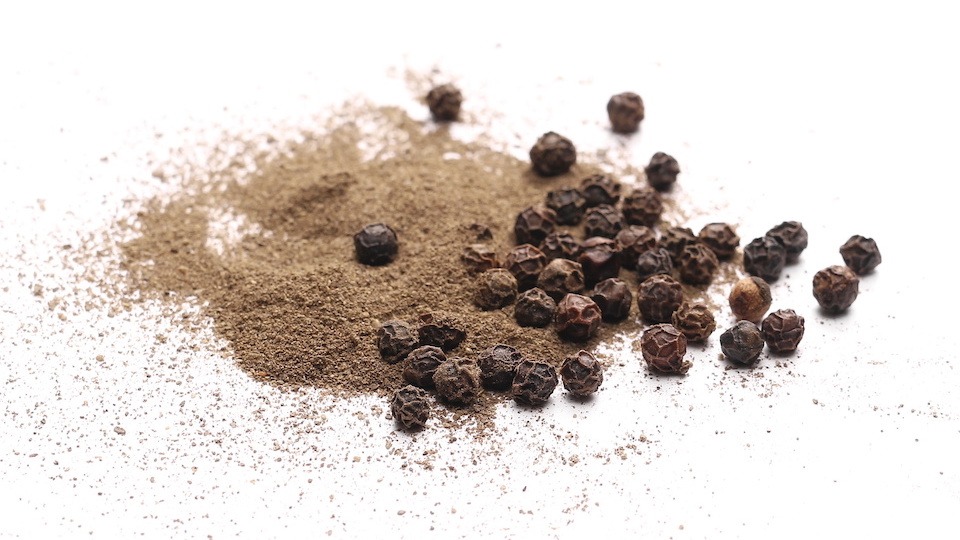 It's probably one of my earliest memories…
The details are a little fuzzy, but I was about 4 or 5 years old, and I must have just watched a cartoon where one of the characters exploded into a fit of sneezing after taking a big whiff of ground pepper.  I was intrigued. It seemed like something I should try…so I did. And, in case you've never tried it…it works! That was one of my earliest botanical experiments…and it certainly demonstrated the power of herbal medicine. Since then, I have learned a whole lot more about the medicinal benefits of Piper nigrum (aka black pepper) as this article by my team at UpWellness explains…no Kleenex required!  
Ahhhchoo!   
Dr. Josh 
Black pepper is usually on display right next to the salt shaker but does not seem to receive nearly as much attention or press as its infamous counterpart. However, contrary to what you may think, black pepper is one of the world's most traded spices, often referred to by its monikers "the king of spices" or "black gold." Like many other valuable spices, it was used as currency for hundreds of years in the ancient world and was seen as an incredibly valuable commodity. Unlike table salt, which has been twisted and stripped of most of its nutrients (stick to sea salt), black pepper remains pure and laden with health benefits to this day. But what exactly is so great about this popular spice, and why should you eat more of it? The #1 reason may surprise you. 
Increases bioavailability of other nutrients
Perhaps the most incredible (if not commonly known) benefit of black pepper is its ability to increase the bioavailability of other nutrients. Let's break down exactly what this means…Have you ever researched the benefits of turmeric and discovered that you should enjoy this golden spice along with black pepper? This isn't just because the two spices form an excellent flavor combination (though they certainly do), but it's primarily because black pepper can enhance your body's absorption of curcumin and provide increased benefit. 
According to one study by researchers Susan J. Hewlings and Douglas S. Kalman, the polyphenol curcumin "aids in the management of oxidative and inflammatory conditions, metabolic syndrome, arthritis, anxiety, and hyperlipidemia. It may also help in the management of exercise-induced inflammation and muscle soreness, thus enhancing recovery and performance in active people. In addition, a relatively low dose of the complex can provide health benefits for people that do not have diagnosed health conditions. Most of these benefits can be attributed to its antioxidant and anti-inflammatory effects. Ingesting curcumin by itself does not lead to the associated health benefits due to its poor bioavailability, which appears to be primarily due to poor absorption, rapid metabolism, and rapid elimination. There are several components that can increase bioavailability. For example, piperine is the major active component of black pepper and, when combined in a complex with curcumin, has been shown to increase bioavailability by 2000%"
Black pepper doesn't just improve the absorption of curcumin, either. Research has shown that it may also help the body absorb beta-carotene from fruits and vegetables, a critical antioxidant that can help combat heart disease. In one 14-day study, participants who took 15 mg of beta-carotene with 5 mg of piperine showed substantially increased blood levels of beta-carotene compared to those who took beta-carotene alone.
It may also help increase the absorption rate of the red wine compound resveratrol, which has been linked to a decreased risk of developing brain disorders, type 2 diabetes, and heart disease. This compound, like curcumin, has poor bioavailability, so black pepper is a crucial component in reaping these benefits. 
Other benefits of black pepper 
Improve digestion 
According to Keith Singletary, professor emeritus of nutrition at the University of Illinois, black pepper may provide some benefit to the gastrointestinal tract. Researchers believe that this is because of black peppers' ability to stimulate the secretion of digestive enzymes that help you feel full after a meal and ease food's transit through the GI tract. It could also prevent diarrhea by slowing the digestion of food. 
Powerful antioxidant
Free radicals in the body are unstable molecules that can contribute to cancer development and cause damage to your cells and DNA. Antioxidants are found in many healthy foods and can help restabilize these molecules and eliminate dangerous free radicals from your body. Black pepper, or specifically the compound piperine, is an excellent source of these critical antioxidants. Studies have even shown that black pepper possesses many anti-inflammatory compounds that could also aid in mitigating free radical damage.
Could boost brainpower
Piperine may actually help reduce symptoms related to degenerative brain conditions such as Alzheimer's and Parkinson's disease. Animal studies have shown that this compound could improve memory in rats with Alzheimer's, which is promising for the future treatment of this condition. However, more human research is needed to confirm these effects. 
Concerns
Though black pepper could be a potent tool in nutrient absorption, it is important to realize that a high dose of piperine (such as in supplement form) could potentially interfere with medications or cause you to absorb unwanted things such as certain hormones or chemicals. Though that is unlikely and would require an incredibly high dosage, it is essential to consult with your doctor before beginning any supplementation, especially if you are taking prescription drugs. The best thing you can do is to grind some extra black pepper on your food every day and embrace the robust flavor of this incredible super spice. 
-The UpWellness Team