Beat Chronic Inflammation
Golden Revive +
is an advanced, physician-formulated, combination of safe and effective natural compounds that will help you counter the dangerous effects of chronic inflammation.
The six powerful ingredients that you'll get in
Golden Revive +
are:
Turmeric: Golden Revive +
contains a proprietary form of turmeric called BCM-95® which is a 100% pure turmeric extract that is backed by over 50 clinical studies that demonstrate it's safety and effectiveness.
Bromelain:
Bromelain is a powerful healing nutrient found in pineapple. It has anti-inflammatory activity, improves circulation, and reduces "fibrosis" which is the scarring and tissue damage caused by chronic inflammation.
Boswellia:
Boswellia is truly an herb fit for a king. You probably know it by its biblical name, Frankincense. What you may not know is that modern science has demonstrated that Boswellia decreases inflammation and pain as well or better than prescription drugs. And it's a whole lot safer too.
Quercetin:
Quercetin is a plant-based bioflavonoid superfood. The quercetin in
Golden Revive +
helps to "mop up" free-radicals, repair damage to DNA, prevent the growth of abnormal cells, and slow down the cellular aging process.
Magnesium:
This mineral is involved in over 600 biochemical reactions and is critical to human health... but US government data demonstrates that 60% of us are not getting anywhere near enough in our diets. It helps with relaxation, muscle tension, heart health, and intestinal regularity.
Piperine:
We added this black pepper extract for one simple reason: to enhance the absorption of the rest of the ingredients in the formula. With the addition of the piperine to
Golden Revive +
, you get more of what you're looking for.
If you suffer from chronic inflammation, you need all hands on deck. Of course, that means that you should be eating an anti-inflammatory diet and living an anti-inflammatory lifestyle with lots of physical activity, plenty of sleep, and good stress management.
At
UpWellness,
we understand how tough putting all those pieces can be ... especially when you're hurting.
Golden Revive +
was formulated to give you fast-acting pain relief and to safely and effectively get inflammation under control so that you have the energy and the motivation to make the diet and lifestyle changes that you know you need to make.
Golden Revive +
is great for anyone suffering from joint pain, gastrointestinal disorders, weight-related symptoms, cardiovascular problems and any other symptoms and conditions associated with inflammation.

Choose our new and improved product Golden Revive +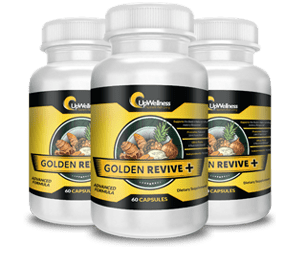 FREE SHIPPING
ON ALL ORDERS
OUR PROMISE TO YOU!
This is what you can expect from us with every order:
100% Satisfaction Guarantee

Free Shipping

24hrs Customer Support

Quality Products

Not tested on Animals

Cruelty-Free