Building the Perfect Healthy Pizza (these ideas will blow your palate away)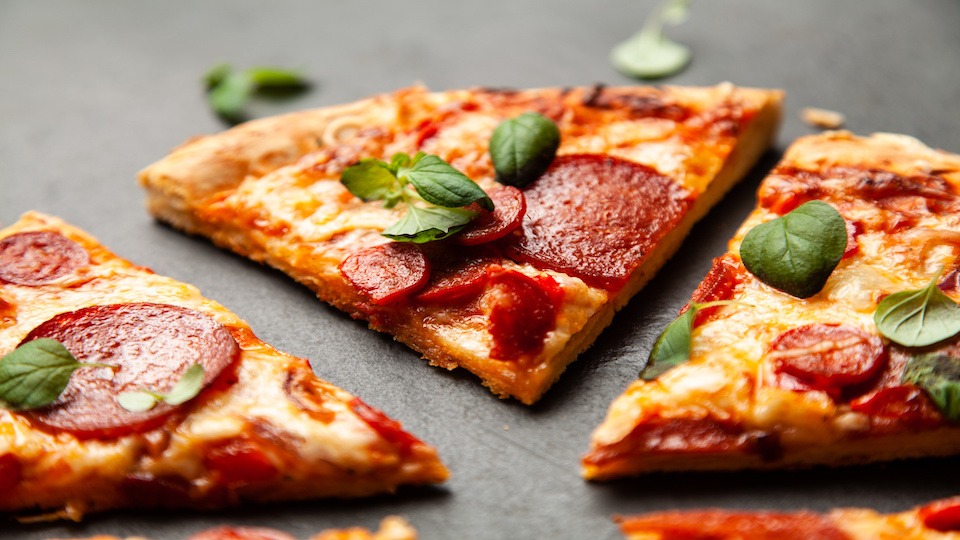 I live just up the road from New Haven, Connecticut. New Haven is famous for two things:
Yale University

Pizza  
New Haven is home to a large Italian-American population, and we take our pizza very seriously here. The classic New Haven "apizza" comes with an ultra-thin crust that is cooked in a woodfired oven until it's extra crispy…almost burnt. Forgive me because I don't want to start World War III here– but New Haven pizza is the best pizza in the world.
Because I am a naturopathic doctor, lots of people are surprised when they find out that I eat pizza. Whenever it comes up, I'm quick to point out that not all pizzas are created equally. If you're talking about a doughy crust, thick with rubbery cheese, and covered in processed meat…no, I don't eat that. But if we're talking about a pizza made with high-quality ingredients, I'll absolutely enjoy a few slices.  
Buon appetito,
-JL  
Do you love, love, love the mouthwatering taste of a great slice or three of pizza? If you do, you are not unlike the average American who loves pizza. In fact, Americans gobble up 350 slices of pizza per second. That is a lot of pizza. Sadly, a lot of pizza, especially store-bought and fast food pizza is not healthy and is loaded with ingredients that compromise health.
If you are a pizza lover who doesn't want to give up good tasting pizza but are concerned about your health, we have a treat for you. Yes, you can make pizza healthy and here are some amazingly healthy options that will leave you begging for another slice, and another.
The Crust
One of the most unhealthy parts of pizza is usually found in the crust. Loaded with white, refined flour – traditional pizza crust is basically devoid of any nutritional value. Changing up your crust and building a healthy pizza from the foundation upward is a good place to start. Here are two healthy crust options that don't skimp on flavor.
Cauliflower Crust
Ingredients
2 cups cauliflower rice

1 clove garlic, minced

1 cup mozzarella cheese

1 egg, beaten

1 tsp basil

1tsp oregano
How to make
Pre-heat oven to 400°F.

Grease a cookie sheet or pizza stone with some coconut oil.

Saute the cauliflower rice for about six minutes over medium heat until translucent.

Combine the cooked cauliflower with the rest of the ingredients in a bowl.

Spread the dough on the pan until about ¼ inch thick.

Bake for 25-30 minutes until the crust is golden brown and crispy on the edges. Be sure that it is cooked through in the middle.

Remove crust from the oven and top.

Use light toppings only so not to weigh down the crust.

Broil for five minutes until the toppings are hot and cheese is melted. Cool for a few minutes before serving.
Gluten-Free Pizza Crust
Ingredients
3 cups gluten-free flour

1 tsp sea salt

½ tsp baking powder

3 Tbsp erythritol ( divided)

1 Tbsp yeast

¼ cup of warm water – divided

1Tbsp olive oil
How to make
Pre-heat oven to 350°F.

Combine yeast in a small bowl with ¾ cup of warm water and let it sit for five minutes.

Sprinkle in 1 Tbsp of erythritol after a few minutes.

Combine gluten-free flour and salt along with 2 Tbsp erythritol in another bowl.

Create a well in the dry mixture and add the yeast mixture. Add in the olive oil and the additional ½ cup of warm water. Stir until well combined, using a wooden spoon.

Coat a baking sheet lightly with non-stick spray and sprinkle the dough with a little rice flour. Work from the middle to spread outward and flatten to about ¼ inch.

Bake the crust for about 25-30 minutes, until it starts to look dry. You might see some cracks, but that is ok.

Remove from oven and top with your favorite toppings.

Bake for another 20-25 minutes until crust edge looks golden.
Delicious Toppings
Here is a list of some of the healthiest toppings for your pizza. Think of these are you build your masterpiece.
Sauces
Tomato

– Make your own, avoid store-bought versions.

Sliced tomatoes

– Slice up tomatoes instead of using a sauce.

Salsa

– Kick up the tomato base using a medium to hot salsa.

Pesto

– Add some nutty flavor with pesto as your sauce.

Hummus

– Add a middle eastern flair to this favorite Italian dish.

Refried bean dip –

Take a can of beans and make it into a tasty spread – go with traditional refried beans or mash up black beans.

Peanut sauce  –

If you really want to spice things up, create a healthy peanut sauce. Top this with grilled chicken, cilantro, and bean sprouts to make this a healthy Asian – inspired pizza dish.

Ricotta cheese with raw honey and cinnamon –

This is a great sweet or savory base for a delicious pizza.
Toppings
Chicken sausage –

Swap classic pork sausage for a leaner flavor.

Tofu –  

Tofu is not just for salads and stir fry – try topping your pizza with this plant-based protein option.

Grilled chicken – Grilled chicken offers a ton of protein without too much fat.

Beans – Beans are a delicious protein option for non-meat lovers.

Eggs – Scramble eggs, poach them or cook them over-easy for delicious pizza topping.

Nuts –

Talk about adding a crunch to your favorite pizza, try almonds, cashews, walnuts or even pine nuts.

Kale, Spinach, Chard, Arugula

– Don't forget these delicious and nutritious leafy greens. Get your salad and pizza in one bite!

Olives

– Turn any pizza into a Mediterranean masterpiece with olives.

Avocado

– For a dose of healthy fat try adding avocado to your pizza.

Blueberries, Apples, Figs, and Pears

– Can you say good morning breakfast pizza?
Cheeses
What is a pizza without cheese? Try these awesome options.
Fresh mozzarella –

Diced fresh mozzarella beats packaged cheese any day

.

Goat cheese – This tangy cheese has less fat and more protein than other cheese.

Ricotta – This creamy cheese is great as a sauce and a cheese topping.

Feta – Go bold with fresh feta. Add olives for a Greek delight.

Gorgonzola

– This cheese is the perfect pair with fruit toppings.
Pizza anyone?
-The UpWellness Team